Morocco Earthquake: Man Narrates How He Was Forced to Choose Between Saving His Parents or Son
A 50-year-old Moroccan man, Tayeb ait Ighenbaz, said he had to choose between saving his parents or his son during the earthquake
Tayeb explained that he saved his 11-year-old son, but it was too late to save his parents, who were trapped under debris
A magnitude 6.8 earthquake struck Marrakesh in Morocco, with many dead on Friday evening, September 8
Morocco, Marrakesh - A Moroccan man, Tayeb ait Ighenbaz, has narrated how he was forced to choose between saving his parents or his 11-year-old son when they were trapped under the rubble of the Marrakech earthquake.
According to BBC News, Tayeb was with his wife, two children and parents, who were at home in a community in Atlas Mountain when the earthquake struck on Friday night, September 8.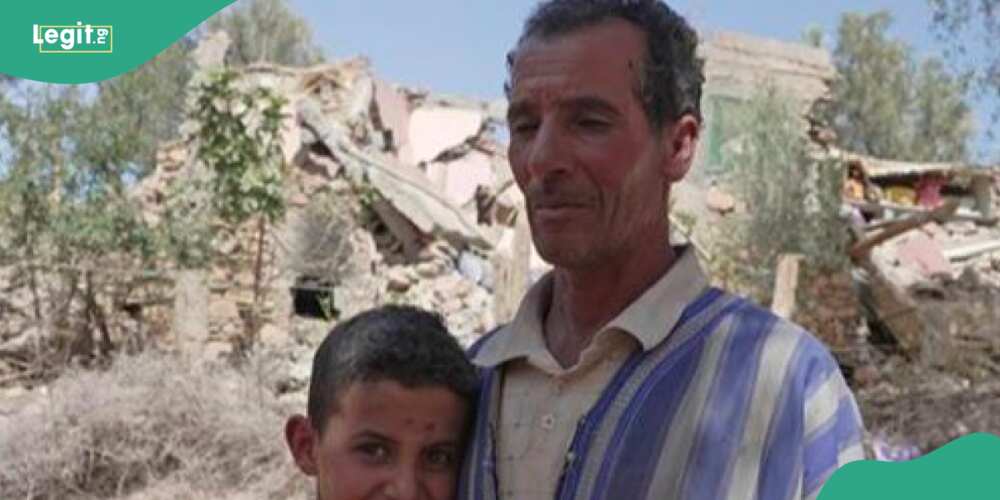 I had to choose between my parents and son
"It all happened so quickly. When the earthquake happened, we all ran to the door. My dad was sleeping and I shouted at my mum to come, but she stayed behind to wait for him," he said.
The 50-year-old goat herder added that he found his son and parents trapped under debris when he returned to the fallen building.
Tayed said he saw his son's hand poking through the rubble and started digging to pull him out.
He explained that it was too late when he turned to his parents, who were trapped under a large slab of stone.
With tears in his eyes, he said:
"I had to choose between my parents and son,"
"I couldn't help my parents because the wall fell over half of their bodies. It's so sad. I saw my parents dying."
The son, who wrapped his arms around his dad, said:
"My dad saved me from death,"
Tayeb disclosed that his family now lives with relatives in makeshift tents close to their former home.
"It's like being born again into a new life. No parents, no house, no food, no clothes," he says. "I'm 50 years old now and I'm having to start again."
Morocco earthquake: 632 Killed, 329 injured, several buildings collapsed
Earlier, Legit.ng reported that at least 632 people were reported dead following the strong earthquake of magnitude 6.8 that struck Morocco.
The epicentre of the tragic incident was in the High Atlas Mountains, 71km (44 miles) southwest of Marrakesh.
The North African country's interior ministry confirmed that people died in Marrakesh and other neighbouring areas.
Death toll in Morocco earthquake rises to 2,497
An emerging report has confirmed that the death toll in the Morroco earthquake disaster has risen to 2,497.
The Morrocan minister of interior, Abdelouafi Laftit, made this development known on Monday, September 11.
Source: Legit.ng