Niger: Abdulsalami Breaks Silence After Meeting Ousted President Bazoum, Coup Leader
A former military head of state, Abdulsalami Abubakar, has met with the ousted President Mohamed Bazoum of Niger Republic
Abdulsalami said his team met with Bazoum, who told them his conditions and promised to report to the ECOWAS leaders
The ECOWAS team also met with the leader of the military junta, General Abdourahamane Tchiani, and his team for 90 minutes
Niamey, Niger Republic - General Abdulsalami Abubakar (rtd), Nigeria's former military head of state, has disclosed what transpired between him and Mohamed Bazoum, the ousted president of the Niger Republic, on Saturday, August 19.
The former military leader led the high-powered delegation of the Economic Community of West African States (ECOWAS) to the troubled neighbouring country for a peace talk, Daily Trust reported.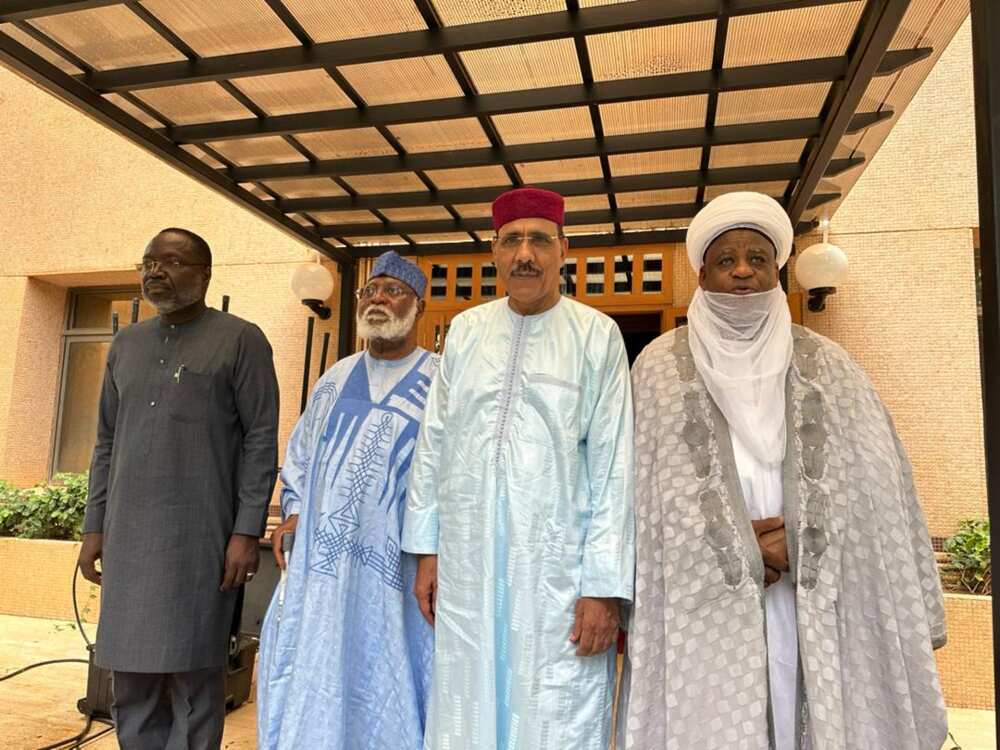 Abdulsalami meets Niger military leader for 90 minutes
Abdulsalami led the ECOWAS team to the West African country on Saturday, August 19, in a last-minute diplomatic move to seek a peaceful resolution with the military junta in the Niger Republic.
While in Niamey, the delegation was received by Prime Minister Ali Lamine Zeine at the airport and was hosted at the presidential palace.
They reportedly met with the head of the military junta, General Abdourahamane Tchiani, and his team for 90 minutes and later met with ousted President Mohamed Bazoum.
What ousted Niger President Bazoum told ECOWAS team
Abdulsalami, who spoke to a journalist after the meeting, said:
"We met him and heard his side of the story. He told us what was done to him and his challenges. We will communicate this to ECOWAS leaders. Doors for talks are now open for a lasting solution."
But the former military leader did not give details about his conversation with the ousted president in detention.
Recall that Bazoum was reportedly deprived of his contacts, adding that no one could bring him food or medical attention.
Niger: ECOWAS defence chiefs to meet in Ghana
Legit.ng earlier reported that the ECOWAS military chiefs from the 11 member states will be meeting in Ghana to deliberate on the next step to take out the military junta in the Niger Republic.
Recall that the meeting was earlier scheduled for last Saturday but was suspended for technical reasons.
The military chiefs will now be meeting in Accra for two days following the resolution of the ECOWAS leaders.
Source: Legit.ng