General Tchiani: 5 Facts You Should Know About Niger Republic's Coup Mastermind
The Republic of Niger has been hit by a surprise coup that displaced its democratic President, Mohamed Bazoum
On Wednesday, July 26, the head of the President's guard, General Abdourahamane Tchiani and his loyalists captured President Bazoum and overthrew him
In this short piece, Legit.ng highlight some significant fact about the new strong man of the Republic of Niger
The military takeover in the Republic of Niger on Wednesday, July 26, becomes the most recent since the Mali coup in 2021.
What is significant with these coups is that they both happened in the West African region, which further raises doubts on whether democracy is failing in the sub-region.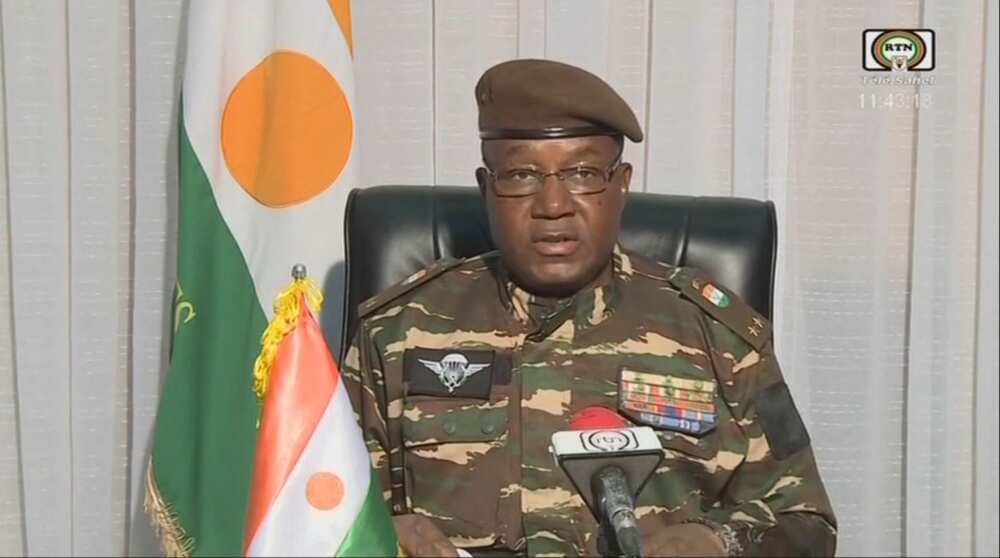 General Abdourahamane Tchiani, the head of the presidential guard in the Niger Republic, alongside his rebel troops, captured President Mohamed Bazoum and overthrew his government.
In this short, we'll highlight the profile of General Tchiani, the mastermind of the Niger coup.
PAY ATTENTION: Share your outstanding story with our editors! Please reach us through info@corp.legit.ng!
1. Gen Tchiani's military career
General Abdourahamane Tchiani heads the presidential guard of President Mohamed Bazoum, whose government he toppled, giving reasons for the corruption and non-accountability of his boss.
At 59 years, General Tchiani is arguably the most decorated military veteran in the history of the Republic Niger, having served under two presidents.
His first stint as a senior army officer was under the stewardship of former President Mahamadou Issoufou and President Bazoum.
2. Popularity
Due to his accomplishment in the military, General Tchiani is popular amongst the citizens and highly revered for his military influence.
Ibrahim Yahaya Ibrahim, a researcher with the International Crisis Group think tank, said:
"He is not well known outside military circles. He is a man in the background, powerful."
3. Rift with President Bazoum
On Friday, Tchiani declared himself leader after staging a takeover that began on Wednesday when his presidential guards seized President Mohamed Bazoum and sequestered him in the presidential palace.
Tchiani is a staunch ally of former president Mahamadou Issoufou, Bazoum's predecessor, who appointed him head of the presidential guards in 2011.
As reported by Channels TV, Bazoum kept him in the job after taking over from Issoufou, who served two terms, but relations between them deteriorated in the past months, according to sources close to Bazoum.
Tchiani meanwhile began shunning "official ceremonies and activities" of the president and sent his deputy Colonel Ibroh Amadou Bacharou, also a member of the new junta, to represent him, a source close to Bazoum said.
4. General Tchiani's combat experience
He has served in missions by the United Nations and West African regional bloc ECOWAS in Ivory Coast and Sudan.
Filingue lies in the volatile Tillaberi region, which has been repeatedly attacked for nearly eight years by insurgents linked to Al-Qaeda and the Islamic State group, as well as jihadists from neighbouring Nigeria.
The vast area, roughly the size of South Korea, has around 150,000 internally displaced people, according to the United Nations.
5. Intercepting coup attempts in 2021 and 2022
A government official said Tchiani, under Issoufou's orders, had "transformed the presidential guard into a powerful machine equipped with sophisticated weapons".
Tchiani has quashed several coup bids, notably in 2021 and 2022.
"General Tiani is an officer who has proven himself on the ground," said former soldier Amadou Bounty Diallo.
Niger Coup: Shehu Sani List 5 Factors Why Democracy Failed in West Africa
In another development, Senator Shehu Sani has enumerated the factors behind failed democracy in the West African region over the past decades.
The former Nigerian lawmaker blamed the inflicted hardship on citizens by West African leaders and the shrinking civic space as one of the major factors of failed democracy.
He also stated that the expanding influence of Russia and China in West Africa's economy is a major problem.
Source: Legit.ng