Tension as Former Niger Rebel Leader Launches Group to Counter Coup Plotters
A former Niger rebel leader and politician, Rhissa Ag Boula, has established a movement to oppose the coup plotters in the country
The movement, the Council of the Resistance for the Republic (CRR), has the sole aim to reinstate ousted President Mohamed Bazoum
The military junta took over power from Bazoum on Wednesday, July 26 through an unprecedented coup
Niamey, Niger Republic - Tension is brewing in Niger Republic after former rebel leader and politician, Rhissa Ag Boula, launched a movement to counter coup plotters, who ousted President Mohamed Bazoum from office.
As reported by VOA, Boula, in a statement said the group is called the Council of the Resistance for the Republic (CRR).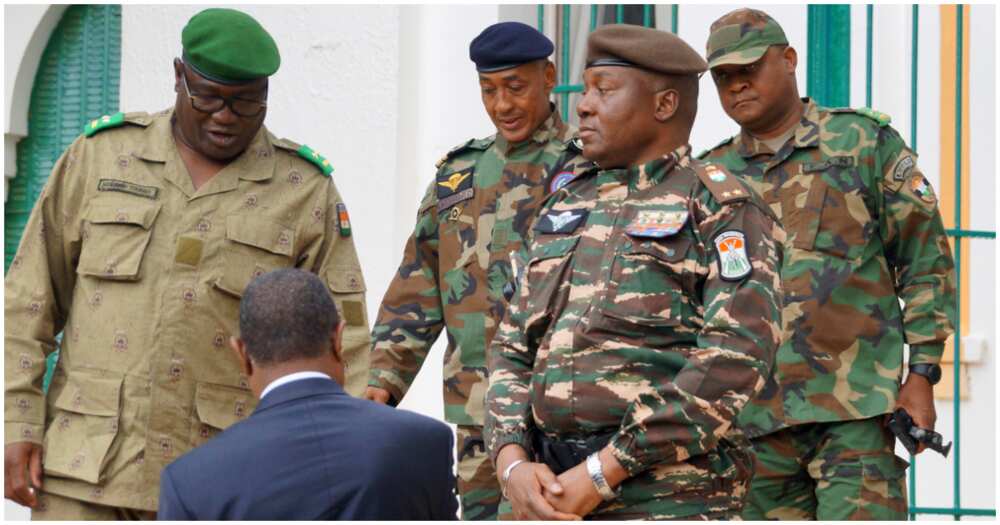 Former Niger Rebel Leader Launches Group to Confront Coup Plotters
He said the group was established with the purpose to reinstate Bazoum as President of the Niger Republic.
PAY ATTENTION: Follow us on Instagram - get the most important news directly in your favourite app!
Boula is a former minister of tourism and a leader in two Tuareg ethnic insurgencies in Niger, one in the 1990s, and the other from 2007 to 2009.
Coup D'état: Nigeria Orders Fresh Sanctions on Niger Republic, Details Emerge
Meanwhile, Legit.ng reported that the Federal Republic of Nigeria has ordered new financial sanctions on entities and individuals related to and connected with the coup plotters in Niger Republic.
The special adviser to President Bola Tinubu on Media and Public Affairs, Ajuri Ngelale, said through the Central Bank of Nigeria (CBN), the sanction was meted out on the coup plotters in the Niger Republic by the Economic Community of West African States (ECOWAS) heads of states.
Anxiety as Niger military junta appoints new prime minister, details emerge
Legit.ng also reported that Niger Republic's military coup leaders had announced a change in the country's helm of affairs.
On Monday, August 7, the military junta announced the appointment of Ali Mahaman Lamine Zeine as prime minister.
Coup d'état: List of ECOWAS sanctions against Niger Republic
The Economic Community of West African States (ECOWAS) has announced eight sanctions against the Niger Republic following the dramatic coup that led to President Mohamed Bazoum's overthrow.
The sanctions were announced after an extraordinary session of the ECOWAS member states in Abuja on Sunday, July 30.
"They May Push Us to That Point": US Sends Strong Warning to Niger Coup Plotters
The United States of America has issued a serious warning to the coup plotters in Niger Republic.
The acting deputy secretary of the US, Victoria Nuland, said America may be pushed into using the military if the coup plotters don't return to democratic government.
Source: Legit.ng