"Are We Your Slaves?": Uproar in Nat'l Assembly as Sen Tony Nwoye Yells at Senate President Akpabio
There was an uproar in the Senate on Tuesday, November 21, following the announcement of Senator Osita Ngwu as the new senate minority whip
Ngwu, a Peoples Democratic Party (PDP) chieftain, was named by the Senate President, Godswill Akpabio — a development that did not go down well with some Labour Party (LP) senators
A video of the furious reactions of LP federal lawmakers to Akpabio's announcement is circulating on social media platforms
Legit.ng journalist Ridwan Adeola Yusuf has over 6-year-experience covering politics in Nigeria
FCT, Abuja - The Senate was thrown into a rowdy session on Tuesday, November 21, when Tony Nwoye of the Labour Party (LP) repeatedly yelled at the Senate President, Godswill Akpabio.
The scene happened after Akpabio announced new minority leaders in the red chamber, Business Day reported.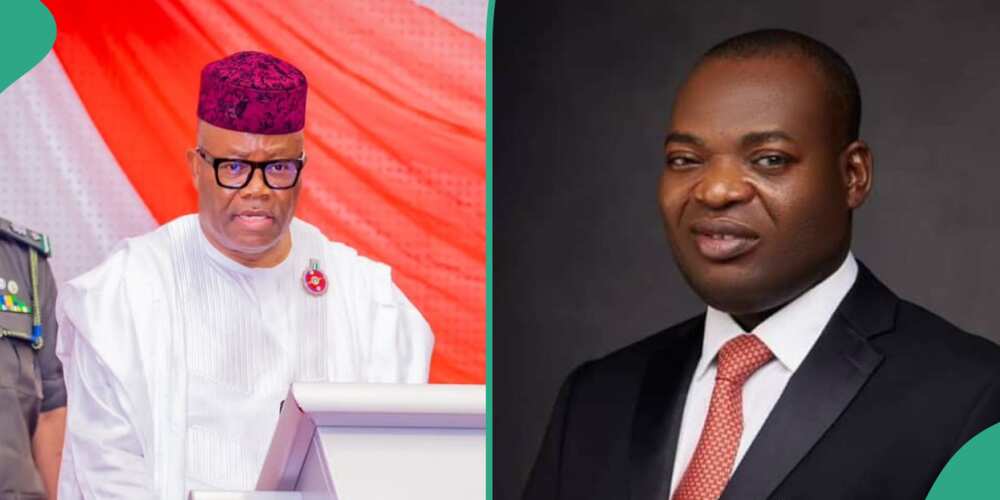 LP senators disagree with Akpabio
Akpabio announced senators Abba Moro and Osita Ngwu as minority leader and minority whip, respectively. Both are members of the Peoples Democratic Party (PDP).
Moro takes over from Simon Mwadkwon, while Ngwu replaces Darlington Nwokocha of the Labour Party. Both senators were recently sacked by the Appeal Court.
Per Channels Television, immediately after the announcement, lawmakers from the minority caucus raised objections to the announcement.
Nwoye yelled:
"How can you be choosing minority leaders for us? Are we your slaves?"
"You have done your worst. You have pushed us to the wall. Meaning what? It is unfair. It is not about me, it is about the institution of the state."
Watch the video below:
Legit.ng reports that apart from Nwoye, Senator Okechukwu Ezea (LP, Enugu North) also protested.
Akpabio reacts
However, reacting to the furious reaction from the lawmakers, Akpabio said he only announced the names forwarded to him by the opposition caucus and that it would be unfair not to respect the voice of the majority.
He, therefore, urged the opposition caucus to always put their house in order before forwarding any name to him.
Senate appoints Abba Moro minority leader
Earlier, Legit.ng reported that Senator Moro was named the new minority leader of the Senate, succeeding Senator Nwadkwon from Plateau North, who the court removed on October 23.
Senate President Akpabio announced this during the Tuesday, November 21 plenary session.
Akpabio ultimately upheld the seeming majority decision favouring the PDP for the senate minority leader and minority whip.
Source: Legit.ng