"Commodification of the Naira": Reactions as Tinubu Stops, Hears Man Giving Economic Advice in Crowd
President Bola Tinubu has been seen making pause to listen to a man giving economic advice in a crowd
The man was heard telling the president to try commodification of the naira in reviving the economy of Nigeria
Some Nigerians took to the comment section of the post and commended the President for being a listening type and urged other countrymen to suggest solutions to the president
Nigerians have started reacting to a viral video of a man urging President Bola Tinubu to commodify the country's currency to revive naira.
In a video shared by Ayekooto on Twitter, the man was seen making the comment while the president was passing by. The president stopped and pointed to one of his ministers behind him, suggesting he had been heard.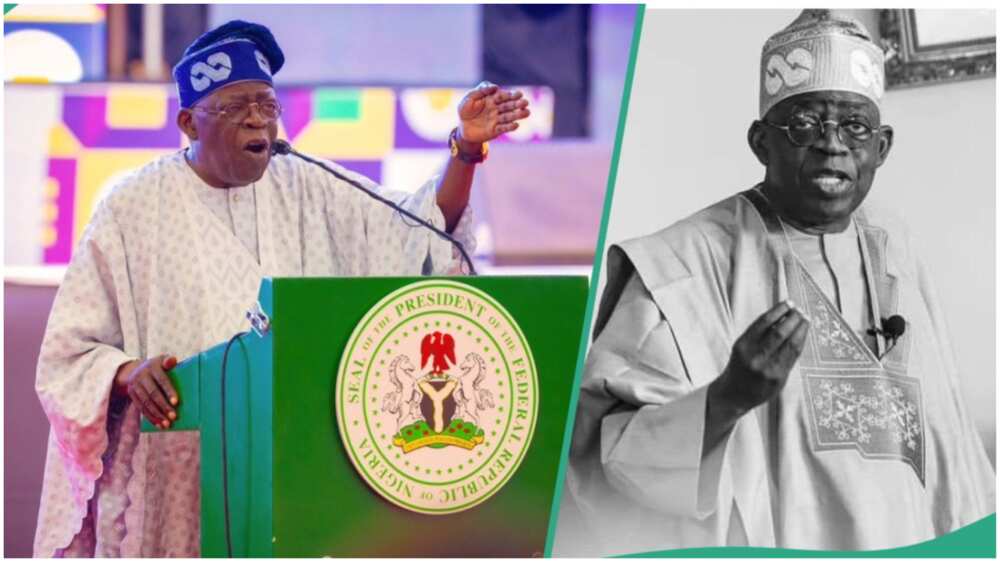 The man kept saying:
"My President, Commodification of the naira, use cassava, cassava...."
But some Nigerians took to the comment section and reflected on the situation.
Abisoye Alogba said:
"Asiwaju is a distinctive listener. He stopped for a while to catch what the gentleman man was saying and then directed him to the minister."
Pass Ike explained the implication of commodifying the currency. He said:
"Commodification can have negative consequences, such as: Dehumanization: When people and their labour are commodified, it can lead to exploitation and devaluation of human dignity."
However, Abraham Great replied to Ike, saying the world has moved past such a stage. He said:
"You missed his point. And if I get your point, that age is past. We now have tools and tractors that can make human labour easier. But what he is saying is more of pairing your naira."
Olubunmi Aro then gave examples of the commodification of the naira. He said:
"Examples of commodity money are gold and silver coins. Gold coins were valuable because they could be used in exchange for other goods or services, but also because the gold itself was valued and had other uses. Commodity money gave way to the next stage-representative money.
"Commodification describes the process by which something without an economic value gains economic value that can replace other social values. The process changes relationships that were previously untainted by commerce into relationships that essentially become commercial in everyday use."
Omoluabi Eniola commended the passion of the man in the audience for Nigeria. She said:
"Someone that loves their country cannot be like those that hate it. His passion is palpable."
See the tweet here:
Source: Legit.ng