Chicago State University Speaks on Certifying Tinubu's Diploma at US Court
Recently, Atiku Abubakar, the presidential candidate of the PDP, approached a US court, for an order compelling the Chicago State University (CSU) to release the academic records of President Bola Tinubu
Atiku said Tinubu's CSU files, if subpoenaed, will settle the controversy surrounding the Nigerian leader's academic background and aid the election cases in the African country's courts
CSU again confirmed that Tinubu attended the university and graduated in 1979 with a Bachelor's degree
Chicago, USA - Chicago State University (CSU) has informed the United States (US) District Court for the Northern District of Illinois that it would not be able to certify President Bola Tinubu's diploma under oath.
CSU's lawyer, Michael Hayes, told Judge Jeffrey Gilbert this during a recent court hearing.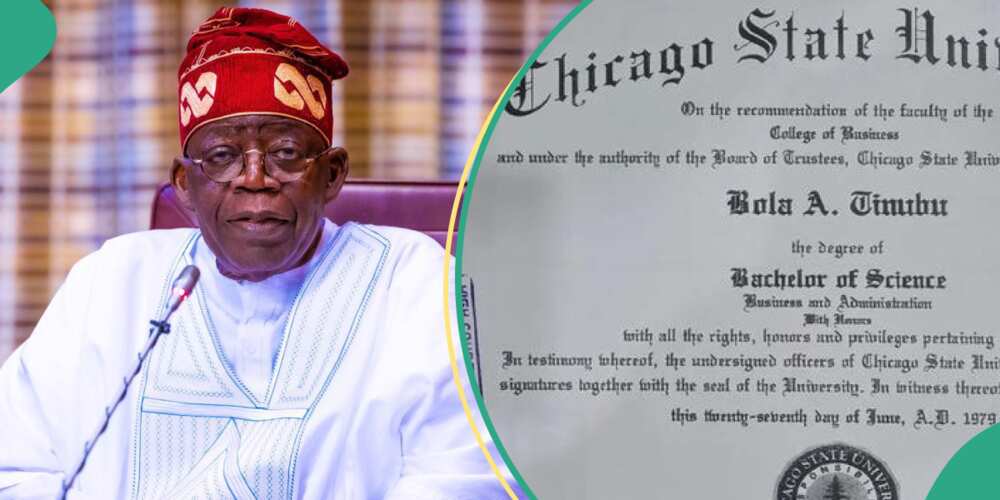 Chicago University confirms Tinubu attended institution
Legit.ng reports that Tinubu's credentials show that he graduated from CSU in 1979 with a bachelor's degree in business administration, accounting, and management. However, there have been allegations bordering on discrepancies with his certificate.
A CSU spokesperson said the university can confirm the president graduated. However, it cannot authenticate the diploma because it is a ceremonial document that is not part of a student's official academic file.
At a hearing in Chicago this week, Atiku Abubakar's lawyers asked a federal judge to compel CSU officials to turn over Tinubu's academic documents. The judge, Gilbert did not rule on the request, CBS News reported.
CSU's statement partly reads:
"The university has confirmed Tinubu attended CSU and graduated in 1979 with a bachelor's degree. Federal law, however, prevents us from providing any further information without consent or unless allowed to do so via court order.
"CSU is confident in the veracity and integrity of our records regarding Tinubu's completion of graduation requirements and degree certificate."
Tinubu's old classmate at Chicago varsity surfaces
In a piece of related news, Legit.ng reported that a man, Durojaiye Ogunsanya, said he and President Tinubu were classmates at the CSU.
Ogunsanya, in an interview with Television Continental on Monday, September 11, said he and Tinubu both graduated from the university in 1979.
He accused critics of being mischievous, adding that President Tinubu was "a good student" while in the CSU.
Source: Legit.ng