Obi/Atiku vs Tinubu: Apostle Releases Prophecy on How Tribunal Judgement Will End
Labour Party (LP) presidential candidate, Peter Obi, filed a court petition challenging the outcome of the February 25 disputed poll
Similarly, the Peoples Democratic Party (PDP's) Atiku Abubakar approached the court to challenge the outcome of the election won by the All Progressives Congress (APC)
Apostle Tony Anthony, from Bende in Abia state, has released a prophecy, saying Atiku and Obi would be defeated in court
FCT, Abuja - The spiritual head of the Souls For Christ Ministry, Apostle Tony Anthony, has predicted that the Presidential Election Petition Court (PEPC) will uphold President Bola Tinubu's victory.
In a prophecy shared via his known Facebook page recently, the cleric said regardless of the court's verdict, "I saw a humiliating force moving Tinubu out of power".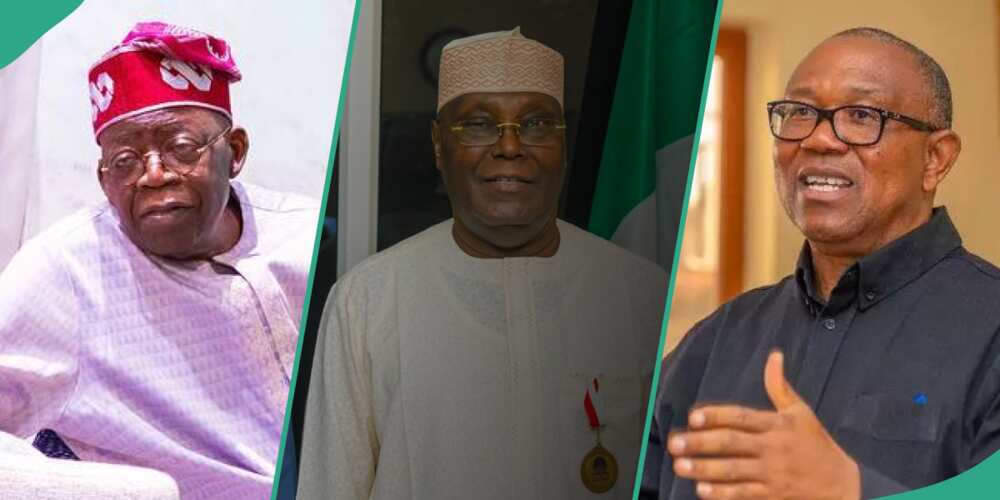 'Tribunal will uphold Tinubu's victory', says cleric
The cleric released other gloomy prophecies about Nigeria.
He wrote:
"Prophecy: I saw unrest in Nigeria.
"I saw parents stopping their children from attending school. I saw government and private workers stopping work."
He continued:
"I saw the election petition tribunal upholding Tinubu's presidential victory. I saw a humiliating power (force) moving Tinubu out of power."
He added:
"I saw Nigeria in a very deplorable state. I saw the presidential seat being vacate (sic) and I saw men with different kinds and colors of attire struggling for it.
"I saw foreign intervention in Nigeria.
"I saw Tinubu went (sic) into hiding. I saw sea storms roaring over Nigeria.
"All these will happen in a swift between the time of 3 and 7 as I saw it written saying, 3 times in 7 days meaning in a space of 21 days as I was interpreted to.
"And I saw a group of people mainly children and women under broken building shielding cruel tears."
The man of God concluded:
"The Lord is extremely angry with Nigeria leaders."
Obi/Atiku vs Tinubu: Another cleric issues prophecy
In a piece of related news, Legit.ng reported that the spiritual leader of Christ Deliverance Ministries (CDM), Lagos, Prophet Ekong Ituen, prophesied that neither Atiku nor Obi would triumph at the Presidential Election Petition Court (PEPC).
He had said:
You (Atiku and Obi) are wasting your time and resources; you won't win in court.
The prophecy, which has now gone viral, has continued to elicit intense reactions.
How division in opposition aided Tinubu's victory
According to the Independent National Electoral Commission (INEC), Tinubu won the election with a total of 8,794,726 votes.
Atiku and Obi got 6,984,520 and 6,101,533 votes respectively. Rabiu Kwankwaso of the New Nigeria Peoples Party (NNPP) also got 1,496,687 votes.
Political analysts have given a variety of explanations for why Tinubu won the election, including the division that existed at the time among the opposition party.
Due to the PDP's failure to zone its presidential ticket to the south like the APC, it received harsh criticism.
The party soon lost important members like Obi and Kwankwaso as a result of the issue.
The refusal of the G-5 governors to support Atiku, the party's presidential candidate, led to additional internal divisions within the party the PDP. The G-5 governors are Nyesom Wike (Rivers), Seyi Makinde (Oyo State), Ifeanyi Ugwuanyi (Enugu State), Samuel Ortom (Benue State), and Okezie Ikpeazu (Abia State).
Others claimed that working with Kwankwaso would have given Obi a greater chance. Initially headed for an alliance, the two split up when a solution could not be reached.
After the results were released, the PDP and the LP, among other opposition parties, alleged irregularities in the election process.
Source: Legit.ng