How 'SSS' Allegations Against Nasir El-Rufai Led to His Non-Confirmation by Senate, New Report Reveals
The former governor of Kaduna state, mallam Nasir El-Rufai's ministerial nomination was withheld due to security checks, the Senate disclosed
But a recent report highlighted the major reason why the ruling APC governor is yet to be confirmed as a minister under President Bola Tinubu's cabinet
According to the report, allegations of human rights abuses and unguarded public utterances are some of the reasons why El-Rufai's nomination was delayed and still under SSS check
The former governor of Kaduna state, Nasir El-Rufai, who many thought had a smooth sail, was among just three nominees whose ministerial confirmations were withheld.
The two others the Senate suspended their confirmation were a former senator from Taraba, Sani Danladi, and a nominee from Delta State, Stella Okotete.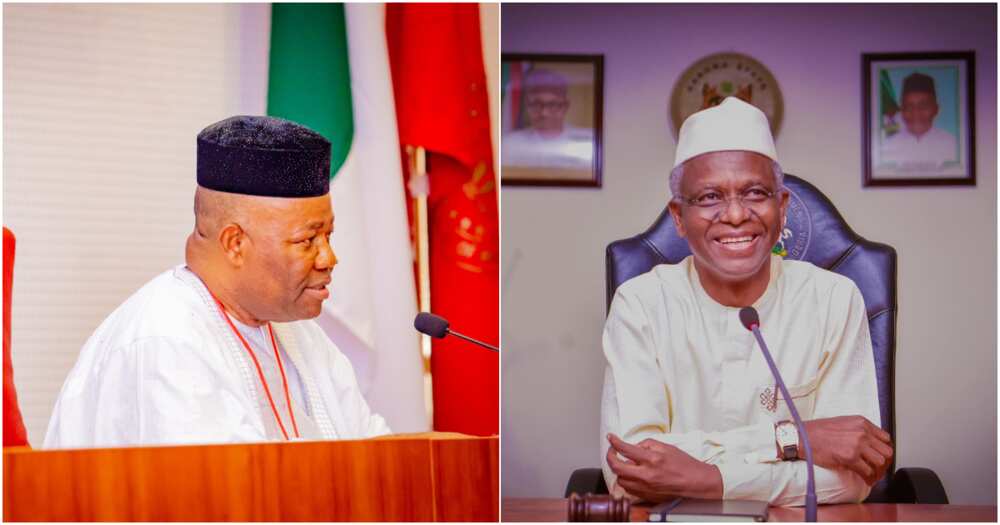 Why El-Rufai's nomination was withheld by Senate, new report reveals
A recent report by PremiumTimes indicates that allegations of human rights abuses, unguarded public utterances, and a purported flood of petitions are the issues advanced by the State Security Service (SSS) against the nomination of the former governor.
The authoritative report by PremiumTimes further disclosed that it was shocking for many Nigerians to find El-Rufai, an ally and one of the staunchest backers of President Bola Ahmed Tinubu, among the three whose ministerial confirmation was suspended.
The withholding of El-Rufai's confirmation shocked many Nigerians who perceived him as an A-list ministerial nominee of President Tinubu.
Sources give an account, security report on El-Rufai
Senate President, Godswill Akpabio said their confirmations would await security clearance, which left many Nigerians wondering what the security issues could be with Mr El-Rufai's nomination.
After speaking with different sources with direct knowledge of the security report on El Rufai, PREMIUM TIMES is reporting for the first time the security concerns the SSS raised against him.
The sources, who asked not to be named because they are not permitted to discuss the sensitive matter publicly, said most of the allegations against the former governor were already known to the public.
Legit.ng cannot independently verify the allegations.
The issues include broad and specific allegations, including his widely reported controversial remarks and policies, according to sources with direct knowledge of the complaints by the SSS.
"Cabals behind El-Rufai's ordeal, delay not allowed", Council of Imams sends strong warning to Senate
The Council of Imams and Ulamas in Kaduna state has rejected the Senate's reason for the non-confirmation of the former Governor of Kaduna state, Nasir El-Rufai as a ministerial nominee.
The Senate had on Monday, August 7, suspended the confirmation of El-Rufai and two other ministerial nominees over pending security checks.
However, the Council of Imams and Ulamas in Kaduna State, described the senate's reason for not confirming El-Rufai as mere "politics of vendetta and abuse of power", against the former governor.
President Tinubu meets El-Rufai, Wike, details emerge
President Bola Tinubu was currently meeting with the immediate past governors of Rivers and Kaduna States, Nyesom Wike and Nasir El-Rufai, at the presidential villa in Abuja on Wednesday, August 9.
Wike and El-Rufai are ministerial nominees by President Tinubu.
However, the Senate only screened and confirmed Wike as minister of the federal government, while the Red Chamber was yet to confirm El-Rufai over an alleged security report.
Source: Legit.ng