"They Are Suffocating The Poor": Knocks As Akpabio Says Senators Have Been Sent "Enjoyment Allowance"
Nigerians have condemned Senate President Godswill Akpabio over his comment that holiday allowance has been sent to the accounts of Senators by the clerk of the house
Akpabio was seen in a viral video making the comment at a plenary as Senators were preparing to go on their annual recess
Many Nigerians have said the Senators do not care about the poor Nigerians at a time many common men are suffering from the pains of the removal of the fuel subsidy
FCT, Abuja - Nigerians have started condemning the comment by Senate President Godswill Akpabio that an 'enjoyment allowance' has been sent to Senators who were going on recess.
The Senate has earlier suspended the recess over the screening and confirmation of President Bola Tinubu's ministerial nominees.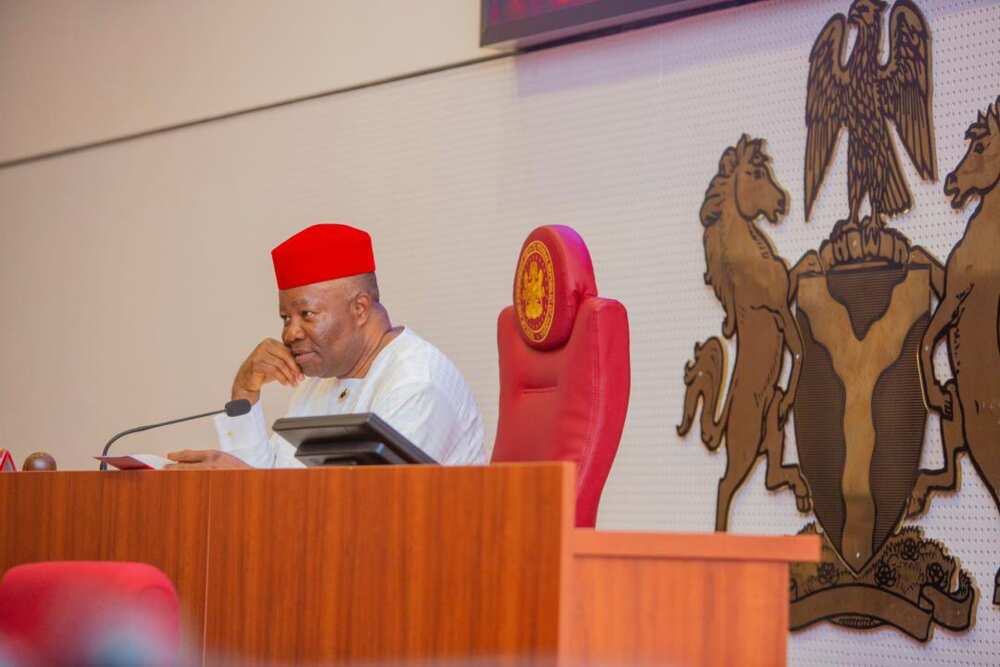 After one week of screening, the Senate confirmed 45 of the 48 ministerial nominees, while the confirmation of three of them, including Nasir El-Rufai, the former governor of Kaduna State, was withheld until security reports on them were provided by the appropriate authority.
How Nigerians react to Akpabio's comment that money has been sent to senators
But in a trending video, Akpabio was seen addressing the Senators as they prepared to begin the recess. He said:
"In order for us to enjoy our holidays, a token has been sent to our various accounts by the Clark of the National Assembly."
Some Nigerians have taken to their social media to react to the comment. See their comments below:
An analyst, @JaypeeGeneral, commented:
"He didn't realize he was still on a live TV, they are suffocating the poor with suffering and enjoying themselves. They don't care about you and I. SAD!"
See his tweet here:
Chuks Akunna recalled the drama put up by Akpabio when he was being screened as minister under former President Muhammadu Buhari. He said:
"In 2020, during a NASS NDDC probe, then-ND Minister Godswill Akpabio was begged to "off his mic." Behold another "off your mic" session when "Let The Poor Breathe" announced, to the discomfort of senators, that they've been "Jagabaned" to enjoy their holidays! Oya, off your mic!"
See his tweet here:
Another Nigerian with the handle listed three achievement of Akpabio as Senate president. He said:
"Making fun of Nigerian's hardship with the "Allow the poor breathe" joke.
"Rubber stamping Tinubu's controversial ministerial list without scrutiny.
"Sharing money to Senators for holidays on live TV."
See his tweet here:
A concerned Nigerian with the handle, @Nwaadaz said:
"He made it worse by withdrawing the statement and tried to fool the public watching."
See her tweet here:
Another concerned Nigerian commented:
"He didn't realise he was on Live TV when he said that a token has been sent to the senators accounts for their holidays. Situation of the country doesn't concern them. They just want to steal money. God punish anybody supporting this government."
See the video here:
Source: Legit.ng