BREAKING: Shettima Backs Tinubu's Pronouncement On Subsidy Removal
Vice President Kashim Shettima has backed President Bola Tinubu over his decision to remove the subsidy on petrol
Tinubu, in his inaugural speech on Monday, May 29, said the era of subsidy payment on fuel has ended
Reacting, Shettima maintained that the president is intentional about his plan to make Nigeria's economy grow
Following the announcement of fuel subsidy removal by President Bola Tinubu in his inaugural speech on Monday, fuel queues have returned to filling stations in the Ilorin metropolis.
Most filling stations were closed while those selling were selling above the approved pump prices with long queues of customers.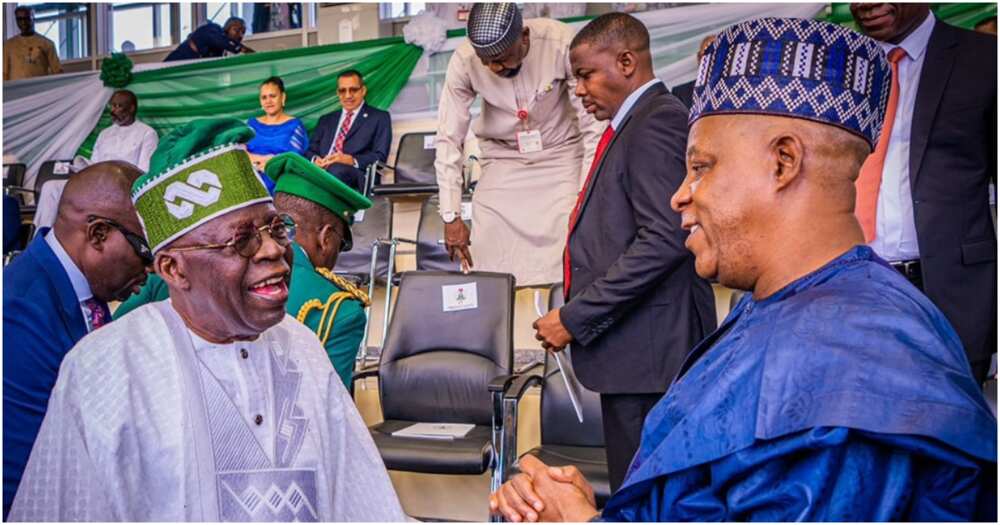 According to the report, the filling stations were selling at different rates, but some were closed down.
Shettima back Tinubu's call for subsidy removal
Speaking on the development, Vice President Kashim Shettima affirmed the commitment of the Tinubu administration to the removal of fuel subsidy.
Shettima spoke as he resumed work at the VP wing of the State House in Abuja on Tuesday, May 30, Channels TV report added.
The VP restated the commitment of himself and his principal, President Tinubu, towards bettering the lives of Nigerians.
Presidency clears the air on Tinubu's call for subsidy removal
The presidency, in a statement spotted by Legit.ng on Twitter, further clarified Tinubu's call for fuel subsidy removal.
"The public is advised to note that President Bola Tinubu's declaration that "subsidy is gone" is neither a new development nor an action of his new administration. He was merely communicating the status quo, considering that the previous administration's budget for fuel subsidy was planned and approved to last for only the first half of the year.
"Effectively, this means that by the end of June, the Federal Government will be without funds to continue the subsidy regime, translating to its termination. The panic-buying that has ensued as a result of the communication is needless; it will not take immediate effect.
"Furthermore, President Tinubu was clear about his plans to re-channel the funds previously devoted to the payment of subsidies into better investments that will cushion the effects of the removal on the general public, especially the poor of the poor. This includes but is not limited to investments in public infrastructure, education, healthcare and jobs that will materially improve the lives of millions of Nigerians and increase their earning potential."
Nigerians berate Tinubu's subsidy removal, says Dangote won't subsidise petrol for Nigeria
The petrol subsidy removal announced by President Bola Tinubu on the day of his inauguration has drawn backlash from Nigerians.
Nigerians have said that the petrol subsidy removal was thoughtless and that no adequate plans have been put in place by the government to cushion the effect of the removal.
The co-founder of BudgIT, a Nigerian civic platform, Seun Onigbinde, said the government could not remove subsidies without offering to reduce the waste in government.
NNPC welcomes FG's decision to remove fuel subsidy
The Nigerian National Petroleum Company Limited (NNPC) has welcomed President Bola Tinubu's decision to remove the petrol subsidy.
The NNPC Group Chief Executive Officer, Mele Kyari, stated during a press briefing in Abuja on Monday, May 29, 2023, that the company is pleased with the decision of the President to end the petrol subsidy in Nigeria.
Source: Legit.ng