Nigerians Berate Tinubu's Subsidy Removal, Say Dangote Won't Subsidise Petrol for Nigeria
Nigerians are already feeling the impact of petrol subsidy removal by Tinubu
Many reported buying petrol between N500 and N600 on Monday, May 29, 2023, when Tinubu announced the removal
Others said Dangote Refinery would not offer the much-needed relief to Nigerians
The petrol subsidy removal announced by President Bola Tinubu on the day of his inauguration has drawn backlash from Nigerians.
Nigerians have said the subsidy removal was thoughtless and adequate plans had yet to be put in place by the government to cushion the effect of the removal.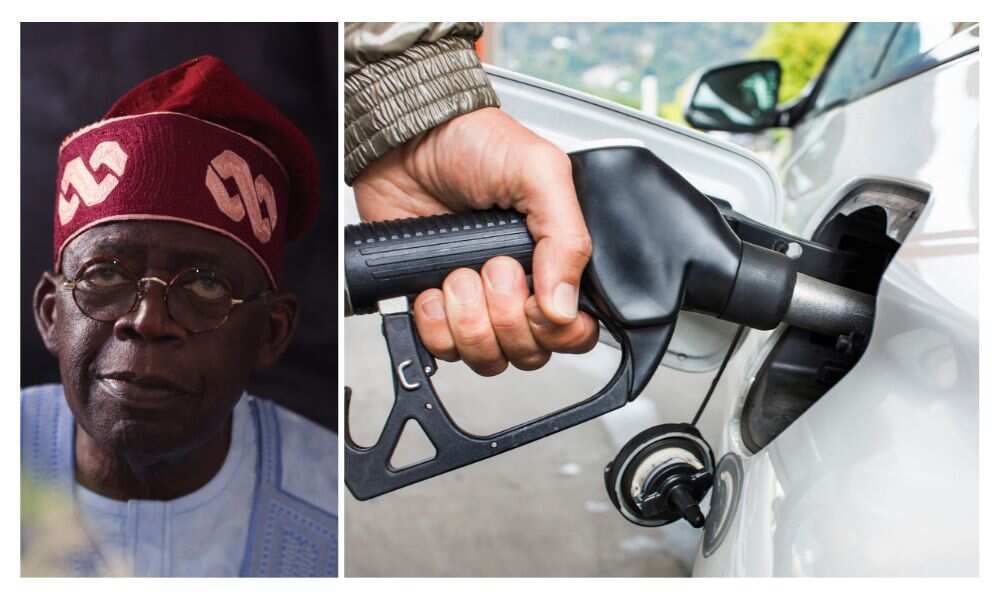 Seun Onigbinde, the co-founder of BudgIT, a Nigerian civic platform, said on Twitter that the government could not remove subsidies without offering to reduce the waste in government.
According to him, government officials cannot live large while the citizens suffer a higher cost of living.
PAY ATTENTION: Share your outstanding story with our editors! Please reach us through info@corp.legit.ng!
Onigbinde said:
"You can't remove subsidy without offering to reduce the waste in government. You can't live large while the citizens bear the higher cost of living. You are the leader. You show examples and earn trust.
Subsidy Removal must happen, but it requires tact. You have to figure out how to handle food inflation, provide alternative means of transport, and ramp up social investment under a well-structured social investment program. Anything else is a pathway to social disorder."
However, Nigerians have said petrol stations have adjusted their pump price to reflect the new reality, stating that petrol is now sold for between N500 and N600 in most petrol stations.
IPMAN opposes plan
The Independent Petroleum Marketers Association of Nigeria (IPMAN) has opposed Tinubu's move to enforce his predecessor's plan to remove fuel subsidies by the end of June.
IPMAN, which reacted to the President's announcement, said it was not opposed to the new President's subsidy removal plan and supports the removal, but the new government should have discussed the plan with it before embarking on the removal.
Punch reports that IPMAN's Public Relations Officer, Ukadike Chinedu, added that the new government should dialogue with marketers before ending petrol subsidies.
Chinedu also said IPMAN is not in support of the removal at this time because the refineries have not been fixed, which was the condition given to the previous administrations before the subsidy could be removed.
He stated that the marketers are ready to work with the new government to proffer solutions to the subsidy regime.
Dangote Refinery is not the answer
A former Bayelsa Senator, Ben Murray-Bruce, has said the Dangote Refinery is not the answer to reducing the petrol price.
Murray-Bruce, who was answering questions on the refinery commissioning, stated that the Nigerian government needs to apologise to Nigerians for failing to do what Dangote did in a few years.
He said that the Dangote Refinery would maximise profit as a private business and that Nigerians should not expect to buy fuel at a low price when subsidies are removed or when Dangote Refinery becomes fully operational, he told WAZOBIA Tv.
According to Murray-Bruce, it cost Nigerians about N30,000 to fill their vehicles if subsidy is removed.
Murray-Bruce said:
"Prices are going to go up. If Dangote starts, he is not going to make prices drop. He is not going to subsidise you. The government can subsidise you. If he doesn't charge market value, he will be bankrupt."
NNPC reacts to fuel queues
The Nigerian National Petroleum Company Limited (NNPC) has said the potential changes to petrol prices are not enough reason for Nigerians to begin panic buying.
NNPC's chief executive officer, Mele Kyari, said on Monday, May 29, 2023, said the company is ready to ensure adequate petrol supply.
He added that the company is observing all its distribution networks to ensure compliance, as the NNPC has a sufficient supply of the product, especially petrol, and there is no reason to panic.
Subsidy removal, exchange rate, one other economic decision Tinubu wants to make immediately
Legit.ng reports that Bola Ahmed Tinubu is officially Nigeria's president and has begun making a series of economic policy pronouncements.
In his inaugural address, Tinubu promised many economic reforms he would execute from inception.
Tinubu broached the contentious issue of petrol subsidy removal abandoned by his predecessor, Muhammadu Buhari.
Source: Legit.ng