Revealed: Ortom to Get N40m Allowance Every 4 Years, 2 SUVs and Life Pension
A recent report has revealed what the former governors of Benue state will get after leaving office
This is contained in the Benue State House of Assembly executive pension bill passed recently by the lawmakers following the payment of three out of six months' salary arrears
The Pension Bill was initiated by the outgoing governor, Samuel Ortom seeking to place ex-governors and their deputies on bogus gratuity, pension, and other benefits
During a plenary on May 25, 2023, the Benue state House of Assembly passed a lifetime maintenance bill for former elected governors and their deputies in the state into law.
This was immediately after they were paid three out of six months' salary arrears, The Nigerian Tribune reported.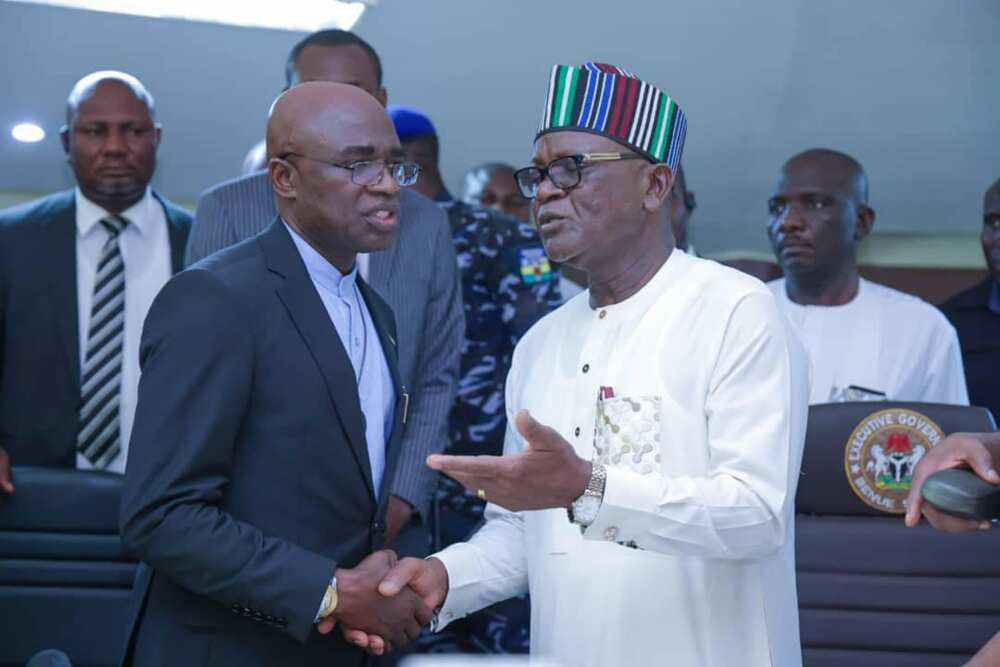 'Expensive monthly stipend, 2 SUVS': inside Ortom's initiated law
The bill is expected to cover all governors and their deputies democratically elected since 1999, Leadership report confirmed.
In a copy seen by The Cable, the law states that the elected governor and their deputies will be entitled to a monthly stipend equivalent to the basic salary of a serving/incumbent governor and its deputy in the state.
The law provides that the 'monthly stipend' be charged from the state's Consolidated Revenue Funds (CRF).
How the bill works
From the sections of the bill according to SaharaReporters, the law prioritises the payment of the monthly stipend to the ex-governors and their deputies against other expenses like salaries, pensions and gratuity of the citizens.
The state government is also mandated to avail the former governors with six personal staff.
The law also provides that all former governors are entitled to N25 million and N15 million to the former deputies as maintenance allowance every four years.
The law also stipulates that a former governor will be entitled to two official SUV cars of his status "and one official SUV car of his status as former deputy governor."
May 29: "Buhari is a failure, he must be told," says Governor Ortom
The governor of Benue state, Samuel Ortom, has described the administration of President Muhammadu Buhari as a failure, noting that he "must be told that he failed woefully and Nigerians are feeling the impact of that failure because we are all suffering."
As reported by Punch, the pragmatic Ortom made this known at the commissioning of the Benue State Community Volunteer Guards (BSCVGs) in Makurdi.
Governor Ortom further noted that the administration of President Buhari exposed citizens to abject poverty and hardship compared to what it used to be under the administration of his predecessor, ex-President Goodluck Jonathan.
May 29: G-5 Governor Speaks on Being Invited by EFCC After Inauguration
In another development, Governor Samuel Ortom has revealed that he is not scared of an invitation from the Economic and Financial Crimes Commission (EFCC).
The pragmatic Ortom said he is open to accepting the invitation of the anti-graft agency if called upon for a probe.
He also urged his cabinet members and other appointees not to fret about any invitation from the EFCC.
Source: Legit.ng