May 29: 5 Memorable Quotes from Tinubu's Inauguration Speech
President Bola Ahmed Tinubu, on Monday, May 29, gave a captivating inaugural speech at the iconic Eagle Square in Abuja
Tinubu, on his first day in office as President, made some emphatic statements that would be referenced in the history books
One of the high points of his inaugural speech was when he emphatically declared that: "fuel subsidy is gone"
FCT, Abuja - The inauguration of President Bola Tinubu marked a significant moment in Nigeria's history, as he assumed the highest office in the country.
President Tinubu delivered a message of unity, resilience, and hope for a better future in his inauguration speech.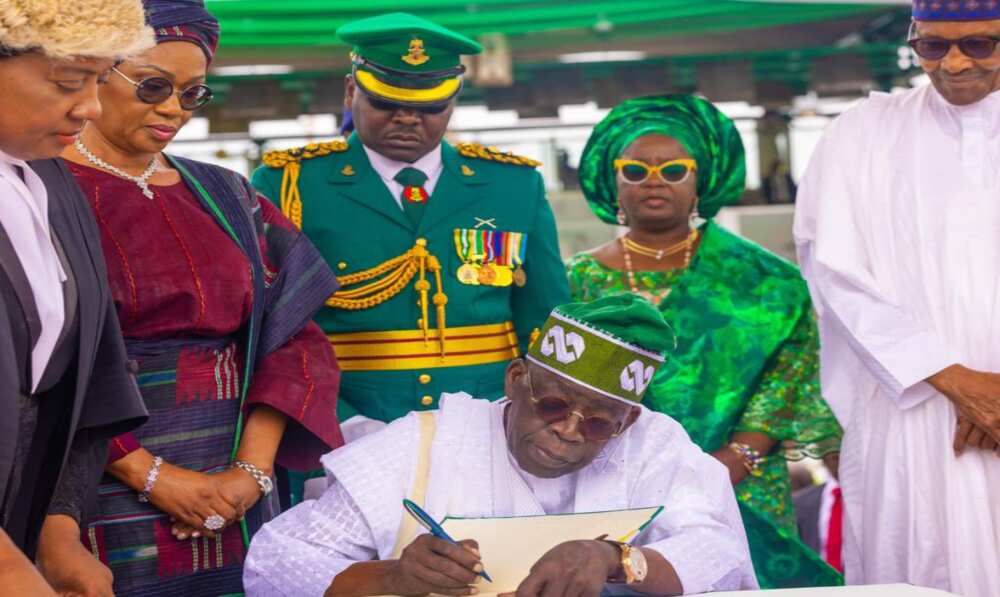 Here are five memorable quotes from his impactful inaugural address:
1. "The fuel subsidy is gone"
This was the powerful President Tinubu uttered when he declared the removal of fuel subsidy, a long-standing crisis that has dilapidated the petroleum industry in Nigeria.
President Tinubu noted that the funds used to subsidise fuel would be channelled to other sectors that need revival.
He said:
"We shall instead re-channel the funds into better investment in public infrastructure, education, healthcare and jobs that will materially improve the lives of millions."
2. "I will not rule, I will govern"
This was another quote from President Tinubu's inaugural speech when he was making reference to the need for Nigeria to unite as one.
Tinubu said:
"Our constitution and laws give us a nation on paper. We must work harder at bringing these noble documents to life by strengthening the bonds of economic collaboration, social cohesion, and cultural understanding.
"Let us develop a shared sense of fairness and equity."
3. "One million jobs in digital economy"
This was another memorable quote from President Tinubu's inaugural speech at the iconic Eagle Square in Abuja.
President Tinubu said he's willing to uphold his campaign promises to the Nigerian youths with the creation of multiple jobs.
He said:
"My administration must create meaningful opportunities for our youth. We shall honour our campaign commitment of one million new jobs in the digital economy."
4. "...as this world exists, Nigeria shall exist"
President Tinubu in his speech called for national unity and healing from previous feuds that have wounded the nation.
He said the mission of his administration is to improve the way of life in a manner that nurtures humanity and encourages compassion toward one another.
5. Tinubu on Security
President Bola Tinubu said:
"Security shall be the top priority of our administration because neither prosperity nor justice can prevail amidst insecurity and violence."
5 Key Promises Made by Tinubu During His Inauguration Address
Meanwhile, President Bola Ahmed Tinubu has promised to commence work immediately to tackle critical issues facing Nigeria.
Tinubu, during his inaugural speech at the iconic Eagle Square in Abuja, promised to implement the removal of subsidy.
He also pledged that his administration would tackle the issue of unemployment with the creation of one million jobs.
Source: Legit.ng