5 Key Promises Made by Tinubu During His Inauguration Address
President Bola Ahmed Tinubu has promised to commence work immediately to tackle critical issues facing Nigeria
Tinubu, during his inaugural speech at the iconic Eagle Square in Abuja, promised to implement the removal of subsidy
He also pledged that his administration would tackle the issue of unemployment with the creation of one million jobs
FCT, Abuja - Another chapter has begun in Nigeria's democratic history with the inauguration of Asiwaju Bola Ahmed Tinubu as the 16th President of the Federal Republic of Nigeria.
At the inauguration, the former Lagos state governor gave a profound speech centring on a series of national issues he promised his administration would tackle.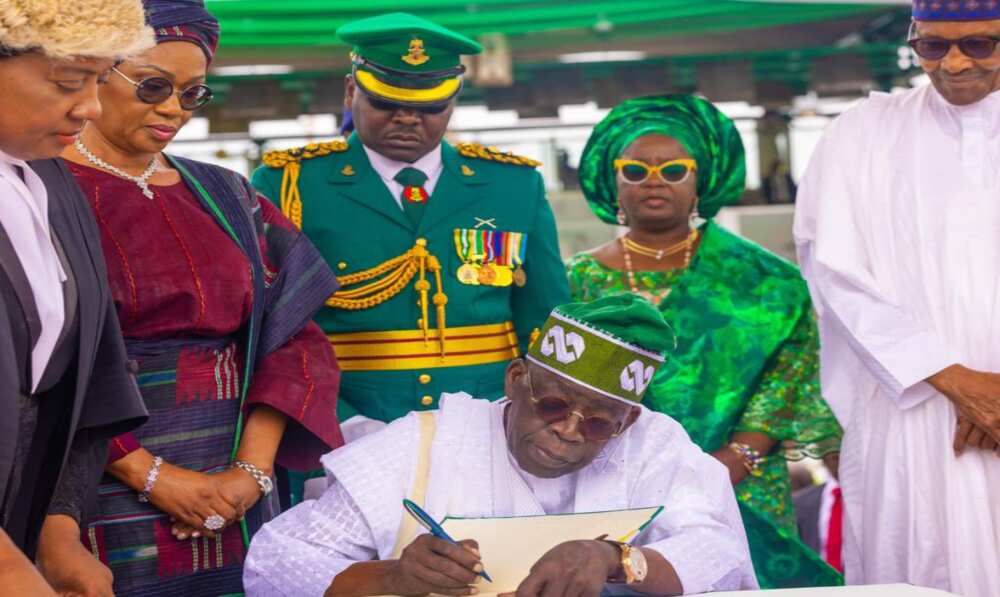 In this short piece, we delved into the five key promises President Tinubu made in his inaugural speech.
1. Removal of Subsidy
President Tinubu's declaration on the removal subsidy was arguably the highlight of his speech when he said, "It is gone".
PAY ATTENTION: Follow us on Instagram - get the most important news directly in your favourite app!
President Tinubu, with a bold and emphatic tone, declared that the federal government would no longer channel funds into subsidising fuel.
He said:
"We shall instead re-channel the funds into better investment in public infrastructure, education, healthcare and jobs that will materially improve the lives of millions"
2. CBN monetary policy
Oh Yes! This was another high point of his speech, where he noted that there would be a review of the monetary policies of the Central Bank of Nigeria.
Recall that President Tinubu was the first presidential aspirant to kick against the new naira redesign policy in the build-up to the presidential polls.
In his speech, he said:
"Interest rates need to be reduced to increase investment and consumer purchasing in ways that sustain the economy at a higher level. Whatever merits it had in concept, the currency swap was too harshly applied by the CBN given the number of unbanked Nigerians.
"The policy shall be reviewed. In the meantime, my administration will treat both currencies as legal tender."
3. Revival of electricity
President Tinubu said there is a need to draw the borderline in reviving the power sector, especially for the growth of businesses and startups.
He said:
"...electricity will become more accessible and affordable to businesses and homes alike. Power generation should nearly double, and transmission and distribution networks improved. We will encourage states to develop local sources as well."
4. Removal of multiple taxations and investment
On the issue of multiple taxation, President Tinubu said:
"I have a message for our investors, local and foreign: our government shall review all their complaints about multiple taxation and the various anti-investment inhibitions.
"We shall ensure that investors and foreign businesses repatriate the hard-earned dividends and profits home."
5. Creation of One million jobs for youths
President Tinubu said his administration would uphold its campaign promise to create one million jobs annually for Nigerian youths.
He said he is willing to work with the National Assembly to establish policies to help actualise his promise.
He said:
"My administration must create meaningful opportunities for our youth. We shall honour our campaign commitment of one million new jobs in the digital economy."
Watch Moment Buhari Flies Home to Daura After Handing Over to Tinubu
Meanwhile, former President Muhammadu Buhari has handed over the helms of affairs to the new present of Nigeria, Bola Ahmed Tinubu.
After handing over to Tinubu, Buhari and his wife, Aisha left Abuja and thereafter boards the Nigerian Air Force Jet 001 to Katsina en route to Daura, his hometown in Katsina state.
After shaking hands and exchanging pleasantries with some of them, Buhari waved goodbye to his lieutenants before his aircraft took off.
Source: Legit.ng