Fasoranti at 97: Tinubu Eulogises Ex-Afenifer Leader, Reveals Details of Pre-Election Meeting in Akure
Bola Tinubu has paid tribute to former Afenifere leader Pa Reuben Fasoranti, who turned 97
The president-elect described him as one of the elder statesmen who stood by him in his quest to become the President of Nigeria
He also revealed, in detail, the conversation he had with Fasoranti during his famous visit to his home in Akure, Ondo state
Nigeria's president-elect, Asiwaju Bola Ahmed Tinubu, has joined other prominent Nigerians to celebrate the 97th birthday of Pa Reuben Fasoranti, the former leader of Afenifere.
During his pre-election campaign, Tinubu visited the elder statesman in his Akure, Ondo state residence, where the former Lagos state governor was anointed and endorsed.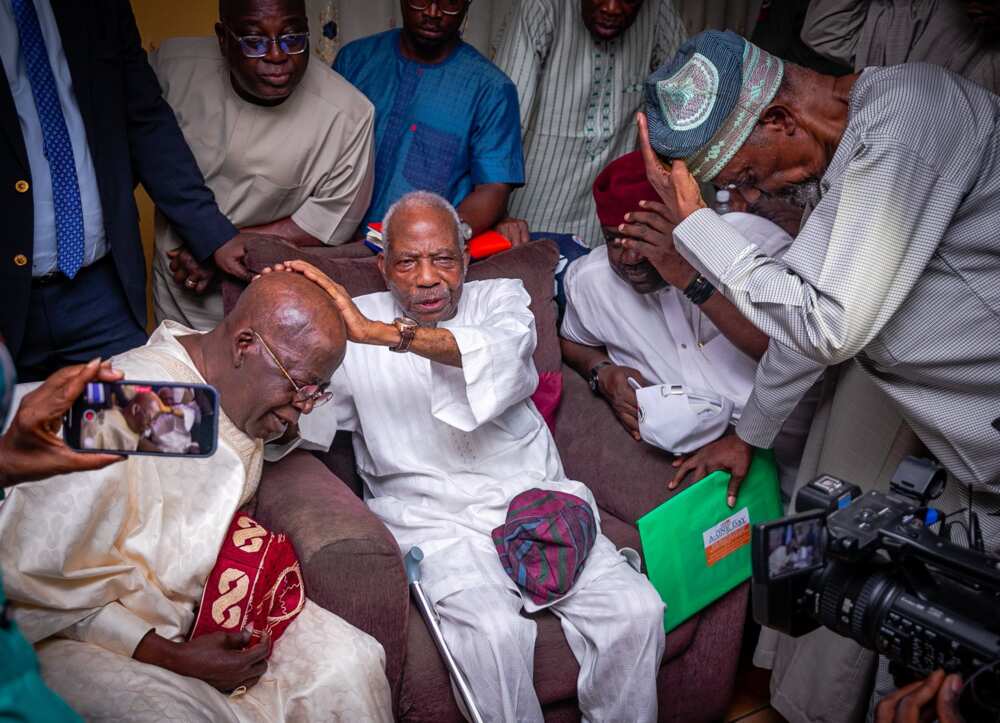 As reported by TheCable, Tinubu, in a statement issued on Thursday, May 11, said:
"On this special day that our father, Chief Reuben Fasoranti, turns 97, we have nothing but gratitude to God for granting him long life and presence of mind.
PAY ATTENTION: Follow us on Instagram - get the most important news directly in your favourite app!
"All of us in the progressive fold are inspired by the long years of unflinching dedication to public good by Baba. We are motivated to follow his examples because Baba Fasoranti is a light unto our paths."
Tinubu further revealed his heart-to-heart conversation with Fasoranti during his famous visit to his residence in Akure in the build-up to the 2023 presidential election.
He disclosed how he got unlimited support from the elder statesman despite the rejection from the new leadership of Afenifere led by Ayo Adebanjo, who publicly declared his support for Peter Obi of the Labour Party.
As reported by PM News, the president-elect said:
"When I visited him in Akure after I won my party's ticket, I told him to still stay long enough with us to see a great Nigeria that his generation worked hard and fought for. I made a pledge to Baba and all Nigerians that I will work day and night to fulfil the promise of a greater country.
"I remain resolutely committed to that promise, even as I'm delighted that Baba is still very much around with us. I join the children, entire family, friends, associates and Afenifere men and women to wish Baba a glorious 97th birthday."
2023 Polls: Buhari finally gives reason for not endorsing Tinubu during APC primaries
In another contrasting development, President Muhammadu Buhari has revealed why he did not support any aspirant during the presidential primaries of the APC.
He stated that his reason was his experience contesting for the presidential seat several times.
The President further noted that he had no favourite among the candidates, Bola Tinubu, Yemi Osinbajo, Rotimi Amaechi and others.
Source: Legit.ng