Festus Keyamo Speaks on Moves to Stop Tinubu's Inauguration
Festus Keyamo said some opposition supporters have been assured that Tinubu's inauguration can be legally stopped before May 29
The Minister of state for Labour also claimed there is a report about the invitation of some foreign lawyers to tackle Tinubu
Keyamo mocked those who hold the belief that Tinubu's inauguration can be stopped, describing them as 'illiterates'
FCT, Abuja - Minister of State, Labour and Employment, Festus Keyamo (SAN), has mocked antagonists of the president-elect, Bola Tinubu, who he said have been assured that Tinubu's inauguration can be legally stopped before Monday, May 29.
Legit.ng reports that Keyamo said he read a report to the effect that some foreign lawyers have been flown into Nigeria to ensure that the court stops Tinubu's swearing-in.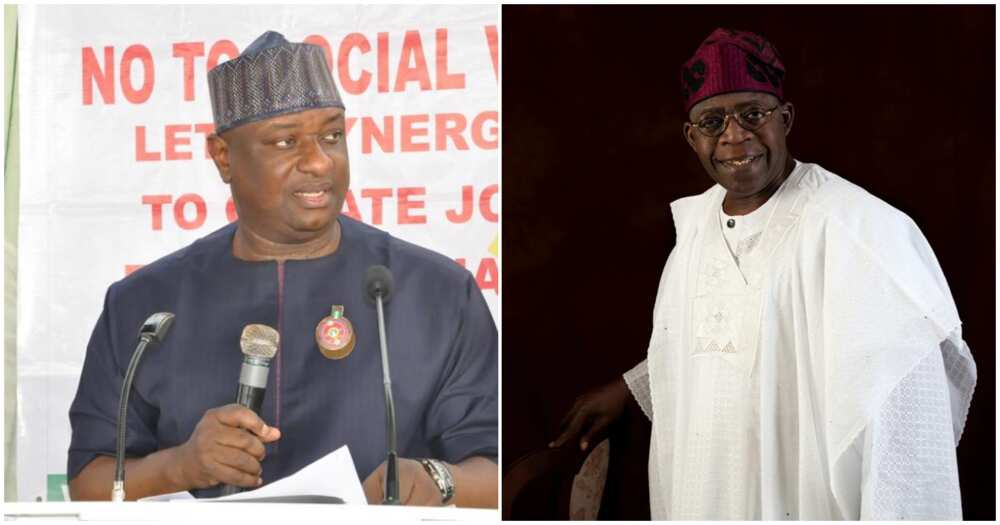 The Minister wrote on his verified Twitter handle on Friday, May 5:
"I read somewhere that some supposedly learned fellow is assuring the nattering nitwits that the inauguration of @officialABAT can be legally stopped before May 29th and yet another story that some foreign lawyers have been flown in to achieve that purpose.
"And I read many excited reactions from these nitwits. Then I shook my head and murmured under my breath, 'illiteracy is truly a disease and it is sad that some unscrupulous characters are taking advantage of these poor fellows'."
Antagonists of Tinubu's inauguration
Proponents of the Labour Party and its presidential candidate, Peter Obi, have been antagonising Tinubu online. According to them, Tinubu did not win the 2023 presidential election credibly, thus, he does not deserve to be sworn in later this month.
Obi and the Labour Party are presently in court to challenge the emergence of Tinubu as the president-elect of Nigeria. Apart from the Labour Party, the Peoples Democratic Party (PDP) are also in court to 'reclaim Atiku Abubakar's mandate'.
Military speaks on alleged plans to scuttle Tinubu's inauguration
Meanwhile, the Military High Command has sent a note of caution to politicians and some prominent Nigerians, who it says, are behind the move to scuttle the May 29 transition, stating that they should bury the plan.
The military also disclosed that its officers are ready to forestall any unwanted moves in the country, either before, during or after the inauguration, which is scheduled to hold by the end of the month.
Ex-Lagos Deputy Governor makes u-turn on renouncing citizenship over Tinubu's victory, gives reason
In another report, Nigeria's first-ever female deputy governor, Alhaja Sinatu Ojikutu, says she will no longer renounce her citizenship as a Nigerian following Tinubu's imminent inauguration as President on Monday, May 29.
Ojikutu, a deputy governor to ex-Lagos state governor Sir Michael Otedola, made this u-turn weeks after reiterating that she would renounce her citizenship, travel elsewhere and live her life.
Source: Legit.ng