How Sunday Igboho Collected Money from APC, Others to Abandon Yoruba Nation, MC Oluomo's Ally Claims
Alhaji Shakiru Alimi, aka Okanlomo, has accused Sunday Adeyemo (Sunday Igboho) of collecting millions of naira from the APC, PDP, Labour Party, and Yoruba Nation proponents
The ally of MC Oluomo also claimed that the APC Lagos State chapter sent N30 million to Sunday Igboho through an unnamed cleric
Okanlomo linked Igboho's 'silence' during the campaigns for the 2023 general elections to the alleged huge sums that he collected from politicians
Ikeja, Lagos - Alhaji Shakiru Alimi, popularly known as Okanlomo, has alleged that Yoruba Nation separatist leader, Sunday Adeyemo (aka Sunday Igboho) has abandoned the agitation because he received money from prominent politicians.
Okanlomo, a key ally of the Chairman of the Lagos State Parks Management Committee, Musiliu Akinsanya, otherwise known as MC Oluomo, made this allegation during a Facebook Live on Wednesday. The programme was monitored by Legit.ng.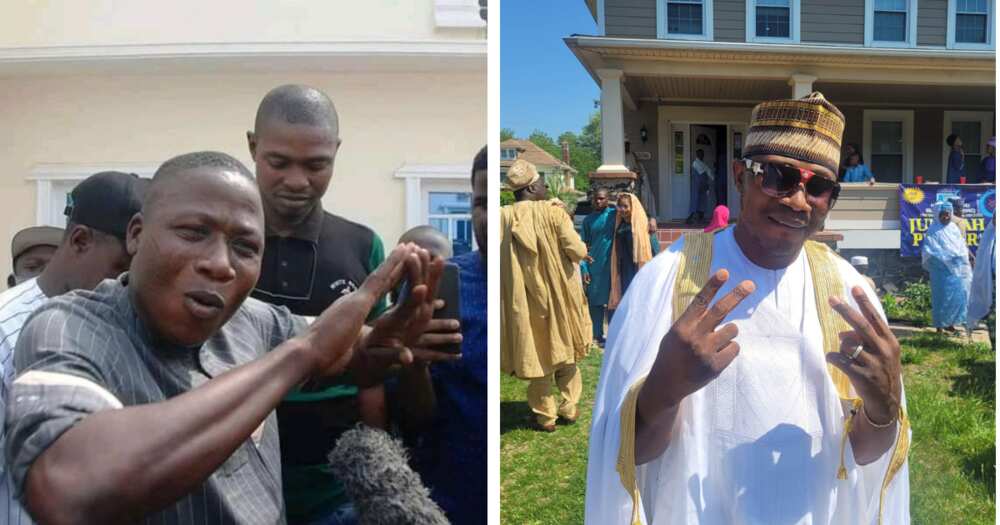 "During the electioneering, when all the parties needed support, and they saw that Yoruba Nation was separate, they reached out to Sunday Igboho.
"He sent his wife, Ropo, to meet with Labour Party chieftains and Peter Obi. He told his wife to inform Obi that Yoruba Nation is ready to work with them. They sent to Igboho through Ropo. He used Yoruba Nation supporters for negotiation," Okanlomo said in Yoruba.
Why Sunday Igboho "slowed down" on Yoruba Nation agitation
The US-based social media personality added:
"Also, there is a phone conversation leak where Igboho was requesting money from Atiku Abubakar so that Yoruba Nation agitators can work for the PDP. We have the voice notes. If he denies it, I will come on Live and play it.
"Later, he sent some of his allies like Omiyale, Sunday Aro, Shokoti, Awikonko, to the APC to tell them that Yoruba Nation agitators are ready to work with them. Those boys were initially given N5 million. Later, they sent N30 million to Sunday Igboho to share with all Yoruba Nation agitators.
"The money Sunday Igboho received from Lagos state was sent to him via a proxy, an Alfa. I have the evidence.
"He was asked to distribute it among Yoruba Nation agitators. But because he has collected money from APC, PDP, Labour Party, and Yoruba Nation, he went mute about separatist agitation during the election period. That's the secret."
Igboho's camp reacts
When Legit.ng reached out to Olayomi Koiki, the media aide to Igboho, he described the accusations as "complete lies from the pit of hell".
"Where do all these individuals get such information? Is this with any proof? Also, I don't even know who this individual is because so many people are just using his name to clout and make money," Koiki told Legit.ng.
Yoruba Nation and Sunday Igboho's troubles
Legit.ng recalls that in July 2021, Igboho was arrested in Cotonou, Benin Republic, for alleged falsification of his passport.
Before his arrest, the Department of State Services (DSS) had declared him wanted for allegedly stockpiling weapons in his residence.
The agitator was detained in prison in the Benin Republic but was released in March 2022 to get medical attention on the condition that he would not leave the West African country.
Source: Legit.ng