"I'll Use Peter Obi's Governance Model in Abia," Says Alex Otti
Alex Otti, the Abia state governor-elect, says he will adopt the governance model Peter Obi used in Anambra to govern his state
Otti, a renowned economist, banker and investor, says cutting the cost of governance is a priority for his administration
Obi, the Labour Party presidential candidate, is reputed to have cut down the cost of governance drastically when he presided over Anambra
Umuahia - Abia state governor-elect, Alex Otti, says he will use the governance model employed by the Labour Party (LP) presidential candidate Peter Obi when he held office as governor of Anambra between 2006 and 2014.
Otti, a former bank chief, made the comment on Thursday, March 23, during a live interview on Channels Television.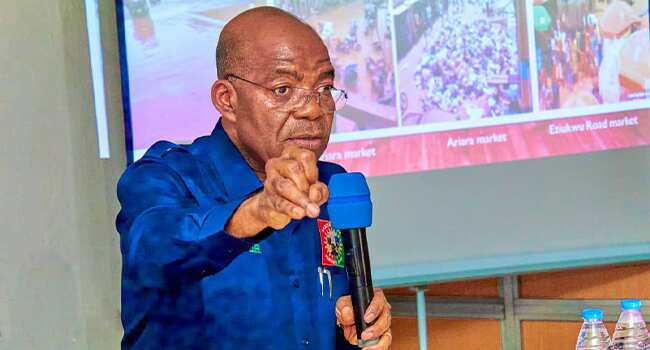 He said:
"My presidential candidate did very well in Anambra state because he reined in the cost of governance.
"And it's the same kind of model that we are going to run in Abia. There are only so many jobs you can create in the public sector."
On the issue of replenishing the state's coffers, he appealed to those who had amassed public funds to return it, arguing that the resources and time required to pursue looters were not worth it.
He added:
"I know that the enormity of work that is required in Abia is a lot and I wouldn't want distractions. I've stayed there long enough to know that whenever you start a probe, you begin to get distracted.
"If you have taken any money, and it's still with you, return it. But I'm actually not going to dissipate energy chasing real or imagined criminals, real or imagined looters, but I will not allow corruption.
"I will not allow our money to be shared. I'll like our money to be used to work for our people."
Otti promises to clear salary, pensions and arrears backlog by December
Similarly, Otti has vowed to clear all the backlog of salaries, arrears and pensions owed by the current governor of the state, Okezie Ikpeazu, by December 2023.
The governor-elect gave the assurance yesterday while featuring on The Morning Show on ARISE News Channel.
He said:
"Payment of salaries is a priority for me, and I have given myself a deadline. I do not know what the numbers are today. But I do know that a lot of people are being owed. We are going to pay their salaries before the end of this year."
I'll give everyone a sense of belonging in Kaduna, says Uba Sani
Meanwhile, the Kaduna state governor-elect, Uba Sani, has assured residents that he will not govern the state along ethnic or religious lines but would give everyone a sense of belonging.
Uba stated this in his acceptance speech, adding that he would consolidate the achievements of the outgoing governor, Mallam Nasir el-Rufai.
He also thanked Governor El-Rufai and his team for their effort since 2015 to build the foundation for a new Kaduna state.
Observers fault declaration of Yusuf as governor-elect in Kano state
Civil society domestic election observers in Kano have criticised the declaration of Abba Kabiru Yusuf of the New Nigeria Peoples Party as the winner of last Saturday's governorship election in the state.
The observers asked the Independent National Electoral Commission to review the declaration and conduct supplementary elections in the affected areas of over 270,000 cancelled votes in line with relevant electoral laws.
They made the demand while addressing a press conference on Thursday, March 22, in Kano.
Source: Legit.ng