Finally, APC Reacts to Amaechi's Alleged Comment on Bola Tinubu's Qualification
The ruling All Progressives Congress has debunked a claim that former minister of transportation Rotimi Amaechi spoke ill against the president-elect
The party's chapter in Rivers state said Amaechin never queried the academic qualification of Bola Tinubu
According to the party, the comments are demonic and were created by individuals with the aim to cause a rift with the APC
The Rivers chapter of the All Progressives Congress (APC) has explained that Nigeria's former minister of transport, Rotimi Amaechi, never made comments about the academic qualifications of the president-elect, Bola Tinubu.
In a statement released on Thursday, March 23, Amaechi's spokesperson, Darlington Nwaju, described such remarks attributed to his principal as demonic.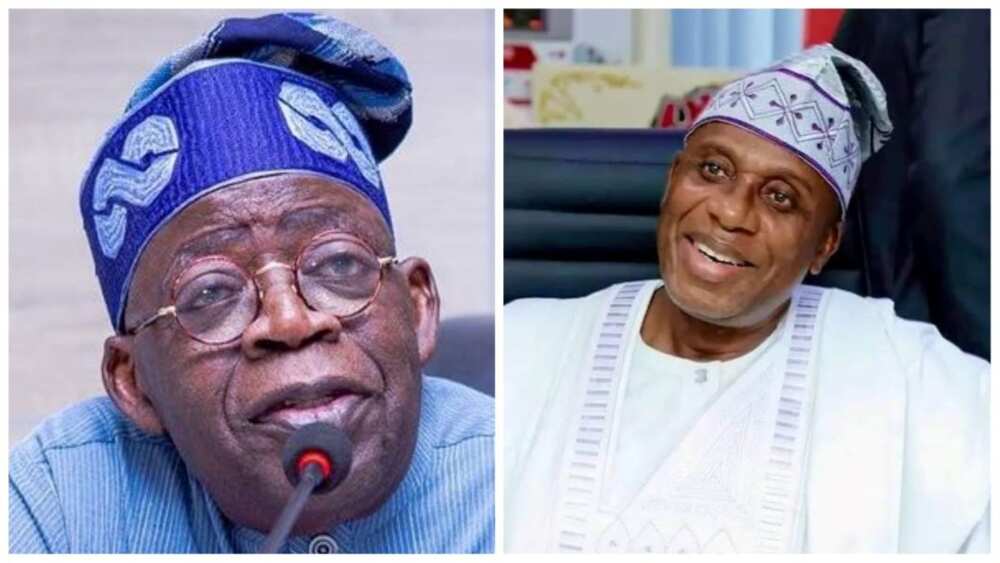 Nwaju, while stating that Amaechi never linked Tinubu to drug trafficking, said that the fifth columnists were after the former governor.
His words:
"We want to make it abundantly clear, that at no time did our leader make such demonic comments whether in private or public to query the qualifications of the President-elect or link him to drug trafficking within or outside Nigeria.
"Such claptraps are handiworks of fifth columnists who do not wish our leader well and for the avoidance of doubts, our leader has no personal angst against the President-elect."
Nwaju, however, added that whatever Amaechi said about Tinubu and INEC were in the full glare of the world when journalists covering elections in Rivers State intercepted him after voting in the governorship election.
He added:
"His words were clean and clear. Any person who wants to accuse the president-elect is free to do so but should not hide under the former minister to do so.
"We wish to warn these purveyors of fake news of the dire consequences of flying such wicked and unfounded rumours. We invite security agencies to go after these elements of hate and divisiveness, in order to sanitize the noble journalism profession".
"I believe in the capacity of those who voted for me": Tinubu tells supporters of opposition parties, candidates
Meanwhile, Bola Tinubu has called for support from all quarters ahead of his swearing-in as the president of Nigeria.
The president-elect made this call in a statement he signed and sent to Legit.ng on Thursday, March 16.
According to the president-elect, it is important for all, including those who did not vote for him, to trust the judgement of others who did and work with his administration.
"He is the main enabler," Labour Party reacts to Tinubu's silence over attacks on Igbos in Lagos
The leadership of the Labour Party have expressed dissatisfaction over the treatment given to the Igbos in Lagos state.
In a fresh statement, the LP's Chief Spokesperson, Yunusa Tanko lamented over President-elect Bola Tinubu's silence on the development.
Tanko maintained that such an attitude from Tinubu means the former governor of Lagos state is the "main enabler".
Source: Legit.ng