Former Governor Theodore Orji Debunks Death Report, Says He'll Live Longer Than Those Wishing Him Dead
Theodore Orji, a former governor of Abia state, has said that he is alive and doing well, as opposed to rumours of his death
The former governor of Abia state said reports of his death were being spread by some individuals who sit in the comfort of their homes to concert all sorts of content for the internet
According to the former governor, all those who wished him dead will die before him for nurturing such evil thoughts
A former governor of Abia state, Theodore Orji, has debunked reports that he had died, the Nation reports.
Orji's reaction follows an unverified report that the former governor, popularly referred to as Ochendo by Abians, had died in an unnamed hospital in Kaduna.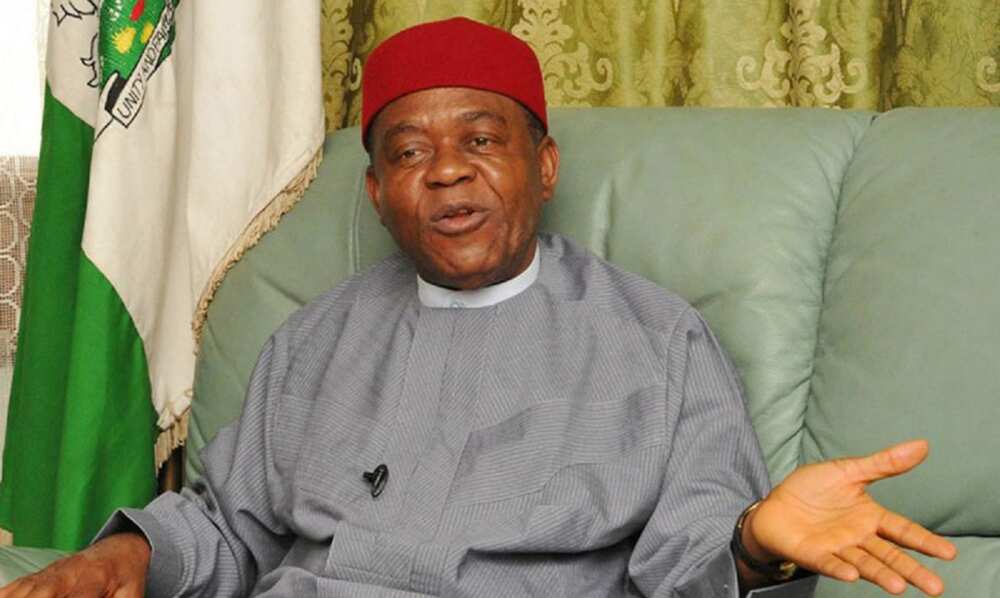 The report also said that Orji had gone for a medical check-up in the hospital here in Nigeria because his travel documents were still being held at the Economic and Financial Crimes Commission (EFCC) headquarters.
However, in a short video clip shared by his aides, the former Abia state governor said those who wished him dead would die before him.
His words:
"For sure, I am alive. Are you not seeing me? No be man dey talk?
"The rumour (of my death) doesn't mean anything to me. I am used to rumours; I am used to serious rumours. So it doesn't mean anything to me.
"It is you who are my friends that are worried and you have come to verify and you have seen the truth; that I am alive. I dey kampe."
Further describing the death claim as a "very wicked rumour", Orji said people stay in their comfort zones to concort all sorts of content and share on the internet for gullible individuals to consume.
He added:
"They should disregard the rumour (of death). Since they said I am dead and I am alive, I don't know the type of rumour that they will be generating tomorrow that will be more than this one.
"You can't have your cake and eat it. If you wish me well, God will wish you well.
"If you wish me bad, evil will follow you. This is what will happen to those people who are carrying rumours that I am dead.
"Death is waiting for them sooner or later. They will die before me. Even if they are younger than me, they will die and I go dey here kampe."
Orji Kalu loses phone to robbers in Abuja, Nigerians react
The Abia state All Progressive Congress (APC) Senator, Orji Kalu, has raised the alarm over his stolen phone.
In a post shared on his Facebook page and sighted by Legit.ng on March 9, the former Abia state governor alerted Nigerians that robbers stole his phone in Abuja.
Kalu told his friends and well-wishers to disregard any illicit activity involving his cell phone and numbers.
"Kalu remains a loyal member of APC," says Ezeala
Legit.ng earlier reported that a counter-statement had been released by the Abia state All Progressive Congress (APC) to debunk claims that it suspended Senator Orji Uzor Kalu of the state's north senatorial district.
On Friday, February 24, reports were making the rounds that the party had suspended the chief whip of the red chamber of the National Assembly over anti-party activities.
Reacting to these reports, the Abia state APC spokesperson, Okey Ezeala, accused the Peoples Democratic Party (PDP) of spreading fake news.
Source: Legit.ng