Peter Obi Reacts to Claims That Tinubu's Victory Is God's Will for Nigerians
The emergence of Bola Tinubu as Nigeria's president-elect is not the will of God, Peter Obi of the Labour Party has said
The flagbearer of the Labour Party made this claim during an interview on Arise Television on Monday, March 13
Obi urged Nigerian politicians and the elite class to quit using the name of God while trying to carry out their illegalities against the citizens
Peter Obi, the 2023 presidential candidate of the Labour Party, has said that the emergence of the president-elect, Bola Tinubu, of the All Progressives Congress, is not the will of God.
Speaking on a post-election review on Arise Television, Obi reacted to comments that Tinubu's victory at the polls should be accepted by everyone as the will of God.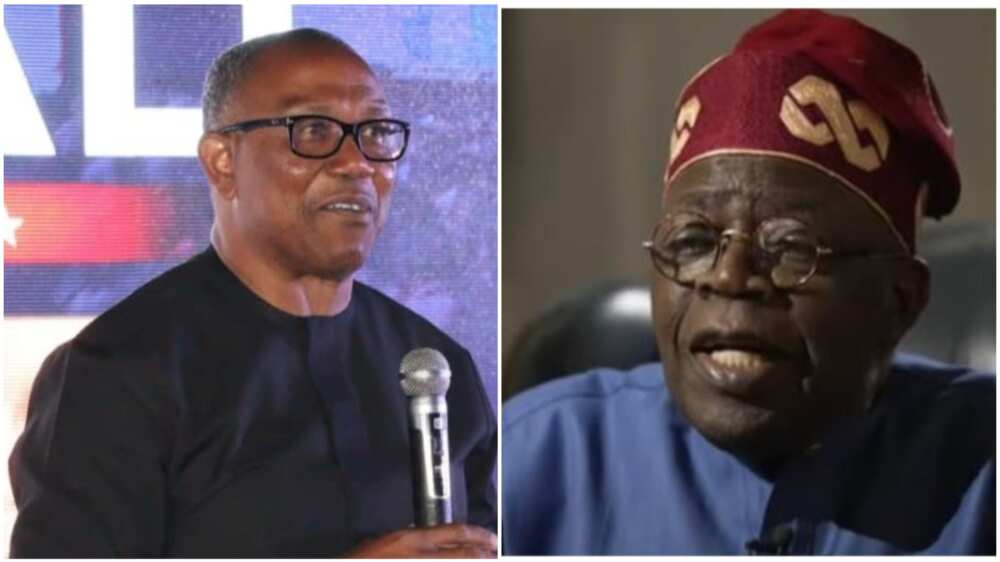 Obi's reaction follows a statement by the First Lady, Aisha Buhari, that Tinubu won the 2023 presidential poll because God wanted him to.
The First Lady had said:
"Regardless of our interests and diversity, we should all accept it as the will of Almighty God; we wouldn't have done it without his grace.
"It is a victory for all Nigerians. I am optimistic that the President-Elect will not betray the trust and confidence that Nigerians reposed in him."
Responding, Obi said:
"What they are actually preaching is the problem of Nigeria. The problem of Nigeria is accepting wrongdoing and what is unacceptable. That is using God's name in vain. That is not what God is saying. God said do not use my name in vain.
"So, what they are saying is not God's wish, it is not God's plan for Nigeria."
Peter Obi cancels all guber campaign trips, announces plan to appear in court on Wednesday, March 8
Peter Obi had earlier announced that he would be in court today with his lawyers for the 2023 presidential election tribunal ruling.
The court is expected to rule on the request by the Independent National Electoral Commission (INEC) to reconfigure the BVAS.
Obi also announced cancelling his previous plans to travel to various states to continue the 2023 governorship election campaign.
Presidential Poll: PDP Demands Resignation of Mahmood Yakubu as INEC Chair, Asks SSS, IGP to Initiate Arrest
Meanwhile, Professor Mahmood Yakubu, the chairman of the Independent National Electoral Commission, has been asked to resign.
The call was made to Yakubu by the leadership of the Peoples Democratic Party (PDP) on Friday, March 10.
The PDP alleged that Yakubu's action during the 2023 presidential and National Assembly elections is harmful to the integrity of the electoral commission and an unpardonable assault on the credibility of Nigeria's electoral process.
Source: Legit.ng