2023 Presidency: Tinubu Floors Obi, Atiku in Gov Oyebanji's Polling Unit
Asiwaju Bola Ahmed Tinubu has recorded a victory at the polling unit of Governor Biodun Oyebanjo of Ekiti state
Tinubu won Unit 003, Ward 006 at Okelele, Ikogosi-Ekiti, with a wide margin of 245 votes to three votes for the PDP
Similarly, the APC has a clean swoop of the legislative election at the polling unit of the Ekiti state governor
Ekiti, Ikogosi - Bola Ahmed Tinubu of the ruling All Progressive Congress (APC) has won the polling unit of Governor Biodun Oyebanji of Ekiti state.
According to the Nigerian Tribune, Governor Oyebanji's Unit 003, Ward 006 at Okelele, Ikogosi-Ekiti, was also dominated by the APC at the Federal House of Assembly level.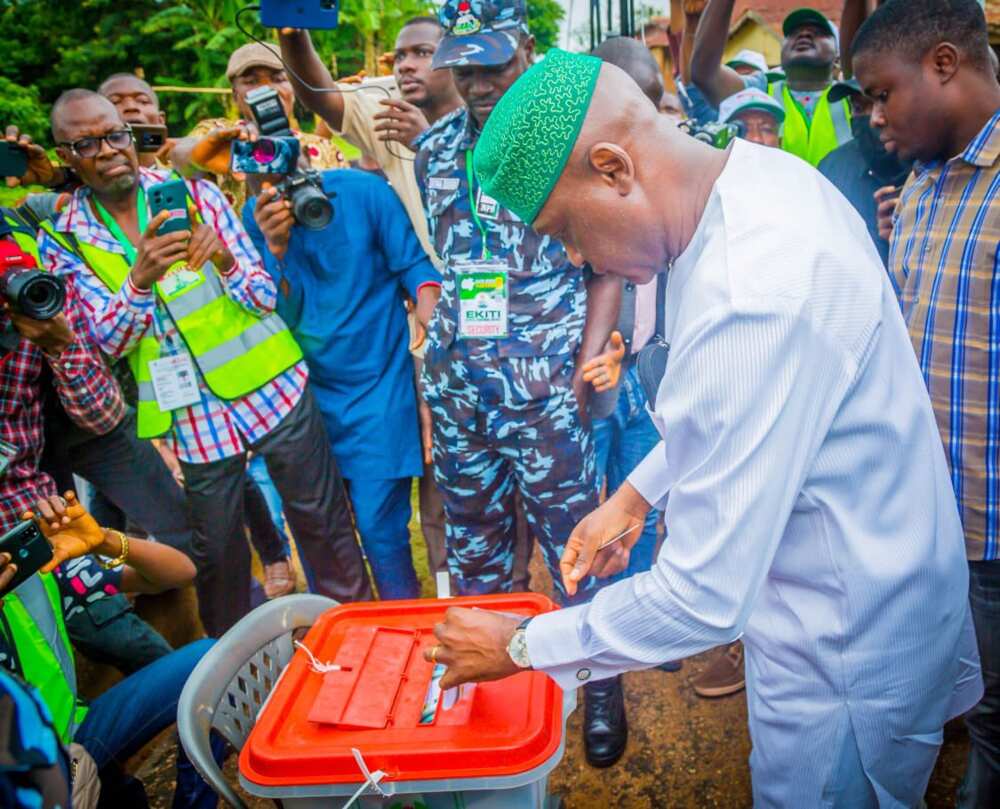 It was gathered that the Independent National Electoral Commission (INEC) announced its official result stating that Tinubu polled 241 votes to defeat second-place PDP with six votes.
Meanwhile, at the senatorial level, APC racked up 245 votes against the PDP, who could only manage four votes.
Similarly, the APC dominated the House of Representatives election, racking 241 votes against PDP's three votes.
2023 Presidency: Tinubu Leads as States Obi, Atiku Will Win Emerge in New Polls
Meanwhile, a poll conducted by the Nigerian Human Rights Community has predicted that Bola Tinubu will win the coming presidential election.
According to the NHRC, Tinubu, who had 41% in the poll, led other frontline presidential candidates.
It was gathered that the second place will be contested by Atiku Abubakar of the PDP and Peter Obi.
Photos Emerge as EFCC Operatives Storm Polling Unit Where Tinubu is Expected to Vote
In another development, operatives of the EFCC have been seen at the polling units of the APC presidential flagbearer, Bola Tinubu, in Ikeja Lagos.
The anti-graft agency arrived at the venue of the poll very early on the early of Saturday on the, election day.
EFCC are said they will be available in all the 36 states of the federation to monitor the exercise to arrest and prosecute all persons found in vote buying.
Source: Legit.ng