2023 elections: Nigerian graduates keep voters fed during polls in Abuja, photos emerge
Two graduates of the University of Abuja and the University of Lagos have taken the bulls by the horn to feed voters during the 2023 presidential and National Assembly elections.
Terry Victory and Ayo Adebari were spotted serving noddles and eggs for N800 to voters at the Area 1 Primary School in Abuja, Nigeria's capital city.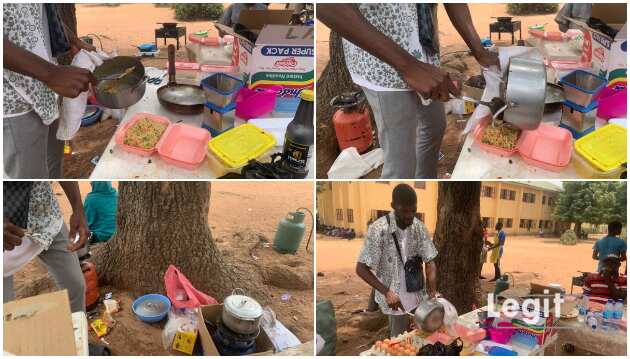 The noodles served to voters by the duo came with a complimentary sachet of water and an ambience that had a plastic white table and chairs under a tree inside the school premises.
Speaking to Legit.ng, Adebari said they decided to venture into the business considering the fact that they were on their one-year mandatory National Youth Service Corps (NYSC) in Abuja.
While Adebari is a graduate of Geology from the University of Lagos, his partner Victory graduated from the University of Abuja with a degree in History.
His words:
"Currently we are serving Corps members in Abuja and with the situation of things in the country - lack of jobs and unemployment- we decided to take up this hustle to make some money during the election.
"We just thought of ways to fend for ourselves without going into crime you know as they say the idle mind is the devil's workshop."
Adebari noted that they saw a need for voters to have something to eat while they waited to vote and have votes counted.
To achieve this feat, Victory and Adebari had two camp gas cylinders, crates of eggs, cartons of noodles, and pink styrofoam takeaway plates.
He added:
"We saw this as a great avenue to do something knowing that people will be coming out to vote and a lot of people will be coming out without having breakfast or anything to eat."
He added that they decided to leverage the opportunity by choosing the Area 1 primary school because the polling unit always has a lot of voters and its proximity to their residence.
Adabari said:
"We choose noodles because it's fast food and it is also filling, noodles is a meal.
"We came here with three cartons of noodles finished them and went to go get some more cartons."
New monetary policy and its effect on their business
Speaking on the new monetary policy of the federal government carried out by the Central Bank of Nigeria, Adebari said they accept transfers for people who do not have cash to pay after eating.
He said:
"We accept cash but you'll have to wait until we confirm the alert. At some point the phone we were using to receive alerts died and we had to go to charge it."
Other business people in the area
Unlike Adebari and Victory, Zainab and her brother were selling homemade Zobo drinks and Kunu Aya at the same venue.
The siblings who were out to make a living during the election said they did not have an account number and would not accept transfers for any of their items.
Source: Legit.ng