2023: Why Over 60% of Nigerians May Be Willing to Sell Their Votes on Election Day
As naira scarcity bites Nigerians harder ahead of the forthcoming poll, it could be difficult to convince many of them on election day
The CBN statistics have shown that more than 60% of Nigerians are unbanked while those who have money in banks could not access their money because of the non-availability of naira
Many of the unbanked have found ways to ensure that their cash to banks, mostly through POS operators but they could not get it, they may be willing to sell their votes on election day for survival
The absence of the naira may push many Nigerians to sell their votes on election day and have cash at hand for their businesses and other basic needs.
Statistics from the Central Bank of Nigeria (CBN) show that more than 60 per cent of Nigerians are unbanked, suggesting that the larger percentage of the population the apex bank is asking to buy its cashless policy do not have bank accounts to do so.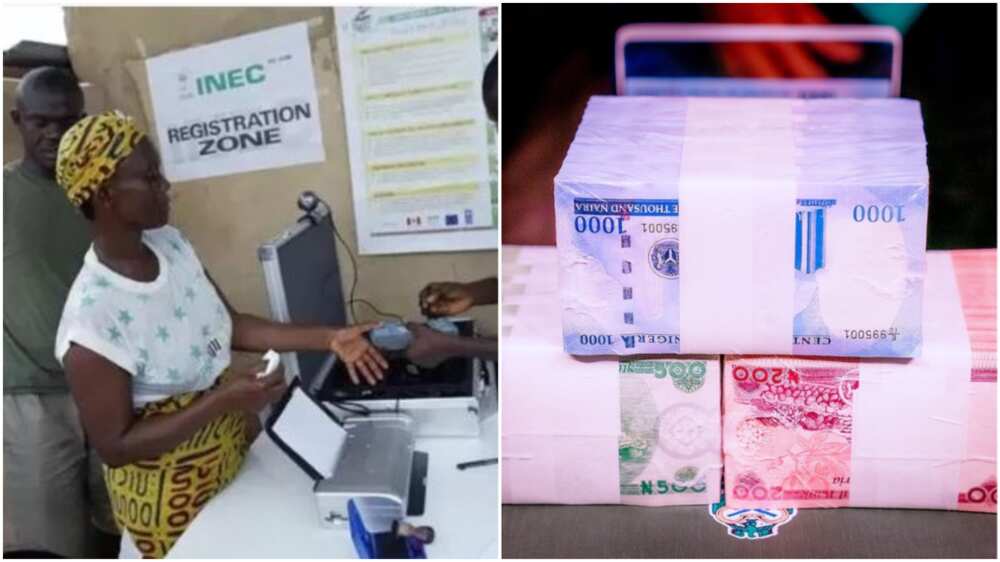 How many Nigerians have bank accounts to do cashless policy?
M.I Mustapha, the counsel of Kaduna, Kogi and Zamfara state, referenced the CBN statistic when he sought the supreme court injunction to stop the federal government from further implementation of its February 10 deadline to make the old notes a legal tender.
Faced with the pressure of an earlier January 31 deadline set by the federal government, a trader and an old woman identified as Mama told legit.ng that:
"I am tired of this. I have to start begging people here to help me save the N7000 I have made since morning in their accounts, I don't know if I will get it back to go to market on Monday because they say the ATMs are not dispensing."
Why POS are charging higher for withdrawal
Speaking with some POS operators, some of them revealed to Legit.ng that they charge higher for withdrawal because they also pay higher to get the cash from traders who are into basic commodities since they cannot get it in banks.
Yekini Shakirat who spoke with Legit.ng said she paid N25,000 to get N250,000 to run her business, she said, "I paid N25,000 to get N250,000".
Omobolanle, another POS operator said she has been paying N10,000 to get N100,000 to run her business.
Thus, if many people are unbanked and those who have bank accounts could not access their money and become stranded, these people could be willing to sell to the highest bidder on election day.
Do politicians have the new naira notes?
It cannot be totally ignored that politicians do not have new notes to share with people in order to vote for them during electioneering.
Recently, videos of alleged supporters of Bola Tinubu, the presidential flagbearer of the All Progressives Congress (APC) sharing new notes ahead of the ruling party's rally in Osun surfaced online.
Also, Rabiu Kwankwaso, the presidential candidate of the New Nigerian Peoples Party (NNPP), in his recent interview disclosed that many of the top presidential candidates owned banks or have bankers that will get them the new notes.
He stressed that the naira redesign policy will only make poor people suffer because politicians will always have their ways.
See the video here:
Source: Legit.ng