2023 Elections: Zenith Labour Party's Reps Candidate Declares Support for Peter Obi
Ahead of the 2023 presidential election, the Labour Party standard-bearer has received a major backing in his efforts to become president
Obi has continued to receive support from notable leaders and politicians as he is described as the candidate who understands the yearnings and aspirations of Nigerians
In the same vein, Zenith Labour Party's Reps candidate has endorsed Obi for president while noting that the former governor of Anambra state has good leadership qualities
Ahead of the 2023 general elections, a candidate of the Zenith Labour Party (ZLP) for Anocha, Njikoka and Dunukofia Federal Constituency of Anambra state, Valentine Ayika, has thrown his weight behind the candidature of the Labour Party presidential candidate, Peter Obi.
Ayika, who did not hide his unalloyed support for Obi's candidacy, during an exclusive interview with Legit.ng on Friday, January 20, in Awka, Anambra state, noted that as a state legislator under Peter Obi, he knows a lot of good leadership qualities in the LP candidate which many Nigerians are not aware of.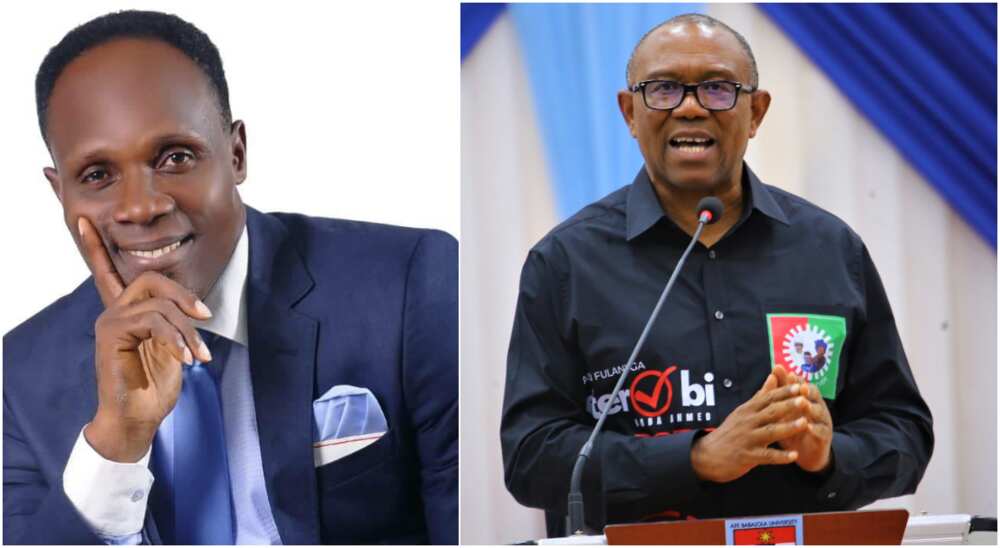 Why I supported Obi, Ayika gives an important reason
Legit.ng's regional reporter in Anambra, Mokwugwo Solomon noted that Ayika's poster as ZLP National Assembly candidate with Peter Obi's image as LP presidential candidate all over Anambra state.
Solomon also quoted the ZLP candidate as saying that he would prefer to support Obi, whose character, capacity, and competence, he can attest to, rather than supporting any other person.
He said,
"I have many reasons to support Peter Obi to emerge as the country's next president. First is that as a member of the Anambra state House of Assembly under Peter Obi's government, I got to admire the LP presidential candidate's leadership qualities.
"The uprightness, prudence, stability, capacity, and competence that he brought into governance was second to none. My belief is that with Peter Obi as president, Nigeria and Nigerians will be drawn out of their present 'hell,' and things will turn out better."
Why he is not supporting ZLP's candidate, Ayika spills
On why he is not supporting the presidential candidate of ZLP, Dan Nwanyanwu, Ayika said,
"There are 18 political parties that fielded presidential candidates for the 2023 election in Nigeria. Whenever you listen to the news, or whenever you listen to people talk or discuss politics, you can only hear about three candidates and their political parties. Prominent among them is LP's presidential candidate, Peter Obi.
"By now, every reasonable Nigerian must have known where the tide is moving. As one who wishes Nigeria well, I am supporting Obi, despite the fact that I am contesting under ZLP. I know, with him as president, Nigeria will be liberated from its present security, political, religious, and social problems. He also has the capacity to turn the economy of the country around."
A message for the youths
On his advice to Nigerians, Ayika urged Nigerian voters not to remain indifferent about the current state of affairs in the country.
He called on the youths to collect their PVCs and turn out on election day to vote.
Ayika said,
"I will urge Nigerian voters, especially the youths, to get their PVCs and ensure that they cast their votes according to their individual conscience. But for me, I will urge everybody to vote for Peter Obi as president."
2023 elections: Peter Obi is better than other candidates, Obasanjo insists
In another report, former President Obasanjo said Peter Obi is better than his co-contestants in the forthcoming presidential election.
He made the comment on Thursday, January 19, in Abeokuta, the Ogun state capital, while featuring in an interactive session.
The former president had, in a New Year message, titled 'My appeal to all Nigerians, particularly young Nigerians', expressed his support for Obi.
Source: Legit.ng