"I Remain Non-partisan," Former PDP Chieftain Olisa Metuh Says
Olisa Metuh, a former spokesperson for the Peoples Democratic Party (PDP) has said that is remains non-partisan as it concerns Nigerian politics
Metuh said he is committed to contributing to issues and efforts that would deepen Nigeria's democracy and encourage good governance
The former PDP spokesperson's reaction follows a report indicating his possible involvement in partisan politics
A former national publicity secretary of the Peoples Democratic Party (PDP), Olisa Metuh, has reiterated his earlier stand about being non-partisan on issues of politics across Nigeria.
In a statement personally signed by Metuh and seen by Legit.ng the former opposition's spokesperson said he is no longer involved in partisan politics even as the 2023 election draws near.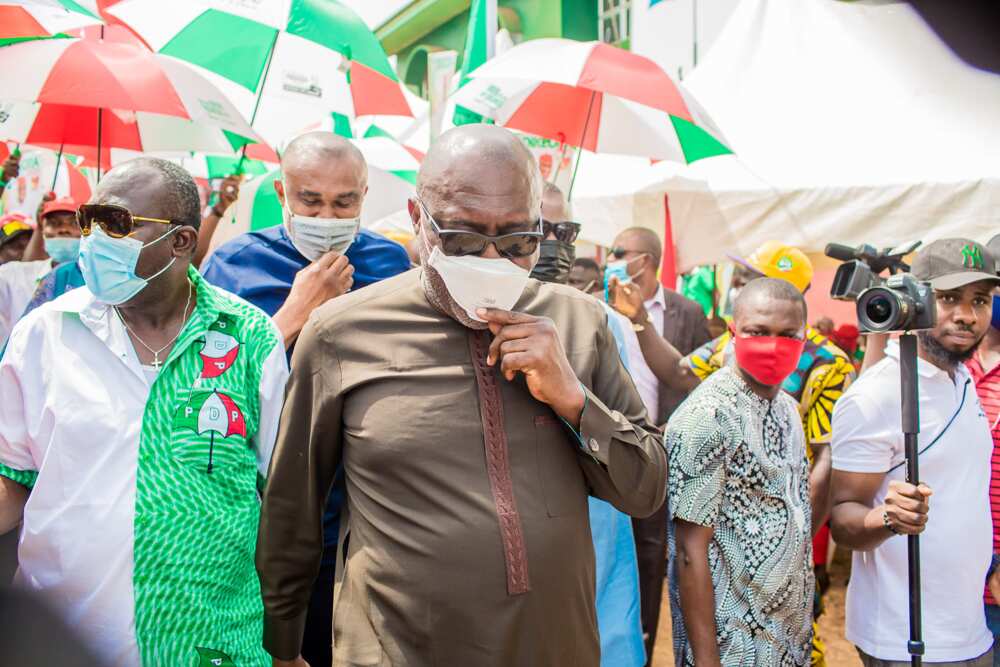 Metuh's reaction follows a publication by The Niche online edition of Thursday, January 19, which insinuated that he was still actively involved in politics.
Setting the record straight, Metuh said he never had an interview with The Niche nor spoken to any of its staff, representatives or the media on matters relating to partisan politics in the past three months.
He said:
"For the avoidance of doubt, since my resignation from partisan politics in October, 2022, which was widely reported, I have never made any statement to the media on any matter relating to partisan politics or the fortunes of any political Party or candidate under any stand whatsoever.
"I worked and served my party faithfully for over 20 years. In my time I rose to become one of the most influential party officers and I assisted and influenced the careers of a whole lot of legislators, ministers and governors. I now seek to assist and influence the affairs of citizens no matter their political leaning."
Focusing on his private life
Further speaking the former PDP chieftain said he has since focused on his private life after his announcement in October 2022, that he would be staying away from partisan politics.
He also reiterated his commitment to engaging in areas that could help deepen Nigeria's democracy and governance in Nigeria and globally.
His added:
"There are so many areas to help the nation besides any quest for personal promotion and/or offices.
"I remain committed to my conviction, as I stated in October 2022, that being non-partisan is a sacrifice which gives me the status to work for the strategic interest and well-being of the Nigerian people without the hindrance of partisanship."
Former PDP chieftain sounds note of warning to politicians, predicts imminent revolution in 2 years
Metuh had earlier urged politicians across Nigeria to change their ways.
Reacting to reports that some senators made use of a Nigerian Air Force Jet to attend a wedding ceremony in Sokoto state, Metuh said such actions by the lawmakers who are expected to uphold law and order is a show of rascality and impunity.
In a statement issued on Tuesday, November 29, Metuh warned that such reckless abuse of influence, power and position by the political class particularly in the midst of the near collapse of our economy and rising insecurity in our country is highly condemnable.
Nigeria seriously sick, requires emergency overhaul, pentecostal bishops raise alarm
In other news, the current state of the nation has become a pain in the neck of notable leaders, especially the religious faithful.
While some are worried about the happenings troubling the peace and security of Nigerians, others are calling for a quick solution to the plight of the nation of Nigeria.
Nigerians were urged to vote right and ensure their vote counts in the 2023 general elections.
Source: Legit.ng