After Visit to Hometown, Angry Youths Wash Off Atiku's Footsteps, Perform 'Cryptic Cleansing'
Youths in Jada local government, the hometown of former Vice President Atiku Abubakar have staged a protest
According to a tweet on social media, the protest was against his return to back home with claims that he did not develop his hometown
The protest against Atiku was not violent, neither peaceful but cryptic as seen in the pictures that accompanied the tweet
Adamawa, Jada - A few hours after the epic return of former Vice President Atiku Abubakar to his hometown in Jada local government area, Adamawa state, some youths in the area have trooped out to protest.
This was seen by Legit.ng on the Twitter page of Abubakar Sadiq Kurbe, the northeast zonal coordinator, Tinubu/Shettima Media Support (TSMS).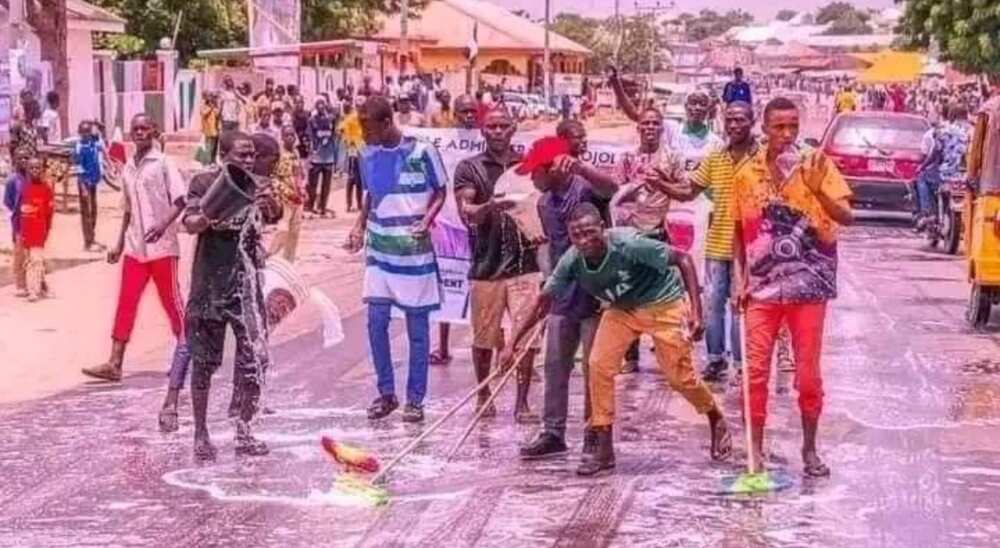 As seen in the picture that accompanied his tweet, youths were seen using water and soap to cleanse the areas that the former Vice President used while he visited his hometown.
Kurbe's tweet reads:
"Adamawa Youths cleansing the Jada Road after Atiku's visitation. Atiku couldn't construct the road as Vice President but he is passing through the same road President @MBuhari constructed to ask for our support, how is that possible."
Nigerians react
Reacting to the tweet, some Nigerians believed to be from Adamawa state took to the comment and criticised the tweet.
Some of the commenters stated that the narrative of the tweet was false and branded with lies to mislead people.
@UsmanIshaqa2 said:
"I won't blame you, you've been already trained by your masters of lies. It's only single picture but you displayed them severally. Show us more with evidence to prove you right. Lier of the Universe"
@official_Hanif7 said:
"Leave the fool we don't need him as a president we rather vote Obi than to vote him sai @officialABAT and @KashimSM 2023"
Atiku under pressure as Wike's camp makes fresh demand
The PDP crisis may get to climax on Friday, August 19, the day set for the negotiation team of Governor Nyesom Wike and Atiku Abubakar.
According to sources, the governor's team has decided that the resignation of Ayu would be a precondition for the negotiation to hold.
Atiku's camp, on the other hand, had vowed that the resignation call would be rejected stiffly on that day.
PDP crisis: Atiku's reconciliation move lacks commitment, it's pure scam, party stalwart claims
Meanwhile, the commitment of PDP's presidential candidate Atiku Abubakar to reconcile aggrieved party members has been questioned.
A PDP chieftain, Dr. Chidi Lloyd of Rivers state has accused the former Vice President of taking the matter with levity.
Meanwhile, Dr. Lloyd debunked claims that Governor Nyesom Wike of Rivers state is planning on quitting the party.
Source: Legit.ng