Why I want to be a Nigerian Senator, Morayo Lebi, APC senatorial aspirant
To many people, politics is the easiest way to make money in Nigeria. But to Morayo Lebi, a senatorial aspirant of the All Progressives Congress (APC) in Ondo state, joining politics is all about service to his people.
In this interview with Legit.ng, the Ondo state born lawyer speaks about his growing up, career and many other issues including his love for the people of southern senatorial district.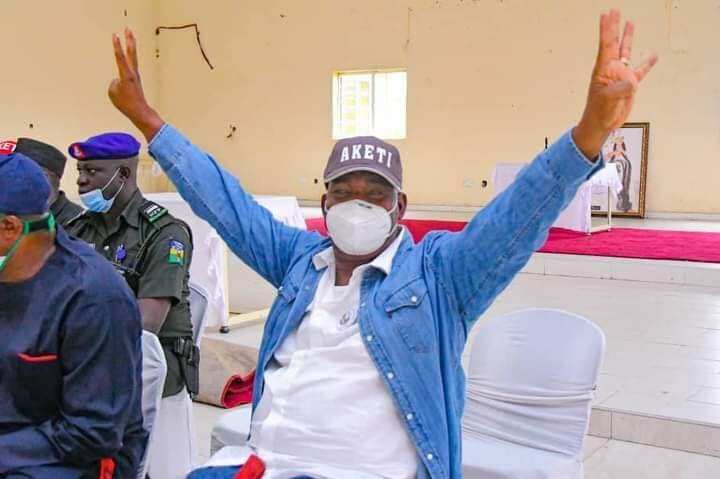 Excerpts.
Can we meet you?
I am Barr Morayo Lebi.
I was born over fifty years ago, in the land of Akotogbo, Irele local government of Ondo state, to the family of late Papa Ajimisogbe Lebi, Igbijo quarters...
I had my secondary education at Igbobi College, Yaba, Lagos, and later graduated from the University of Lagos where i studied law. I have committed over thirty years of post graduate into legal practice. Apart from law practice, I'm also involved in other business endeavours such as real estate development and Properties development among others business endeavours.
Again, besides being a Practising Lawyer, I'm also Fellows of other Professional bodies such as Debt Recovery Institute Of Nigeria and Nigeria Institute of Insolvency..
I am a devout Christian and worship in Redeemed Christian Church of God, Lagos. I'm married with children and grand children.
As a Senatorial aspirant of the ruling All Progressives Congress (APC), how would you rate this administration in Ondo state and the federal level?
The incumbent Governor, Arakunrin Rotimi Akeredolu has performed creditably. Ondo state people are very educated people and they are also politically sophisticated. They could see the impacts of the administration in various aspects. They are not easily moved by political mudslinging.Talking about infrastructure, more than 70 kilometres of roads have been completed across the three Senatorial zones.
Remember the mythical " Oke Alabojuto" in Akoko has been levelled by the administration. Several roads have been constructed in Akure township. Have you travelled recently to Owo from Akure? The road from Emure to Owo has been dualised. The "Redemption Bridge" at Ore is another testimony of Aketi's brilliant leadership. Additional six mothers and Child Hospitals have been built.
The Ondo-Liyin industrial hub at Ore has various companies like the Cassava/Ethanol Plant , Agrochemicals, Papermills factory , Medium Density Fiber Board, Textile Industry and We-wood.
Higher Institutions are better funded. The Olusegun Agagu University of Science and technology for instance has been transformed by the present administration. Primary schools are receiving attention through SUBEB where 500 primary schools has either been constructed or repaired.
While APC government at the federal level are doing so much in some critical sectors such as road networks across the country, Railways modernisation, Airports upgrades, Housing .... Democracy too is being entrenched as you could testify to the recent gubernatorial election in Anambra state where opposition party won. However, the growing inflation needs more attention. Although, it's a global phenomenon if you care to read up what's going on in other countries including the developed countries.
Ondo south senatorial district is your constituency, could you enumerate the challenges being faced by the people of the district?
Thank you very much. The situation in Ondo south seems paradoxical! Poverty in the midst of plenty. Anyway, the topmost challenge is the issue of total darkness for over 12 years! Almost 90% of dwellers are without electricity, so, how then can their business grow?
The unemployment rate among the youth, Poverty occasioned by lack of infrastructure like roads to access farms etc are among the issues. Ilaje local government areas is in dire need of drinkable water. These are some of the issues that require urgent intervention
How do you think these challenges can be properly addressed?
Well, with sincerity of purpose and determination by the leaders, some of these issues can be overcome. There must be synergy among the layers/ tiers of government. There are roles for the state government and also for the federal government. Legislators are law makers, and could influence projects, empowerment, etc. In my published Manifesto, the areas I will tackle are discussed in details.
If you have the power to effect some changes in the senatorial district, what are the changes you will likely make as priority?
1. Adequate and effective representation in the South Senatorial District
2. Making and promoting legislations that will have positive impacts on the hope of the people of the South Senatorial District
3. Engage in lobbying for the completion of the coastline road linking Ondo with Lagos,Ogun and Edo state.
4. Draw Federal Government Projects and lnstitution to Ondo South Senatorial District with his position and influence
5. Embark on empowerment programs that will enhance the living of the Youths, Women and Men of Ondo South Senatorial District.
6. Use Constituency allowances to support the restoration of electricity in places where they have not seen light for the past years.
7. Use His position and influence in the Senate to assist our people to secure employment in the civil service,police,Army,Custom, Navy and other paramilitary.
Ondo south is believed to be a stronghold of the Peoples Democratic Party (PDP) in Ondo state, do you subscribe to this claim?
Strong hold of PDP? Anyways, I will not underrate the party's influence but, it's gross exaggeration to describe Ondo South as the Stronghold of PDP. The last Senatorial election was won by their candidate because of the internal and self inflicted issues of the APC. The candidate that was imposed by the national body was not a popular candidate. People revolted against the imposition by voting against him.
Currently, all the Chairperson in the six local governments are APC ditto all councillors and majority of people in the House of Assembly in the state. So, where is the Stronghold you are talking about? I can tell you, if you conduct any election here today, PDP can't win any ward!
Source: Legit.ng