Shoot From Inside: Nigerian Governor Woos Falana, Ozekhome to Join Politics
Governor Aminu Tambuwal has challenged Femi Falana and Mike Ozekhome to show interest in politics and take up leadership position in the country
Tambuwal urged both members of the bar to occupy the political leadership space so as to gain power and change the narrative from the inside
Meanwhile, the Nigerian governor was reacting to the opinion of Ozekhome seeking the possibility of writing a peaceful, workable new constitution
Port Harcourt, Rivers state- The governor of sokoto state, Governor Aminu Tambuwal has sent a strong message to Femi Falana and Mike Ozekhome.
Vanguard reports that Tambuwal on Wednesday, October 27, challenged the legal luminaries, Falana and Ozekhome, both Senior Advocates of Nigeria (SAN), to vie for elective political leadership in order exercise more gainful influence at realising the dream, constitutional for the country.
The governor was speaking among panelists, including both SANs, Niger Delta rights defender, Ann-Kio Briggs on heated crossfire over We The People, A Debate On Constitutional Amendment at day 3 of ongoing Annual General Conference of the Nigerian Bar Association (NBA), in Port Harcourt, Rivers state.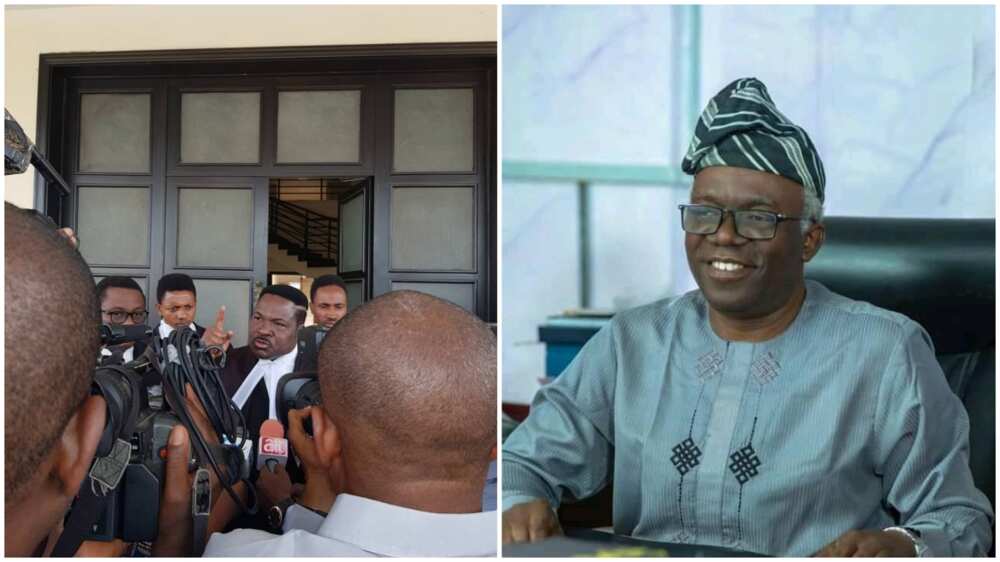 Tambuwal harped on the reluctance or lack of political will on NASS and government of the day to concede to the new constitution the "We The People" so need.
He challenged members of the Bar to show more interest in occupying the political leadership space to be able to make the difference on the inside.
The formers House of Representatives speaker said:
"The fastest way (to change the constitution) is for the President to send an executive bill to the National Assembly, seeking establishment of either a Referendum Commission or that the process for or a referendum to be introduced into the constitution.
"People like Mike Ozekhome; you should vie for the House of Reps or be governor of your state.
"You can't be shooting from outside. Go into the down field and challenge the status quo.
"You have the right, you have the privilege, you have the capacity, well known, respected.
"We should take the courage to go into politics, no matter how difficult it is.
"So collectively we can have special, committed people on the inside so that we work together to reform the system.
"As long as you remain outside it becomes difficult to achieve that reform we are looking for.
"The same goes for our sister Ann-Kio Briggs, and Femi Falana; they should consider running for the Senate."
PDP crisis: Governor Tambuwal steps in, suggests way forward
Meanwhile, Legit.ng had earlier reported that for the second time in about two weeks, the Peoples Democratic Party Governors Forum (PDP-GF) will be holding a meeting amid its leadership crisis.
This meeting was fixed by the chairman of the forum, Governor Aminu Waziri Tambuwal, through the director-general, C.I.D Maduabum, The Guardian reports.
The decision to convene such a high-profile meeting was made after the Sokoto governor consulted with his colleagues, that is, the 13 state chief executives.
Source: Legit.ng