"One Tuber Broke": Nigerian Family Turns down Man's 400 Big Yams for Daughter's Bride Price, Gives Reason
A traditional wedding in an Eastern state in Nigeria was stalled over an issue with what the husband-to-be brought as bride price
His fiancee's family requested 400 big tubers of yam but rejected the edibles when he brought them due to one reason
To salvage the situation, the lady's family suggested a quick fix the man could use if the marriage must go on
A Nigerian man has shared how his brother's traditional marriage in Imo state was stalled as a result of yams presented for the bride price.
@Foedosa1 shared the incident on Twitter while responding to an influencer, John Doe, who remarked that Edo state has the cheapest bride price in Nigeria.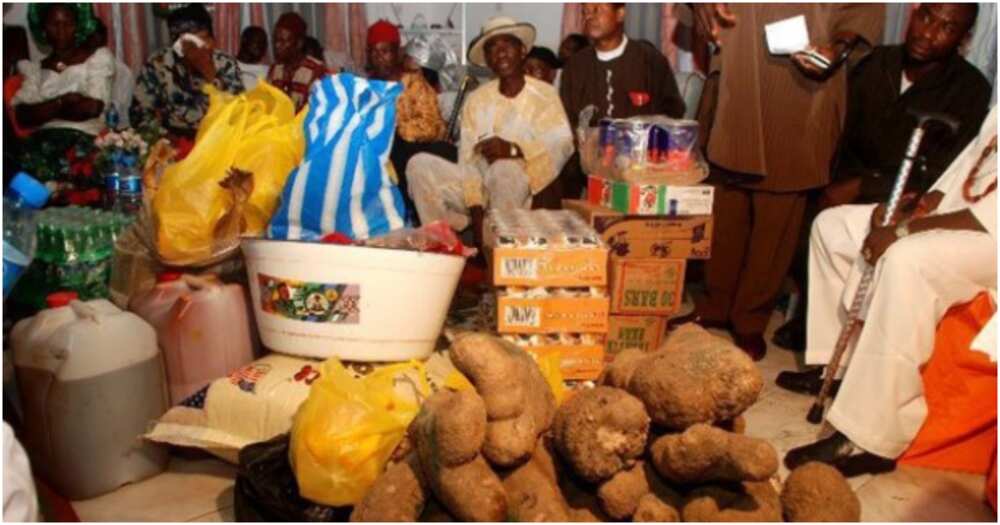 According to @Foedosa1, his brother's fiancee's family included 400 big tubuers of yam in the bride price.
However, on their way to the village to deliver the yams, one tuber broke. To their surprise, the lady's family rejected all the tubers, insisting that the broken one is replaced with another sourced from their local market.
PAY ATTENTION: Follow us on Instagram - get the most important news directly in your favourite app!
Their reason being that the wife-to-be's leg is not broken.
See the tweet below:
Social media reactions
@Ebonyxtiano said:
"Agba are you talking about marriage list or just bride price? Bride price is never a problem, my younger sister's bride price was 10k, we removed 3k and handed the bal to our inlaw to take care of our daughter."
@GeoLawrence1 said:
"Some states will charge as low as N5000.
"And some will demand as high as 400 tubers of yam. A tuber big tuber of yam in some places goes for 1, 600k or there abouts (taking cognisance of present market conditions).
"1,600 × 400 equals more than half a million Naira.
"Oshi!"
@TabithaOkenwa said:
"But I've always ask myself this one question everytime I see or hear something like this. And the question is what will they be doing with 400 tubers of yams. Is it that they are planning to re-sell them or what? I'll ask this question if I was the bride I swear."
@ayinla_mayowa1 said:
"But sir, I've been willing to ask, why do some family do this? Is it that they do this intentionally to frustrate the man's effort to marry their daughter or their greed just want to milk every last penny from a man's pocket?"
Man requests bride price refund after a shocking discovery about his wife-to-be
Meanwhile, Legit.ng previously reported that a man had sought a bride price refund after making a shocking discovery about his fiancée.
The young man found out that his wife-to-be already had two children with another man.
In a sad video, he expressed his bitterness as he called off the wedding and pulled off his wedding shoes and suit. Despite several attempts by eyewitnesses to calm him down, the angry groom refused to continue with the wedding. He also demanded a refund of the bride price he paid.
Source: Legit.ng