50+ ridiculous wine puns, jokes, memes, quotes and sayings
Do you enjoy drinking wine? Who doesn't! Luckily for you, there are other things that you can enjoy courtesy of the drink - jokes. Here are some funny wine puns, jokes, quotes and memes that will give you a riesling to be happy today.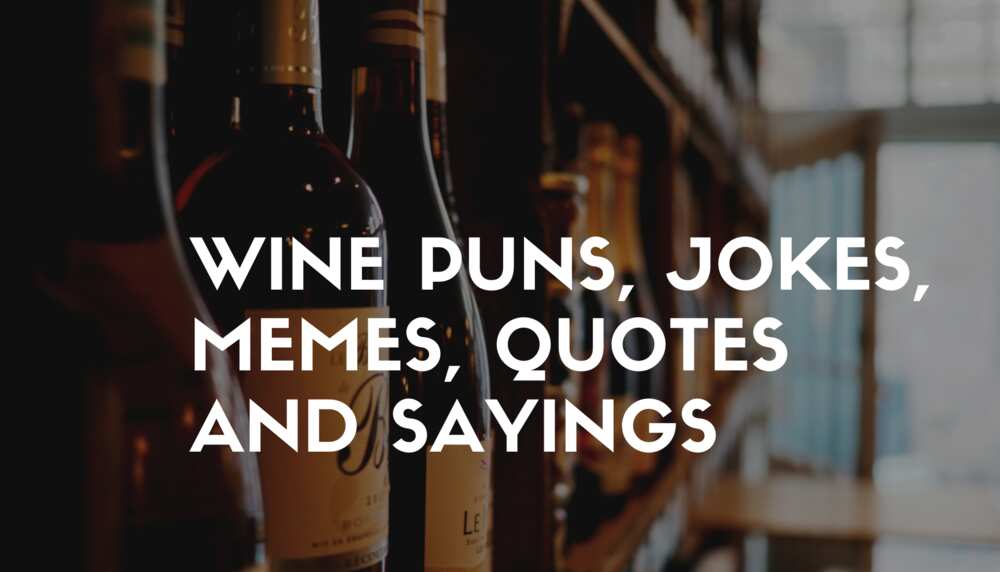 Check out these ridiculous wine jokes.
Wine puns
These hilarious wine puns will definitely get you rocking with laughter:
Great minds drink alike.
I make pour decisions.
Here for the right riesling.
Riesling… Chardonnay... Merlot... Cabernet... Pinot noir…Sorry, I don't know why I'm being so whiny this morning.
Cabernet. More like, caber-yay!
Whenever I feel like wining, I remind myself to put a cork in it.
I hear you like wine, too. Grape minds think alike.
Why have less scato when you can have mo' scato?
Happy Hour is at wine o' clock.
I'm not old. I'm aged to perfection. And full bodied.
The problem with collecting wine is that you always end up getting screwed.
Vino? Why yes!
Sip happens.
Why have a mer little when you can have a merlot?
This kind of wine does not go right through you. Trust me, you will pee no noir.
[Birthday] You're how old? Poor you! I mean, pour you a glass of this!
Like a pro wrestler in a headlock, I'm indulging in a little champagne.
Sham pain – get it? It's a thinker.
Remember to stop and smell the rosé.
Somehow they knew I wanted champagne. It was chilling.
Everything happens for a riesling, right?
Some people like beer goggles. I prefer wine glasses.
You are so bottlefull to me.
Will you accept this rosé?
You can't sip with us.
It isn't good to keep things bottled up.
What did the grape say when it was crushed? Nothing, it just let out a little wine.
Wine jokes
These jokes will leaving you reeling on the floor with laughter:
What did the grape say when the elephant stood on it? Nothing, it just let out a little wine.
I've trained my dog to bring me a glass of red wine. It's a Bordeaux collie.
Every box of raisins is a tragic tale of grapes that could have been wine.
It doesn't matter if the glass is half empty or half full. There's clearly room for more wine.
What's the secret to enjoying a good bottle of wine? Open the bottle to let it breathe. If it doesn't look like it's breathing, give it mouth-to-mouth.
Did you know Pinot Noir is actually spelled Pinot Noi? There's technically Noir.
Father O'Brien was driving home after lunch when a policeman pulled him over. "What have you been drinking?" asked the cop. "Only water," replied the priest. "Then what's that next to you?" said the policeman, pointing to the half-empty bottle of pinot noir in the passenger seat. "Good Lord!" said Father O'Brien. "He's done it again!"
If you can drink away your hurt, it must have been champagne.
What happened when a clumsy sommelier tried to decant a bottle of fine wine? Things went pour-ably wrong.
How do you decide how much wine to drink? Take it on case-by-case basis.
What do you call a grape that is an anti-diuretic? Pinot More.
Did you know wine doesn't make you fat? It makes you lean…against tables, chairs, floors, walls and ugly people.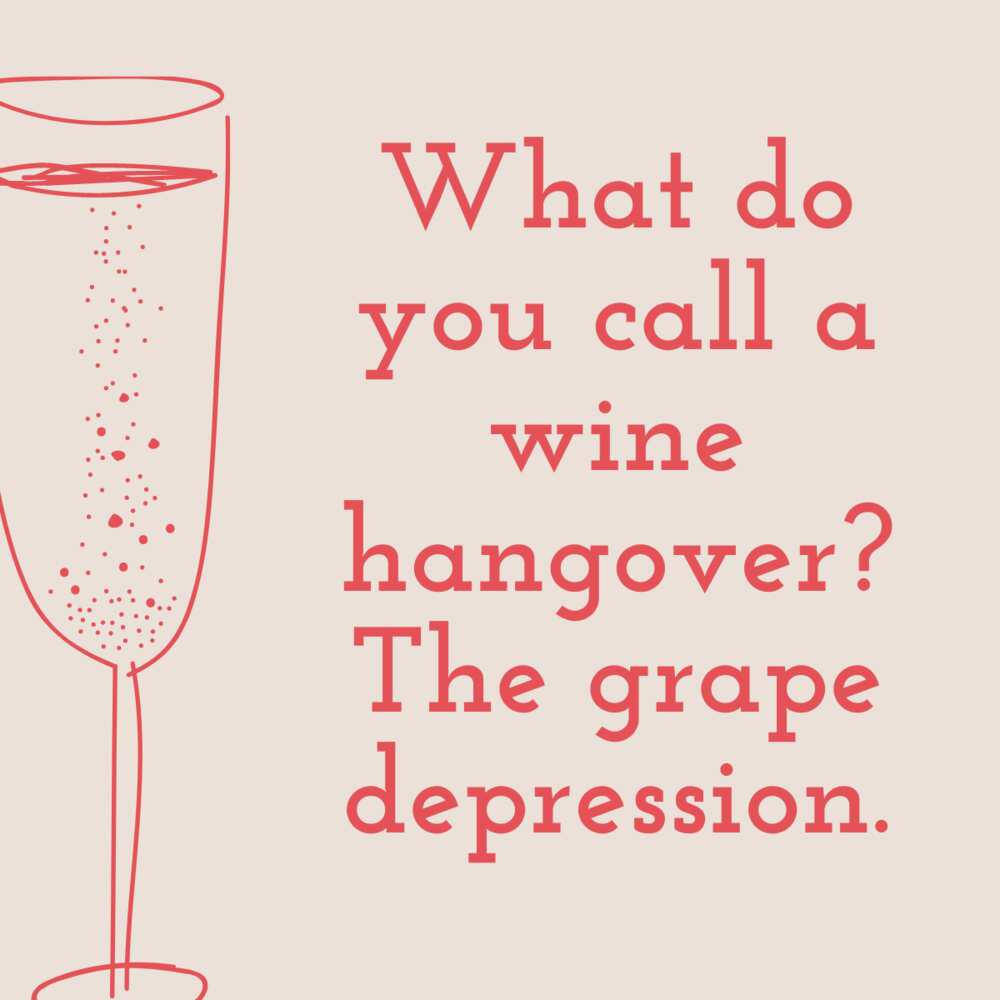 It's funny how 8 glasses of water a day seems impossible but 8 glasses of wine is a sign of a good meal.
I drank so much wine last night that when I walked across the dance floor to get another glass, I won the dance competition.
I can't wait for the day when I can drink wine with my kids instead of because of them.
Did you hear about the crime family that took over the wine importing business? They call themselves the Sip-ranos!
Did you hear about the little grape who didn't want to be made into wine? Unfortunately, he was pressed into service!
My wife hates it when I mess with her red wine. I added fruit and orange juice, and now she sangria than ever!
Why did the wine connoisseur insist on drinking from an old tire? He heard it was a Goodyear!
You had me at merlot.
Hey babe, what are you doing this fall? 'Cause I'd like to make you part of the season's harvest.
What type of wine is notorious for making you drowsy? Sauvign-yawn blanc!
Chardonnay or should I go?
Mother Superior called all the nuns together and said to them, 'I must tell you all something. We have a case of gonorrhea in the convent.' Thank God,' said an elderly nun at the back. 'I'm so tired of Chardonnay.'
I like to think of myself as a bottle of fine wine. I'm saving myself for another 10-15 years, but in reality I'll probably wait too long, become funky, and just be left untouched until I'm thrown away
I have an old wine barrel that is haunted by the ghost of a pirate. The ghost is quite friendly and really enjoys when you memorise passages from one of the Harry Potter books and then lean into the barrel and recite the passage. Sure, its unusual, but don't read too much into it.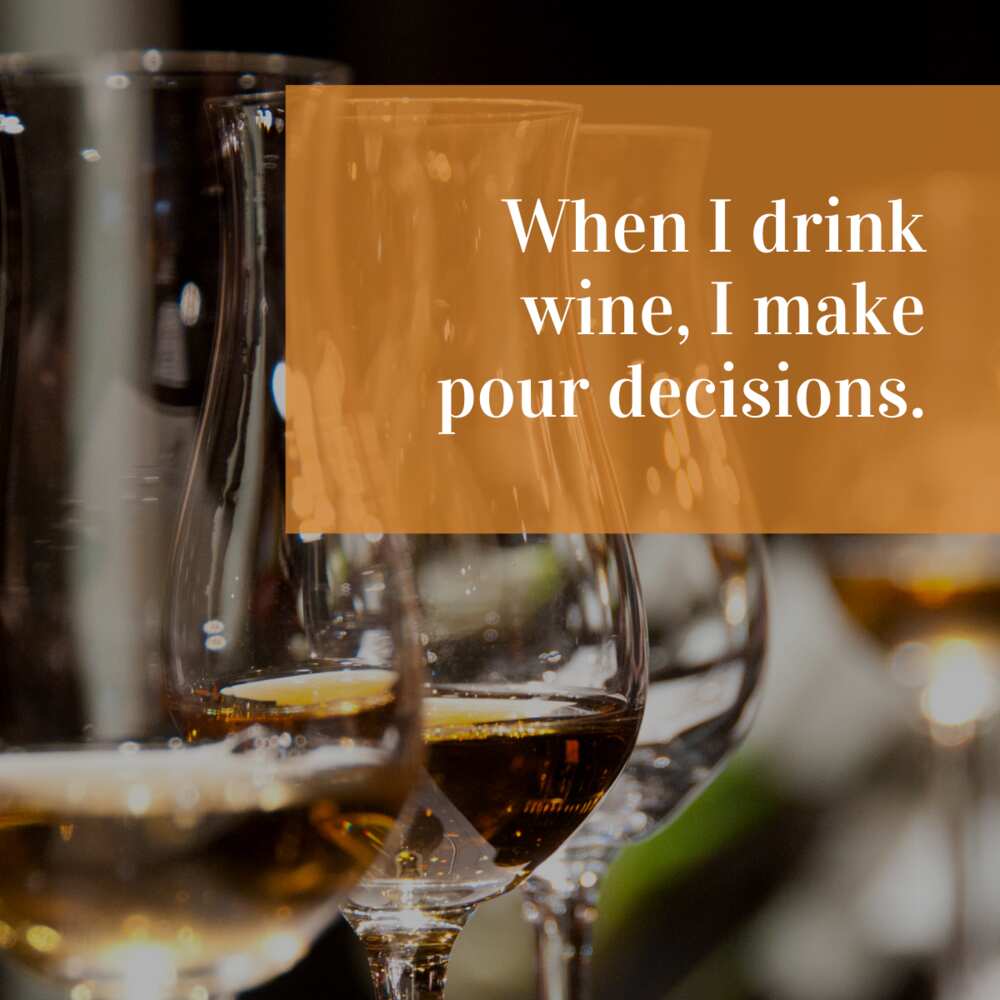 What is a woman's idea of a balanced diet? A glass of wine in each hand!
You know what's fun about being sober? Nothing.
How can you find the girl who drank an entire bottle of merlot? She's the one dancing like a str*pper!
How do you know a man is really really gay? When he's nursing a glass of pinot grigio!
What's the cure for marriage? Answer: Alcoholism.
What do you call a woman with a glass of wine on her head? A taxi.
Heard a Dr. on TV say to get through the boredom of self isolation, we should finish things we start and thus have more calm in our lives. So I looked through the house to find all the things I've started but hadn't finished...so I finished off a bottle of Merlot, a bottle of Chardonnay, a bodle of Baileys, a butle of wum, tha mainder of Valiumun srciptuns, an a box a chocletz. Yu haf no idr how feckin fablus I feel rite now.
What is a woman's idea of a romantic night? Netflix and Chilled wine.
My psychiatrist said I should focus on inner peace while quarantined by finishing everything left undone...I looked around the house and found half a bottle of merlot, some gin, a litl scotch, som old scriptun of valum adn oxtdkl.
Funny wine sayings
Check out the amazing wine quotes funny people will enjoy:
The first thing on my bucket list is to fill the bucket with wine.
Sometimes we all need a Riesling to be cheerful.
He said his non-alcoholic wine was delicious, I said he had no proof.
Wine improves with age. I improve with wine.
Don't ask me why I love wine. I have my rieslings.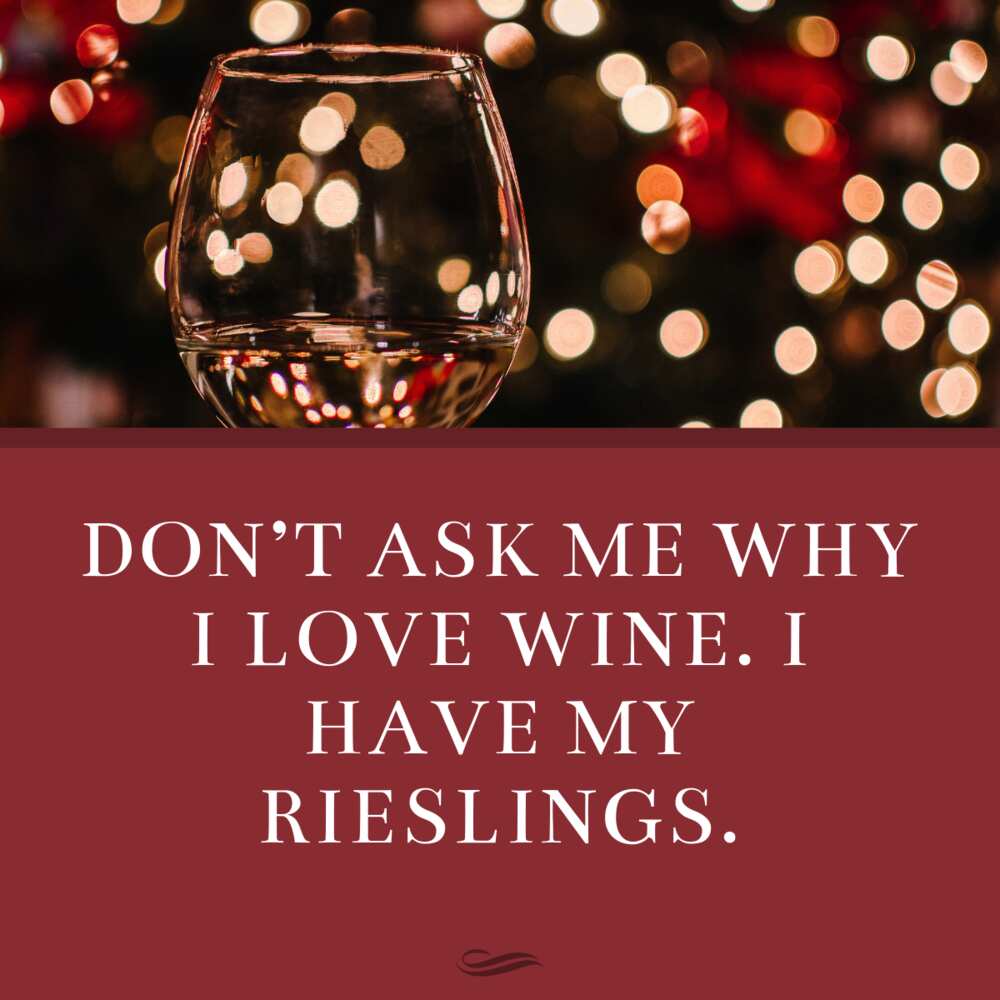 When you get a hangover from wine it's called the Grape Depression.
I just heard on the grapevine that doctors have invented a new grape variety that acts as an anti-diuretic to help with incontinence. It's called Pinot More.
I'm a wine enthusiast. The more wine I drink, the more enthusiastic I get.
What kind of wine do they serve at the horse races? Chardon-neigh!
Wine one liners
Here are some wine funny one-liners. You can also use them as wine puns for weddings:
You had me at merlot.
Here for the right riesling.
Will you accept this rosé?
You can't sip with us.
Sip, sip hooray.
It isn't good to keep things bottled up.
My day just went from super to sip-erb, real quick.
Cabernet. More like, caber-yay!
Hakuna Moscato. It means drink wine.
Feeling grape.
Sip happens.
Funny wine memes
Enjoy these funny memes:
1. It's healthy, right?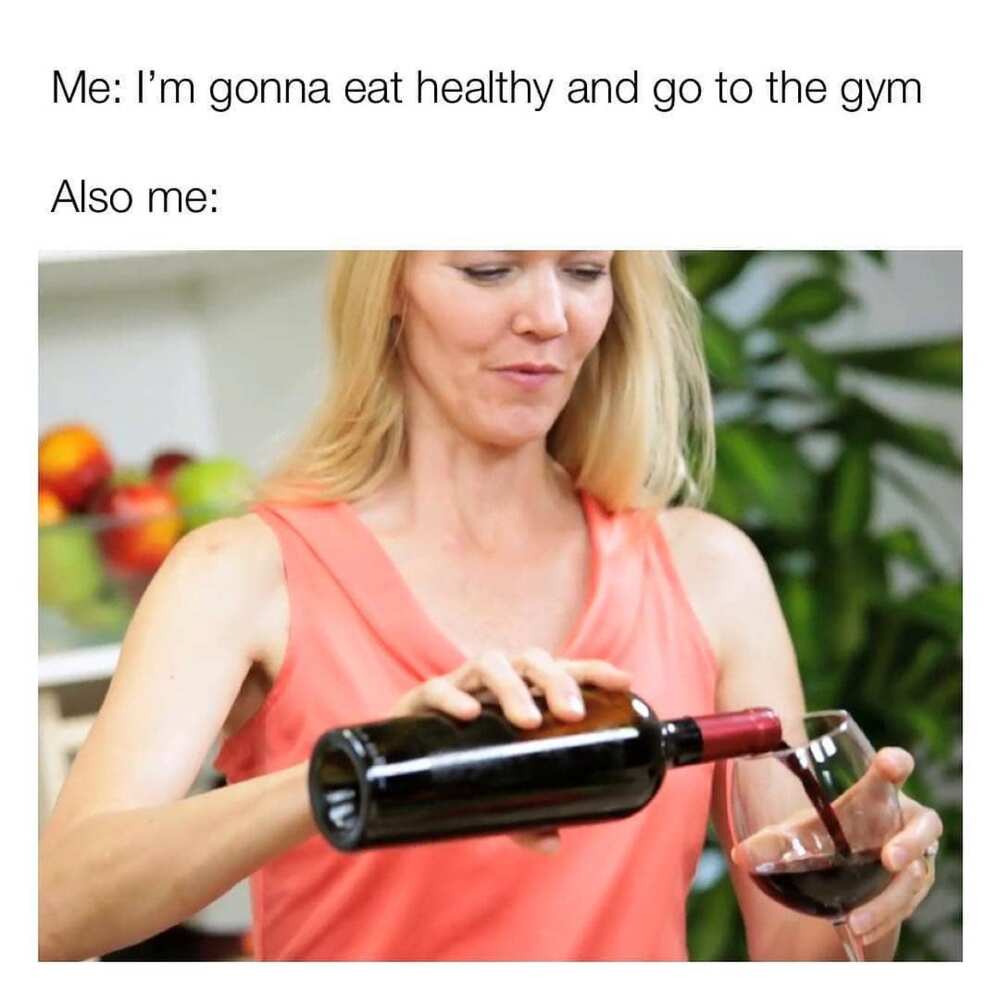 There's grape in it so it's basically a salad.
2. The audacity!
How dare they?
3. Makes sense
There's so much sense in this one.
Which of these wine puns did you enjoy the most? Which one gave you a good laugh? Let us know in the comment section below.
READ ALSO: 30+ great queen quotes by and about iconic historical figures
Legit.ng recently published a list of some of the most famous queen quotes ever uttered. These quotes are undoubtedly full of wisdom that may help one navigate through life.
Everyone can stand to learn from these wise sayings. If you would like to get some wisdom from them, check out the list of queen quotes by Legit.ng.
Source: Legit.ng