Mum Whose Son Hasn't Blinked, Smiled or Closed Mouth for 7 Yrs Cries Out: "Don't Know What's Wrong"
A Malawian mother, Tusaiweyana, has shared a video on Instagram shedding light on her son Jay's rare condition
Jay has difficulty blinking, smiling and closing his mouth, and he has been struggling with these challenges for almost seven years
Determined to find answers and support, Tusaiweyana planned to travel to South Africa the following month for further medical consultations and tests
In a heartfelt Instagram video, a heartbroken mother, Tusaiweyana, shared her emotional journey of seeking help for her son Jay.
She revealed that Jay was born with a condition that prevented him from closing his mouth, resulting in daily struggles with eating, drinking, and facial expressions.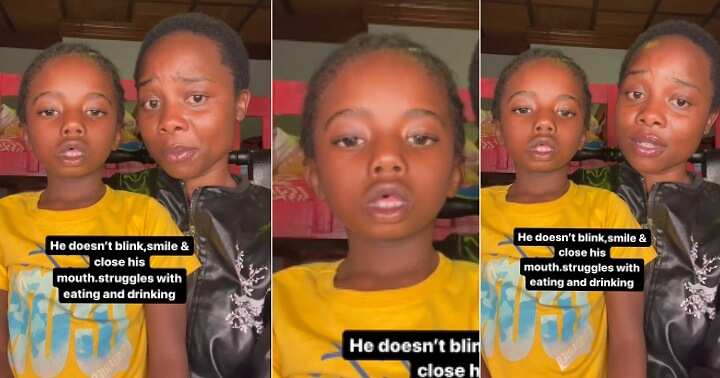 Despite years of searching for answers in Malawi, Tusaiweyana could not find the support her son needed.
Mum announces trip to South Africa to find help for her son
Determined to explore all options, she announced her plans to travel to South Africa the following month, hoping to find a diagnosis and potential treatment.
PAY ATTENTION: Сheck out news that is picked exactly for YOU ➡️ find the "Recommended for you" block on the home page and enjoy!
In her words:
"It is so sad to look for help for your child and never find it. To look for answers and never find it. I've been looking for answers for almost close to 7years now for my son.
"This is my biological son that I gave birth to when I was 16-17 years old and he was born with a condition that affects him from closing his mouth, it also use to affect so many things at times but I decided to love him, appreciate him and see him as a different child, as a unique child and appreciate him the way he is.
"But now I'm getting close for more answers from other countries. So we are traveling next month to South Africa and I don't know."
Journey to South Africa and fundraising effort
With the online community's support, Tusaiweyana finalised arrangements for Jay's trip to South Africa.
In October, they would meet with doctors who specialise in rare conditions to conduct tests and provide a potential diagnosis.
Recognising the financial implications of the journey, Tusaiweyana humbly requested assistance from her followers to help raise funds for the trip.
The collective effort to support Jay's medical journey showcased the power of compassion and unity in times of adversity.
She wrote;
"This year I have been so busy with making sure the other kids have a proper place to stay that's why I was silent about posting Jay or looking for more help for him but I have dedicated next month October to look for sore answers for him'.
"So we will go to SA to meet doctors who can run some tests and give us a diagnosis. I will need your help guys but for now, let me finalize the school and clinic. Thank you and I will need your help to raise funds for his trip to SA. We will have answers if it is Moebius syndrome or not."
Words of encouragement trail video of mum seeking help for son Jay
Tusaiweyana's video quickly garnered attention, drawing an outpouring of support from netizens.
In the comments section, individuals offered prayers, advice, and encouragement for Tusaiweyana and Jay.
@what.sherface reacted:
"I wish you could bring him to the US. We have so many different doctors, specialists, medical and behavioural professionals here."
@aphotiklavender reacted:
"Ask about Moebius syndrome if you can."
@lung79 commented:
"Tusa, are you going to be consulting privately? I'm wondering if there's anyone following you here that is in the medical profession in South Africa that can assist you with getting pointed in the right direction before you set off so you avoid seeing the wrong specialists .in my head l'm already thinking if it's something a paediatrician can diagnose or you maybe a geneticist? If so maybe discuss your case so they know exactly what they are dealing with. I worked with lovely Doctors in SA and would have gladly assisted you if I was still there."
@ceeceemichaela said:
"Lord, heal him muscularly and neurologically. Fix any deficiencies and unblock any pathways so that his eyes, lips, jaws, etc. can move and, blink, and open and shut and wink and chew and even WHISTLE! Yayyyyy, YES do it Lord God, do it! In The mighty name of Jesus! Mom, please keep us posted on what the doctors say. It could be something in his chromosomes or genes that definitely will give you some answers and a great start. He may need special therapy for relaxation and conditioning or reconditioning of facial muscles and movement. They WILL find it ... and it shall be fixed! - Yes and Amen! We love you mom, may God protect and be with you and your children, always."
@prettytima131 reacted:
"God is the greatest, May healing be you son's portion."
@khomotjomlati reacted:
"Next month wen ur in SA will luv to see u guys.. unfortunately I stay in another province bt will travel to see you n ur son."
@muthatrukn_raina said:
"I'm wondering if this would be lymphatic related? @cejimages."
Watch the video below:
Mum seeks adoption for autistic son
Meanwhile, Legit.ng reported that a 16-year-old boy, Luke, plays with his mother's fingers as he lays beside her, occasionally stealing glances and smiling at her. Kitawa Charity is terminally ill and cannot walk without assistance as she's paralysed on her right side, but the innocent boy doesn't know this.
Charity constantly reminds him that she loves him very much, and he just stares at her and smiles. He has a beautiful and innocent smile. Luke is a severely autistic child. He is also nonverbal, has to be bathed, fed, and in diapers, and needs around-the-clock care.
Source: Legit.ng