"I Don't Know What to Do": Corps Member Who Received N330,000 Allawee Shares Her Ordeal in Video
A diligent corps member sought the advice of netizens after she was paid N330,000 for the month
This was far from the standard allowance of N33,000 set out for corps members in any state of service
Sharing details about her situation in a viral video, she pleaded with Nigerians to advise her on what to do about it
A Nigerian corps member is in a dilemma after receiving N330,000 rather than the standard monthly allowance of N33,000.
The serving member of the National Youth Service Corps (NYSC) claimed that she was overpaid her monthly allowance.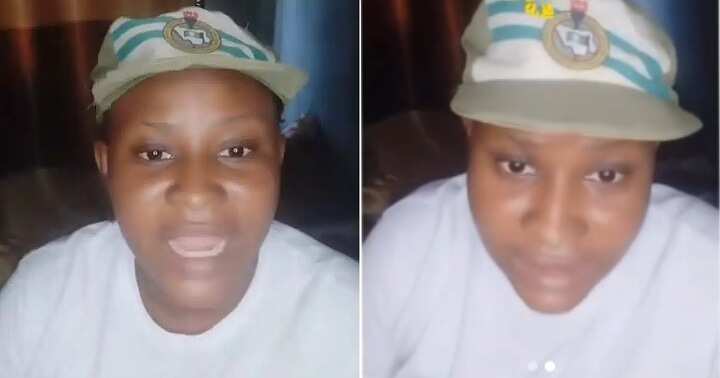 According to her, she received a whopping sum of N330,000 instead of the usual N33,000.
She cried that she had no idea what to do with the money and solicited advice on whether to return or keep it.
In her words:
"Hi guys, this morning I received N330,000 instead of N33,000 allowance and I don't know what to do ooo.
"I don't know if I should go to the bank and complain or I should go to my local government and complain. I'm confused."
Reactions as corps member receives N330,000 allowance
Toyonmichelle said:
"People saying she should have taken possession of the money and not said anything have obviously not served because, she has to tender her bank statement to get her certificate, so she'd have to refund it at the end of the day. She can't get away with it."
Pepe_nwa stated:
"Even at your age you lack sense and obviously don't want to make it in life. Other people looking for this type of opportunity and you are complaining. Go to your local government and return the money then keep suffering since that's what you like."
Blessingtakim2022 added:
"Kindly return the money to FG and NYSC.Change begins with u and us. My mum returned her gratuity to office of the accountant general of the federation in 2006.it was a double payment. Her fellow retirees called her mumu. But heaven smiled at her afterwards. What u sow, u reap.If u dont reap, ur children will."
Watch the video below:
Corper cries out over nasty state of lodge
Meanwhile, Legit.ng reported that a Nigerian lady had caused a stir on the net as she shared a video showing the National Youth Service Corps members' lodge she was taken to by the principal in her place of primary assignment.
It was far from the term comfortable, which the principal used to describe the place, and the lady cried out over its deplorable condition. She recorded a video of the room, toilet and bathroom and sarcastically hyped it for her potential viewers.
Afterwards, the female corps member returned to her hotel room and said she may have second thoughts about continuing the programme as she couldn't stay in such a place.
Source: Legit.ng