"We Shall Call Ourselves Partner": Boyfriend Sends Girlfriend Relationship Contract via Email, Netizens React
A woman shared a funny relationship contract that her boyfriend sent her on Twitter, and it went viral
The contract had six sections that covered topics such as exclusivity, personal needs, and termination
Many users found the contract amusing, relatable and worth having
A woman shared a hilarious contract that her boyfriend sent her to set rules and boundaries for their relationship.
The contract, which @_chiisom posted on Twitter, went viral and received thousands of likes and comments.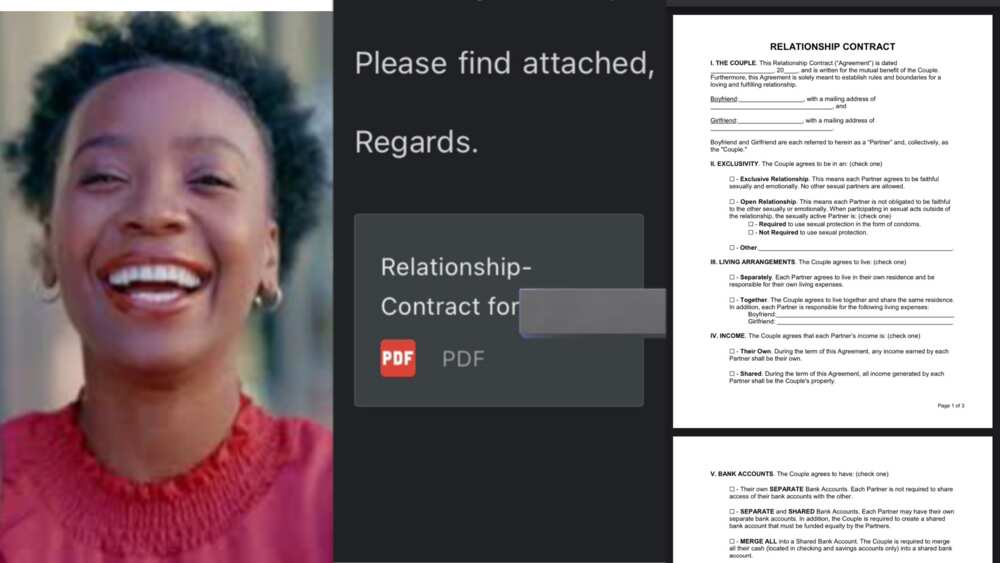 People begged for the contract to be sent to them via email
The contract had six sections: exclusivity, living arrangements, income, bank accounts, personal needs, and termination.
The couple agreed to be in an exclusive relationship, live separately, keep their own income and bank accounts, have two date nights and two romantic activities per month, and end the agreement if one party breaks up.
Some of the clauses in the contract were quite funny, and others appeared candid.
The tweet quickly gained attention from other users who found the contract amusing and relatable.
Some praised the couple for their sense of humour and communication skills, while others shared their experiences with relationship contracts or begged for the contract to be emailed to them too.
The contract was a creative way for the couple to express their love and commitment to each other and make each other laugh.
It also showed the importance of having clear expectations and boundaries in a relationship, even if they are written humorously. The contract may not be legally enforceable, but it made many people smile.
Find the Tweet about the contract below:
Nigerian lady threatens boyfriend in leaked WhatsApp chat
Meanwhile, Legit.ng earlier reported that a trending audio clip had revealed the conversation between a couple who argued over a financial issue.
The girlfriend had threatened to break up with her boyfriend because he sent her 70k after she informed him about her plans to return to school.
According to her, N70k was too small to take back to school. She also compared her boyfriend with other young men who give their girlfriends N800k and N900k.
Source: Legit.ng