Amidst People Sitting on the Floor, Little Girl Dances, Spins and Twirls Effortlessly, Video Goes Viral
A video of a little girl dancing in the midst of people seated in the ground has gone viral on TikTok
In the clip, the girl demonstrated her twirling abilities and cemented her place as a dancing star
She made several moves effortlessly that left the crowd astonished and also made them to cheer
A little girl became an internet sensation after a video of her dancing in front of a crowd went viral on TikTok.
The clip showed the girl twirling and moving to a catchy song.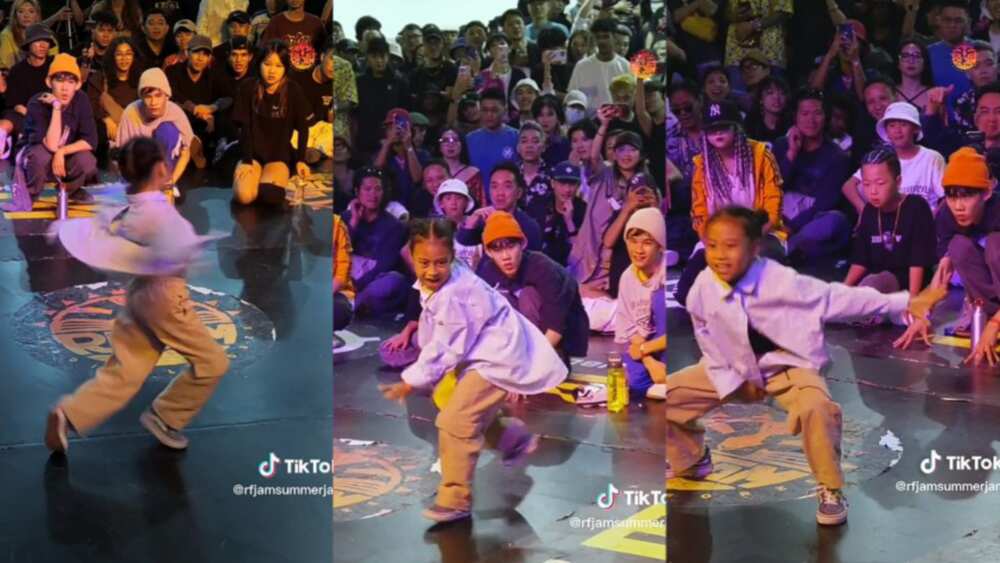 Audience impression
The girl, who wore a loosely fitted dress impressed the audience with her confidence and skills.
She made several moves effortlessly that left the crowd astonished and also made them cheer.
The video has received over 9 million likes and over 11000 comments on TikTok as of June 7, 2023.
Many viewers praised the girl for her talent and charisma.
Some even compared her to famous dancers and celebrities.
TikTok has become an important social media platform that allows users to create and share short videos, often featuring music, dance, comedy, or other creative content.
The app has become one of the most popular and influential sources of entertainment and culture for millions of people around the world.
Find the link below
Little girl teaches her mom the Kilimanjaro dance moves
Meanwhile, Legit.ng earlier reported that a heartwarming TikTok video of a mum and daughter bonding over the Kilimanjaro dance moves has captured the attention of many viewers.
The adorable clip shows the young girl patiently teaching her mum the intricate steps of the popular dance challenge that requires coordination and rhythm.
The mum tries her best to follow her daughter's instructions and mimic her movements, but she struggles to keep up with the fast-paced and complex dance.
Little girl effortlessly does the trending Kilimanjaro dance moves among others
In another related story, Legit.ng reported that a little girl filled with the talent of dancing attempted the kilimanjaro dance move and was able to do it effectively.
The short video comprehensively displayed the girl's amazing dance moves which projected that the kid would turn out to be an awesome entertainer.
Even though it was not more than a few seconds, the girl tried all kinds of moves which portrayed that she had been following the trends.
Source: Legit.ng