"I Told Him I Was Dying": Woman Fakes Illness to Get Her Ex Back, Comes to the Hospital With New Girlfriend
A woman has revealed the craziest thing she did after a breakup with her boyfriend
She pretended to be dying in a hospital and asked a nurse to call him and beg him to visit her
However, her plan backfired when he showed up with his new girlfriend and also referred to her as cousin
A woman, who simply identified as @kgoshomoloto on Twitter shared her heartbreak story on a social media platform.
She said that she was heartbroken when her boyfriend dumped her for another woman.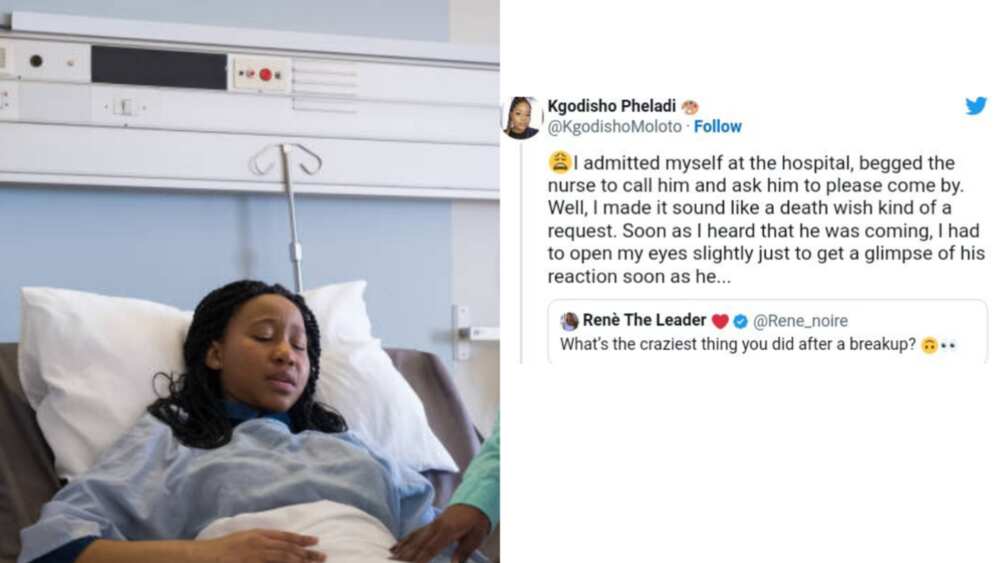 Faking serious illness
She decided to fake a serious illness and admit herself at the hospital. She hoped that he would feel sorry for her and come back to her.
She said that she made it sound like a "death wish kind of a request" when she asked the nurse to call him.
She waited anxiously for his arrival and opened her eyes slightly to see his reaction.
To her horror, he walked in with the woman he left her for. He had flowers and she carried a fruit basket.
He greeted the nurse and asked about his "cousin". He said that he was worried about her and hoped that she would be alright.
The woman said on hearing her ex referred to her as a cousin, she died twice and came back.
Find the tweet below:
"I admitted myself at the hospital, begged the nurse to call him and ask him to please come by. Well, I made it sound like a death wish kind of a request. Soon as I heard that he was coming, I had to open my eyes slightly just to get a glimpse of his reaction soon as he walked in. Man came in with the girl he told me he was seeing and leaving me for. He had flowers and she carried a fruit basket. "how's my cousin? Is she going to be alright?" he asked the nurse that was attending me at that time. I think I died twice and came back."
She ended her post by saying that she learned a valuable lesson from her experience. She said that she would never do something so crazy again and advised others not to do the same.
The woman's post received mixed reactions from other users. Some sympathized with her and said that they understood how she felt.
Legit.ng compiled some of the reactions below:
@Sphoz reacted:
"What did the nurse say. I would've woke up and asked him since when?"
@Kgodisho said:
"The nurse took my file and SWooped it under her armpit and walked away. She came back after they left and said "askies nana.."
@Bontle wrote:
"Serves you right D. Askies though."
@Sinthumule also commented:
"Cousin!! No way"
Nigerian lady threatens boyfriend in leaked WhatsApp chat
Meanwhile, Legit.ng earlier reported that A trending audio clip has revealed the conversation between a couple who argued over a financial issue.
The girlfriend had threatened to break up with her boyfriend because he sent her 70k after she informed him about her plans to return to school.
According to her, N70k was too small to take back to school. She also compared her boyfriend with other young men who give their girlfriends N800k and N900k.
Source: Legit.ng