Husband Neglects Wife & Children, She Starts Riding Keke to Feed Them
A Nigerian woman decided to take the bull by its horn by going out there to start riding tricycle to feed her children
She said she makes over N5000 per day which she always share between the owner of the tricycle
She said she learnt how to ride the keke, as it is called Nigeria, within two weeks and began working within the campus
A Nigerian woman, Ayomide Olaniran has narrated how her husband neglected her which led her to start riding keke to feed her children.
She operates a tricycle inside the University of Ibadan, one of the most prestigious universities in Nigeria.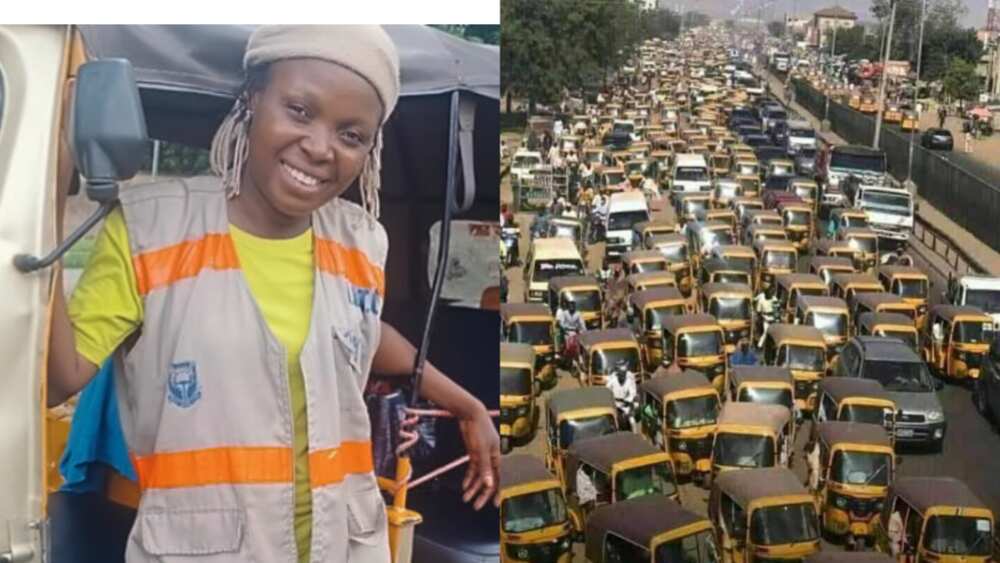 Olaniran is not trying to prove a point or compete with men, she is simply trying to provide for her three children after leaving her husband who could not cater for them.
Monthly salary not enough
She decided to start driving the tricycle this year when she realized that her monthly salary from her previous job was not enough, Saturday Tribune reported.
She said she learnt how to drive the tricycle in just two weeks and started working inside the university campus.
Olaniran said she pays N5,000 every day to the owner of the tricycle and makes some profit for herself which uses to pay for her children's school fees and other expenses.
"I had no help. No family, and my husband's family were not there too and I needed something to take care of my children. The two younger ones now go to a private school while the older one is in SS2 and I pay their school fees with what I make from driving this keke," she said.
Olaniran said she was a hardworking woman before she got married and moved to Ibadan from Lagos, where she used to work at construction sites.
However, her husband stopped her from working and asked her to learn tailoring, which she did not have time for because of childbirth.
She said she left her marriage because her husband was not serious about caring for his family and his relatives accused her of not allowing him to take care of them. She said she was better off without him and thanked God for giving her the strength to take care of her children.
Olaniran said she did not intend to drive the tricycle for long, adding also that driving the tricycle in the university was not as challenging as outside.
Legit.ng compiled some of the reactions below:
Matt Omega reacted:
"In as much as I commend you for your hustling spirit, if you actually left your husband because you want to ride Meme then sorry for you independent Woman."
Adeyemi Adebayo wrote:
"The best caption should be, I left my husband to marry Keke."
Timothy Egbara lIl commented:
"The statement is always very emotional when it comes from the woman; Wait until you realise her ex husband actually bought her the keke she's riding."
John Seun also commented:
"This woman carried me from Faculty of Education to Postgraduate College, University of lbadan about a month ago."
Olalekan Oluwasayona Joshua also wrote:
"This outgoing buhari cause many calamity for Nigerians may God rewards him according to his work."
Oluwaseun Olakunle also reacted:
"All this kind of lady's man no go be anything for there face again."
Wife of keke rider builds mud-walled house with her savings of 5 years
In a related story, Legit.ng reported that a Migori woman married to a tricycle rider (keke) has shared a lovely photo of the beautiful house she built after saving for nearly five years.
Maryann Anyango could not hide her joy as she explained how she had saved up the money to build the mud-walled house for her family.
The mother said she started with iron sheets for five years, but due to financial constraints, she could not begin the construction process immediately.
Source: Legit.ng