"Very Impressive": 8-Year-Old Boy Draws Legendary actor, Peter Fatomilola
A talented eight-year-old Nigerian boy's painting of a popular Yoruba actor has earned him praise and accolades
The young boy was hailed at a recent event which was graced by notable personalities including the wife of the Ooni of Ife
The impressed guests at the event trooped out to celebrate the young talent with monetary gifts and prayers
Many kids are blessed with great talents that begin to manifest even when they are still very young.
Most of these gifts are artistic with a connotation of spectacular. The ability to draw or paint like Picasso (a Spanish painter) is truly an inspiration, especially in children and they should be widely celebrated and encouraged.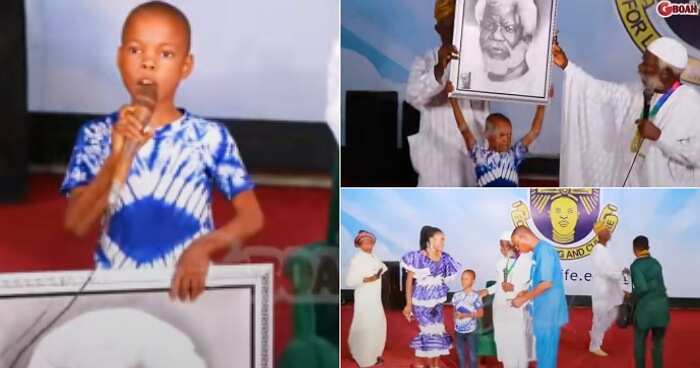 A young Nigerian boy received a thundering ovation from high-class personalities at an event after displaying his drawing of popular Yoruba actor, Peter Fatomilola.
Anyone who grew up in the 2000s and watched Nigerian soap operas that depicted the traditional scenarios of the people of Western Nigeria (Yorubas) will surely remember Peter Fatomilola.
He has acted in many acclaimed movies in Nollywood and has won many awards for himself in the industry.
In an event hosting the acclaimed actor and the wife of the Ooni of Ife, a painting of the actor was showcased for the attendees to behold.
It was a beautiful black and white pencil drawing that was a replica of the aged actor.
The highlight of the surprise present was that the artist behind it was no other than an 8-year-old boy who was also a primary 3 pupil.
The revelation caused a happy uproar in the event hall and the painting was lifted and shown to all.
The guests were bewildered by the talent of the young artist and decided to reward and encourage him with monetary gifts.
Right there, he was sprayed and given naira notes till his hands were full. He was helped by some adults to hold the cash gifts.
Others took snapshots of him and with him. All the while, the actor was the one leading the young artist by hand. The master of the ceremony showered the young boy with praise, accolades and prayers in the Yoruba language
Social media reactions
@Olawumigazal2 said:
"Weldone son."
@damilolafuffos said:
"Much love dear."
@wemimobola wrote:
"So lovely."
@monsurat commented:
"Amin."
@kentoyzim exclaimed:
"WOW!!"
@Boyolala commented:
"More wisdom, knowledge and understanding."
@queen bj wrote:
"Incredible."
@user9420990088892 commented:
"Much love."
@yetundeadelowo259 said:
"Love you so much."
@Ifeoluwa commented:
"Wow great job darling."
@itura commented:
"Amin, fantastic keep it rolling up boy."
@PEARL commented:
"So sweet to watch. God bless you son. U will live long n fulfil ur destiny IJN".
Watch the video below:
Meet 11-year-old professional artist
Meanwhile, Legit.ng previously reported that at only age 11, Waris Kareem is a sensation with his amazing artistic talent. The young lad who discovered his painting ability at 6 became Nigeria's youngest professional artist at the age of 8, Metro.co.uk reported.
In a video documentary capturing the African prodigy by CGTN - and shared by Richard DiPilla on LinkedIn - the lad was seen making nice artworks. According to Waris, he ensures each of his paintings matches real pictures. Social media users have reacted to the documentary video. See some reactions below: Emmanuel Boma Felix stated: "African has got a great talented young youth but no body to help there career especially NIGERIA KIDS...great one from the 11 years boy."
Abam Kammaoke said: "Incredible. Thanks for sharing. Am so excited. We will give him an automatic place in our forthcoming biographical compendium on exceptional Nigerian children, PRODIGIES, due out soon."
Source: Legit.ng