Nigerian Mother Cries Out as She Sees Little Daughter Scattering the House, Video Stirs Reactions
A hilarious video of a little girl creating a lot of mess in the house has garnered attention from online folks
The little girl was able to gain access to a small cupboard in the living room where some expensive items were kept
The little girl sat inside the drawer and scattered all the electrical appliances, including the game controller
For humans so little, children can cause massive chaos with little to no remorse. Whatsoever their hand touches are usually sentenced to destruction and wreckage.
Often, they use their hands and teeth to destroy items which sometimes leads to injury or health complications.
A little girl certainly caused a lot of wreckage in her father's sitting room after gaining access to the cupboard.
Her curiosity, coupled with the fact that she could now move about unaided, led her to the parlour cabinet. It contained medium and small-sized electronics.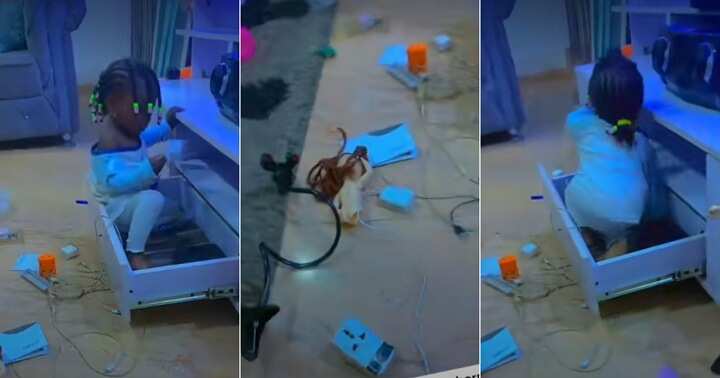 With her incredible baby strength and carefree nature, the little girl chewed and destroyed her barbie doll first and discarded it on the floor.
She then moved on to the cables, wires and small fuses in the drawer and scattered them about.
She chewed the wires, chargers, wired game controllers and a small neck massager. Pamphlets were also torn and thrown away.
When she was caught, the unbothered girl sat on the open drawer and continued chewing on a small leather packet she found in the drawer.
Social media reactions
@user826281811496 wrote:
"Me and my son actually have a special room and parlour away from my husband's own he said we're his high blood pressure."
@ade_bare commented:
"Make I share you her twin sis for this side."
@therealberry commented:
"This my baby's table am tired of that dude."
@Miide commented:
"What's with this kids and this drawer? this is my son's fay playing spot."
@blackbeeu00 wrote:
"U should be very careful cos those are electronic."
@ItzElora commented:
"Thank God you hanged the tv well if not."
@user4122315799536 commented:
"Sorry about that."
@Ghostblogger101 commented:
"My son don show me Shege."
@Arikeola commented:
"@OLAMI Come and see ire sister."
@user3339451357696 commented:
"My son will stand on it."
@Easy touch wrote:
"I swear Na Zeenat sister be dis. Naso zeenat too Dey seat inside drawer wen she's still small, this children ehn."
@mhizz adejoke wrote:
"This is my daughter job everyday."
@MAGIC BABE commented:
"My daughter does this everyday."
@Peace commented:
"My son everyday."
@MCjay2905 wrote:
"This is what my son does everytime,the drawers are gone already."
@Her Royal Majesty wrote:
"Please make sure you keep anything that can hurt her away from her reach.. I no wan see any scratch for that baby skin oo."
@BOLANLE commented:
"Just like my son omo he wahala too much."
@Tolulope commented:
"No worry she go arrange am later."
@omotoyosimariam1 commented:
"Leave her oooo she they enjoy her life low key."
Watch the video below:
Little girl scatters house, sleeps off on sofa
Meanwhile, Legit.ng previously reported that social media users have reacted to a viral video of a little girl dozing off after messing up the house. She was left unattended for a while, and the little girl seized the opportunity to have fun in her own way.
A viral video shows her mother walking into the house only to meet a scattered home with chocolate stains all over the sofa. The heartbroken mother said the couch hasn't stayed up to two months since they bought it at the market. The trending video was reposted on Instagram by @bcrworldwide.
Eni_Ebu reacted: "Why did you leave her alone for so long? Imagine if she had swallowed a coin all this time and had choked. Shey na iPhone cord you go dey find bah ?"
Source: Legit.ng