"I Feel So Bad for Her": Girl in Tears After Watching Her Toy Castle Collapse at Home, Video Stirs Emotions
A heartbreaking video of a little girl's Lego castle crashing down to the ground has stirred emotions on TikTok
The pretty little girl was trying to build the tallest castle ever for her mother with some Lego toy blocks
Sadly, it all came crashing down when her kiddie chair mistakenly hit the structure, and she broke down in tears
Children are the epitome of innocence, and their sadness can break even the coldest of hearts.
A cute little girl was trying to build the tallest castle she could for her mum. She also wanted to beat or set a record in castle building.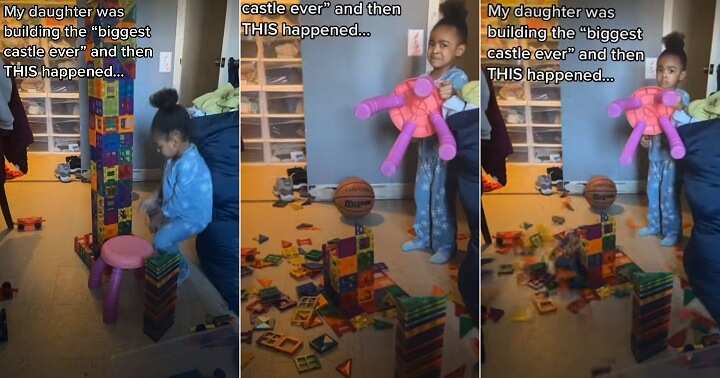 She employed the use of Lego toy blocks which children use in construction. The intelligent girl started well, and the building progressed significantly as she used her architectural brain. She did put in a lot of hard work.
The taller the building got, the more she couldn't see the other side and had to move around to do well-rounded work.
She used her kiddie stool as a ladder, but unfortunately, as she was about to move her stool from one side to the other, the stool accidentally hit the castle and knocked it down.
The Lego castle came crashing down before it got finished. Immediately, her face changed to reveal a sad girl on the brink of tears. She just looked straight at her mother, hoping she could undo the damage already done. It was so heartbreaking!
Social media reactions
@My singing monsters wrote:
"Why did she look at you like 'you done it."
@Rhyan Dunbar wrote:
"I can't have kids, I would be laughing the whole time to the point where they hate me."
@katyxx commented:
"How do people know when to film? like I always get my phone out at the last second."
@Julian commented:
"Why am I laughing?"
@Kiimada Johnson said:
"I'd cry with her ngl."
@Ava commented:
"Awe I feel bad for her. that tower was colorful and awesome!!"
@Alan commented:
"This reminds me of the food network kids baking competition when the girls pastry falls apart a second after they called the time."
@eleyahgordon wrote:
"Awww poor baby."
@paigeskinner71 said:
"Aww poor thing. I would cry too."
@ellie<3 commented:
"I'd cry if that happened to me all the hard work vanished."
@ERLEND CRAIGIE said:
"Ouch."
@Moon commented:
"It's ok I would cry too."
@Shawn commented:
"Poor Angel."
@BlueberryLittch said:
"I'd cry to honestly."
@Cari commented:
"Yeah I would've cried and blamed it on who ever watched it fall and didn't trying to catch it."
@Ivy commented:
"That would be me."
@local Ambivert wrote:
"Me and you girlie me and you."
@tøn visągė cřémėűx said:
"Emotional damage. I felt the pain."
@Bad luck wrote:
"I would cry too."
Watch the video below:
Little girl rejects stick sweet, breaks down in tears
Meanwhile, Legit.ng previously reported that a little girl has gone viral after exhibiting her emotional side in a video posted via the Instagram app.
The video showed the girl crying uncontrollably over an undisclosed issue as her family tried to console her. As she cried, her mother brought out a 'stick sweet' and stuffed it in her mouth to pacify her.
Rather than lick the sweet, the little girl removed it and cleaned her mouth immediately, an action which kept netizens in stitches. The funny girl then went ahead to fight everyone.
Source: Legit.ng