"How Can a 12-Year-Old Die Like That?" Mum Calls Out Chrisland School as Daughter Dies at Inter-House Sports
A heartbroken mother, Blessing Adeniran, has cried out for justice after losing her 12-year-old daughter
Blessing lamented that her daughter went happily to her school's inter-house sports competition, only to lose her life afterwards
Sharing her pain on social media, the heartbroken mother appealed to fellow mothers to help her get justice
A Nigerian mother, Blessing Adeniran, is seeking justice for her 12-year-old daughter, Whitney Adeniran, a student of Chrisland school, who lost her life during the school's inter-house sports competition.
In a sad video shared online, Mrs Blessing Adeniran narrated that her daughter, Desola Whitney Adeniran had attended her school's inter-house sports, last Thursday, February 9th.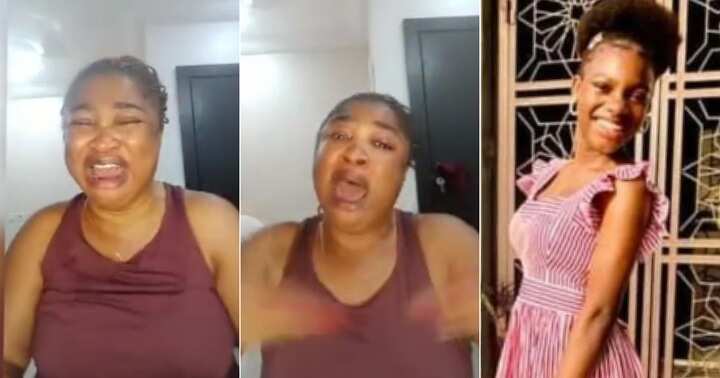 She said she was at the event when she noticed that her daughter was nowhere to be found during the match past and other activities.
"During the match past, I looked, first house matched, I didn't see my child. Second house matched, I didn't see my child. Third house matched, I didn't see my child. I became worried", she said.
She launched a search for her daughter immediately and was told by a student that her daughter had fainted.
She stated that no teacher of staff called or mentioned what had happened to her. She met a staff after hearing the news, and the staff mentioned to her that Whitney had been rushed to the hospital.
On getting to the hospital where her daughter was rushed to, she met her corpse there. She said up till now, the school has not opened up to her on what happened to her.
"I went in there and saw my daughter's corpse. I saw my daughter on her deathbed. She was already dead when I saw her. She was drenched and soaked to her skin. Water was dripping out. I screamed, I called on God. I shouted. I called on God", she cried.
The distraught mum said the school claims her 12-year-old suffered a cardiac arrest and slumped.
Mrs Adeniran said her daughter was not sick and never had any pre-existing heart condition and wonders why she would suffer a cardiac arrest.
In her words:
"How can a 12-year-old have cardiac arrest? No pre-existing medical or heart condition. Even if they claim it was cardiac arrest, how can one single arrest kill a healthy teenager?"
She is demanding the school comes clean to her with regards to what really happened to her child so she can bury her child in peace.
Social media reactions
Seun_dreams said:
"If all the parents in that school had joined hands in seeking justice for that Boy then this could have been prevented."
Khemmiesings stated:
"I think am autopsy result will help so we can face the school well well sha. It is well."
Realglowkelve stated:
"God forbid we will not lose our children in Jesus' name. Amen."
Biigteebakery commented:
"Perform an autopsy! Simple and short! While I am not supporting anybody now. But pre-existing heart condition or not. Things like this happen. Children could be hypertensive too."
Maynisselart wrote:
"What's wrong with Chrisland? They are always in the news for the wrong reasons."
Jay_strings said:
"People in the comment section dey mistake dowen for chrisland. With comments like chrisland again?
Pweetie_ik noted:
"Chrisland school is a red flag as far as I am concerned. Too many deaths in less than a year. What's going on?"
Getmatchedotcom said:
"Chrisland again? This same school? You'll be shocked some parents will still make stupid excuses for the school! Keep on making stupid excuses for useless schools that keep risking the lives of your children."
Just_ivy14 added:
"Something happened and instead of parents to pull out their kids to send a message to the sch, una face front with the usual nigerian "no be my pikin" attitude. Smh. What did u expect? Now na your pikin. I hope other parents receive sense."
Watch the video below:
Chrisland school admits misconduct by 5 students
Meanwhile, Legit.ng previously reported that the management of Chrisland Schools, Lagos, has admitted that aside from the 10-year-old female pupil seen in a viral sx video, four other pupils were allegedly involved in the sexual act that occurred during a foreign trip to Dubai, which led to the closure of the schools by Lagos State government.
The school in a statement issued by a member of the school's Advisory Board, Akin Fadeyi, on Tuesday, April 19, said there was never any time a pregnancy test was conducted on any of the students that attended the World School Games in Dubai, United Arab Emirate (UAE), Legit.ng reports.
According to the management, aside from the 10-year-old girl that was suspended, the others were also handed various punishments to serve as a deterrence to others planning to engage in such actions during future excursions.
Source: Legit.ng