"He is Too Much": Nigerian Boy Builds Benz and Displays it in Open Street, Video of Posh Car Goes Viral
A Nigerian boy has publicly displayed a mini 'Benz SUV' he built as he was seen moving it around a street in Aba
The mini car which looks like a big toy has all the posh looks of a real Benz only that it is too small to accommodate passengers
After a video of it was posted on TikTok by Kelvin Bobo, many Nigerians on the platform called for the builder to be supported
Nigerians are praising a talented young boy who has built a mini Benz SUV car after he displayed it in Aba.
A video of the Benz car went viral on TikTok after it was posted by Kelvin Bobo who confirmed that the Benz was built in Aba.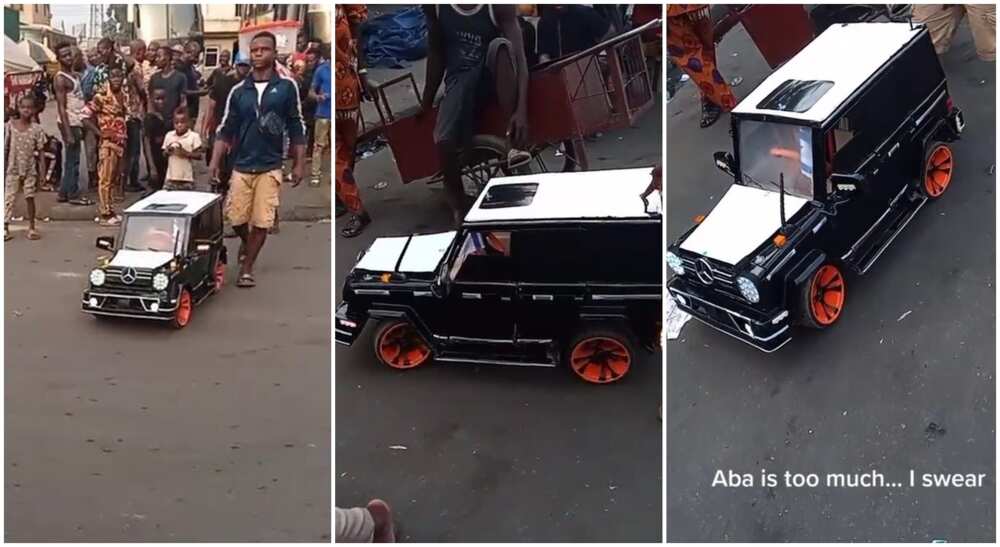 Kelvin praised the creativity of Aba boys as he used the mini Benz as a confirmation of the talents in the city.
Video of Nigerian boy who built 'Benz car'
The TikTok video he posted opened with a young boy bringing out the car into the street.
He was not driving the car since it is too small to accommodate passengers or a driver, but he moved it by touching a knob at the back.
When the Benz builder entered the street, a huge crowd quickly gathered to take a look at his craft.
The 56 seconds video has now gained traction on TikTok and has received 173.8k views as at January 11.
Watch the video below:
Reactions from TikTok users
@Kingso said:
"Excellent."
@user3873763386030 commented:
"Nice one."
@Valdo reacted:
"Great job boy."
@DonDaniel05 said:
"Omo the guy is really too much."
@user6024841367211 reacted:
"Chaii this guy too much ooo."
@Aboagye kimmich reacted:
"Amazing."
@johnprudence332 said:
"Nice one."
@chineduomeh715 commented:
"Keep it on."
@nwefiaogobuchimax reacted:
"Wow that is good."
@Samson said:
"Bro more grace. Keep it on. You are blessed."
@captbrett33 reacted:
"Time for tribalism is over because no one care to know. Let's help each other grow in anticipation to move Nigeria forward for good. Great work bro."
@Ochikobig said:
"I saw this guy for Onitsha on 23 inside Ogbo Okwu market Onitsha. He has a nice talent."
@Nelson anwuacha commented:
"Raw talent."
Enugu boy who built G-Wagon goes viral
In a related story, Legit.ng also reported that a young boy from Enugu constructed a G-Wagon SUV.
The boy personally drove the car and people hailed him in a video that later went viral.
Comedian, Mama Uka would later locate the boy to personally congratulate him on his feat.
Source: Legit.ng