BREAKING: Shawwal Crescent Moon Sighted, Eid-el-Fitr to Start on Friday
The date for Eid-el-Fitr 2023 has reportedly been confirmed following sightings of the new crescent moon in Saudi Arabia
The Saudi Supreme Court sent observers across the country to look for the new moon and, although it was seen by some as unlikely it would be spotted this evening, it has been and the date for Eid has been set for tomorrow, Friday, April 21
Meanwhile, Eid-el-Fitr marks the end of the holy month of Ramadan, which began on Thursday, March 23
The crescent moon has been sighted in Saudi Arabia.
This means that Thursday, April 20, will be the last day of the holy month of Ramadan, with Eid-el-Fitr celebrations to begin on Friday, April 21, 2023, the Crescent Sighting Committee announced, in a post sighted on Facebook on Thursday, April 19 and shared by Deen Yashe Dabai.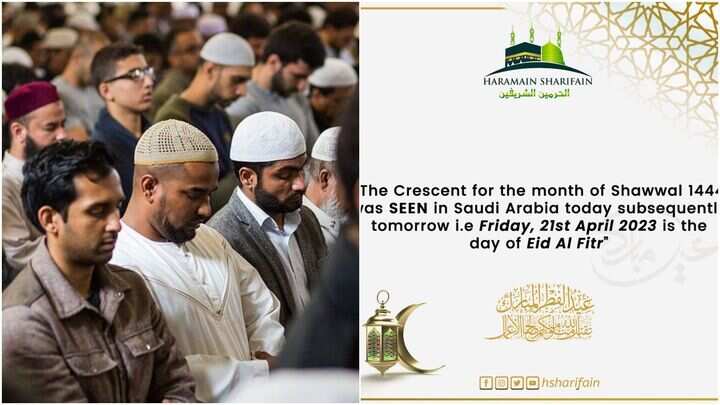 Dabai wrote:
"BREAKING NEWS: The Crescent for the month of Shawwal 1444 was SEEN today in Tumair and Sudair subsequently tomorrow i.e Friday, 21st April 2023 is the day of Eid Al Fitr."
Confirming the development, Arab News reported that the Eid-el-Fitr prayers will be held across the Kingdom just after the sunrise on Friday, April 21st, amid elaborate arrangements for the occasion.
The call for the moon sighting
Earlier, the Supreme Court Council on Wednesday, April 19, called on Muslims across Saudi Arabia to get sight of the Shawwal crescent moon on Thursday evening, Ramadan 29, 1444 Hijri, corresponding to April 20, 2023.
In an announcement, the Supreme Court called on anyone who sights the crescent moon by the naked eye or through binoculars to report to the nearest court and register their testimony.
The court also expressed hope that those capable of sighting the crescent moon will join committees formed for that purpose in different regions and participate in efforts that benefit Muslims.
Eid-el-Fitr 2023: When is the celebration and public holiday in Nigeria?
Legit.ng reported earlier that Muslims worldwide are getting ready to celebrate Eid-el-Fitr 2023, as the month-long fasting of Ramadan draws to a close.
The date of the Eid varies, depending on the sighting of the moon, and this year, it is expected to begin on Saturday, April 22nd.
Lunar months are either 29 or 30 days long, so Muslims typically have to wait until the night before Eid to confirm its date.
Ramadan: Sultan of Sokoto gives fresh updates to Muslims
The Sultan of Sokoto, Alhaji Muhammad Sa'ad Abubakar III, has urged Muslims nationwide to look out for this year's Ramadan after sunset on Wednesday, March 22.
The Sultan issued this directive through his office as the president-general of the Nigerian Supreme Council for Islamic Affairs (NSCIA).
As contained in the statement, the Sultan noted that if the moon is not sighted as earlier stipulated, Muslims should look out for the moon on Friday, March 24.
Source: Legit.ng