2023 IWD: CODE charges govt to enact policies protecting women and girls
International women's day has been marked by Nigeria's leading civil society group, Connected Development and the Canadian high commission
Both parties at the commemoration of the event say women constitute an integral part of our society
At the celebration of the event witnessed by Legit.ng, both parties called for the government to support laws that protects women and girls
FCT, Abuja - Nigeria's leading civil society group, Connected Development (CODE), has called on the government and other relevant stakeholders to support and enact policies protecting women and girls from sexual and gender-based violence.
Hamzat Lawal, the executive director of CODE, made this call in Abuja on Wednesday, March 8, at the launch of the Galvanizing Mass Action Against Gender‑Based Violence in Kano State (GMAA‑K).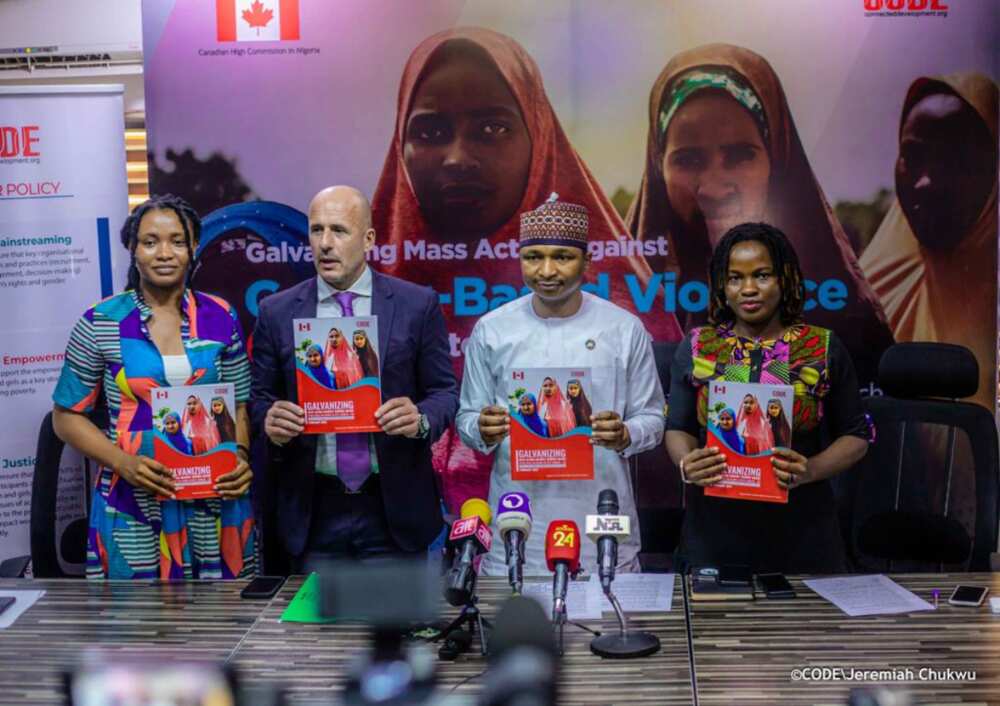 According to Lawal, the launching of the GMAA-K project is also in commemoration of world international women's day.
He revealed that the choice of CODE to explore the GMAA-K project in Kano state was due to its status as the model state in the north.
He said Kano is the hub of development in northern Nigeria, and whatever step they take will be emulated by others in the region.
Lawal, however, expressed his disappointment over the failure of the Kano state parliament to enact the Child Protection and Violence Against Persons Prohibition Bill (VAPP) in the state.
He said:
"The action plan got inputs from various Kano state and non-state actors. As of December 1 2022, the State Assembly held a public hearing on the Child Protection Bill, but the house failed to pass the bills as committed to all stakeholders.
"It is disheartening to say that policies such as this that ought to protect women and children in society are given a back seat in our society, in Kano state."
As gathered by Legit.ng at the launch of the GMAA-K, the initiative is being funded by the Canadian High Commission in Nigeria.
Canada commits to salvaging SGBV syndrome in Nigeria
Speaking at the launch of the GMAA-K, the Canadian envoy to Nigeria, Jamie Christoff, said:
"Under Canada's Feminist Foreign Policy, we place gender equality and the empowerment of women and girls at the heart of everything we do.
"We believe that this is key to building a more peaceful, inclusive and prosperous world.
"We recognise the integral role that civil society organisations play in raising awareness, mobilising communities, and changing attitudes, social norms and practices.
"This is why we believe strongly in our partnership with CODE."
2023 International Women's Day: 3 Nigerian Ladies With Uncommon Achievements and Exploits
Meanwhile, all over the world, International Women's Day is celebrated on March 8 every year since the first one was marked on March 19, 1911.
The IWD seeks to put on the front burner issues and concerns such as reproductive rights, violence and abuse against women, and gender equality and celebrate women.
In this article, Legit.ng spotlights three inspiring Nigerian women who have achieved great things and exploits in their fields of endeavour.
IWD 2023: "Women's rights are human rights," Toyin Abraham encourages gender equality
Elsewhere, Nigerian star actress Toyin Abraham is celebrating has taken out time to inspire women this year's international women's day.
The Nollywood star appreciated women who go out of their way to break boundaries and limitations against them.
Toyin also advised women to help and encourage one another to win and aspire together in life.
Source: Legit.ng