Coup Allegation: "Fani-Kayode Not Acting Alone", Atiku Raises Fresh Allegations
Atiku Abibakar of the opposition Peoples Democratic Party has commended the DSS for inviting Fani-Kayode
Recall that the APC chieftain had recently claimed that Atiku is planning to overthrow the government with top generals
Meanwhile, Atiku said that Fani-Kayode is not working alone and the DSS should ensure he reveals names of the top generals he was talking about
The Department of State Services (DSS) has been commended by the Presidential candidate of the Peoples Democratic Party, Atiku Abubakar.
The DSS was commended for inviting the director of special projects and new media of the Tinubu/Shettima presidential campaign Council, Femi Fani-Kayode, to explain his allegations and insinuations of an attempted coup being planned by Atiku and top generals.
Atiku disclosed this in a statement by his Special Assistant, Public Communications, Phrank Shaibu, This Day reports.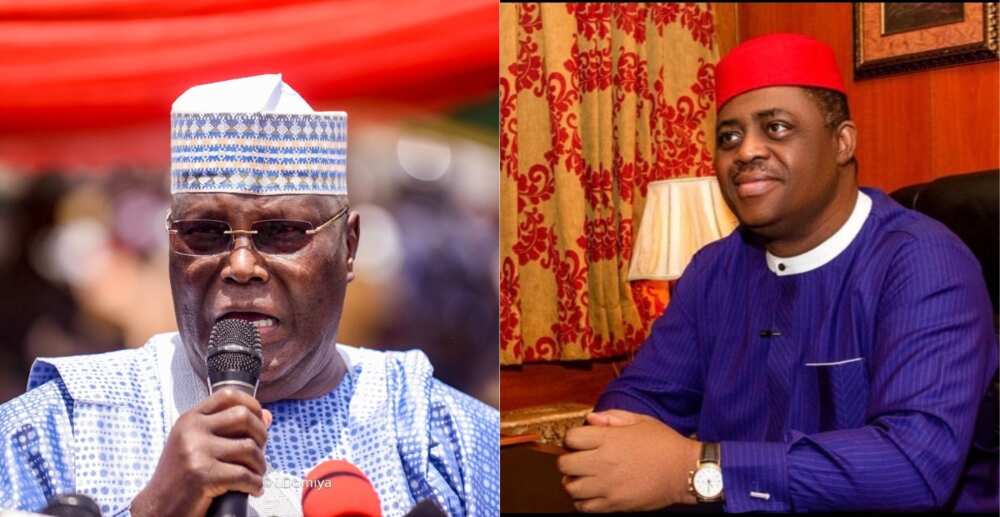 Atiku called on the DSS not to leave any stone unturned in the course of investigation.
He stated:
"Fani-Kayode must also be made to reveal the identities of the so-called army generals who are plotting to overthrow the government of President Muhammadu Buhari."
Fani-Kayode not acting alone - Shaibu
Going further, Shaibu insisted that the APC chieftain cannot be acting alone, Tribune Newspaper added.
"Fani-Kayode cannot be acting alone since he is the spokesman for Tinubu. Fani-Kayode and his ilk have been prodding the military for the last one month, talking about how they plan to install an interim government."
Asks DSS to investikate Fani-Kayode's ties to agitators.
Also, the PDP candidate also asked the DSS to also ask Fani-Kayode to explain his ties to Yoruba nation agitators, the Indigenous People of Biafra (IPOB) and other separatist organisations threatening the unity of Nigeria.
He said:
"This is a man who described President Muhammadu Buhari as a brain dead walking corpse. He later said an impostor had taken over as President all in a bid to incite protests and riots in the country. The DSS must thus leave no stone unturned in this investigation. It is obvious that Fani-Kayode is the one plotting the collapse of the 4th Republic."
"Suspected armed herdsmen seriously mobilising members," group raises alarm
Meanwhile, a civil society organization, Centre for Peace and Justice Initiative (CPJI) has charged the Nigeria military particularly the Nigeria Air force and other security outfits in the country to be decisive in dealing with security threats around the country.
The CSO while reacting to reports of a blast in Doma community, at the border between Benue and Nasarawa States that led to the killing of about 30 persons also urged Nigerians to refrain from accusing the military of complacency anytime there is a breach in security operations.
According to the group, available intelligence shows that there are clandestine plots to cause crises around the country with the aim of thwarting the 2023 general elections. Consequently, it is expected that security agencies must be decisive in quelling such threats, the group said in a statement made available to Legit.ng.
Source: Legit.ng