Atiku Promises To Set Aside $10 Billion for Southeast Alone
Alhaji Atiku Abubakar has promised to set aside a lot of money to support business growth across the nation if he becomes Nigeria's president
The PDP presidential candidate said that businesses in Abia would be among the beneficiaries of the business growth package
The former vice president lamented that under the APC federal government the Igbo have been marginalised and relegated
Alhaji Atiku Abubakar has promised to set aside $10 billion to support business growth in the southeast
The Peoples Democratic Party (PDP) presidential candidate said this during the party's campaign rally in Umuahia, Abia State, on Saturday.
He said if elected, he will set aside $10 billion to make sure that we support businesses, particularly in the part of the country. This, he noted, is part of his promises to businessmen in the region, This Day Newspaper reports.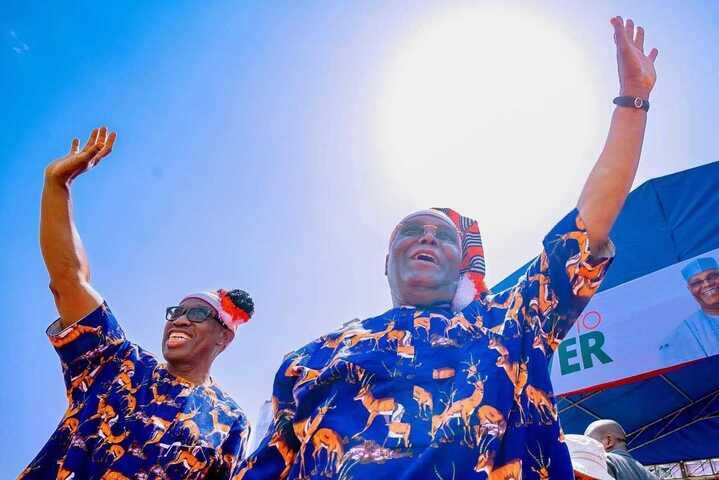 What Atiku said:
"I remember in 2019 when I came here, I addressed a group of businessmen from the South-East generally because Aba is the capital of the southeast as far as business is concerned," Atiku added.
"I remembered I addressed all Igbo businessmen and promised them that I am going to support them and set out a lot of money for the rehabilitation of businesses in Aba. So, it is still there."
Atiku reveals specific things he will do in Abia state
Atiku said other needs in the area, like the rehabilitation of federal roads and provision of railways, will be addressed if he is elected, Guardian Newspaper added.
"We in PDP will be prepared to give Abians what Abians want. It is not an issue of ethnicity, it is not an issue of religion but it is an issue of good governance," Atiku promised.
To further buttress his resolve to ensure there is an enabling environment for businesses in the state, Atiku recalled that he was part of the team that got the approval for the Abia Dry Port.
"It will only be my pleasure to make sure that the dry port functions and are operating."
Nigeria better when PDP was in power
He also rued the challenges facing the country under the All Progressives Congress (APC), arguing that the country was much better when the PDP was in power between 1999 and 2015.
"You can all bear witness that when PDP was governing, Nigeria was prospering. That was the time Nigeria became the biggest economy in Africa," he added.
"We created more jobs; we created more prosperity for everybody in this country. We brought about peace and we brought about unity.
To get Nigeria back on track, Atiku told the gathering to vote for the PDP which he says will win this month's presidential election.
Coup allegation: Atiku angry, asks DSS, police to invite Fani-Kayode for explanation
Meanwhile, the presidential candidate of the Peoples Democratic Party (PDP), Atiku Abubakar, has called on the Department of State Services, the Nigeria Police Force and other security agencies to invite the Director of Special Projects and New media of the Tinubu/Shettima presidential campaign Council, Femi Fani-Kayode, and explain his allegations and insinuations of an attempted coup being planned by Atiku and top generals.
Special Assistant, Public Communications to Atiku, Phrank Shaibu, said this in a statement made available to Legit.ng on Sunday, February 11, while reacting to a tweet by Fani-Kayode that Atiku met with top army generals with a possible plan to scuttling the election or perpetrating a coup, an offence which attracts the death penalty.
Shaibu described Fani-Kayode's attempt to recant as belated, adding that the allegations are too grave to be ignored.
Source: Legit.ng