Mental Capability: Najatu Muhammad Fires Fresh Shot at Tinubu, Reveals Why She Can't Support Him
The mental capacity of the All Progressives Congress (APC) Presidential candidate has been questioned
Specifically, a former APC chieftain, Hajiya Najaatu Muhammad said she can only support a presidential candidate based on his mental capability
Recall that the influential politician recently dumped the ruling APC, declaring support for Atiku Abubakar of PDP
As the 2023 general election approaches, a former All Progressives Congress (APC) chieftain Hajiya Najaatu Muhammad has questioned the mental capabilities of Asiwaju Bola Ahmed Tinubu, the party's presidential candidate.
Najaatu who said she followed Buhari blindfolded without an agenda insisted that Nigerian's next president must be mentally sound.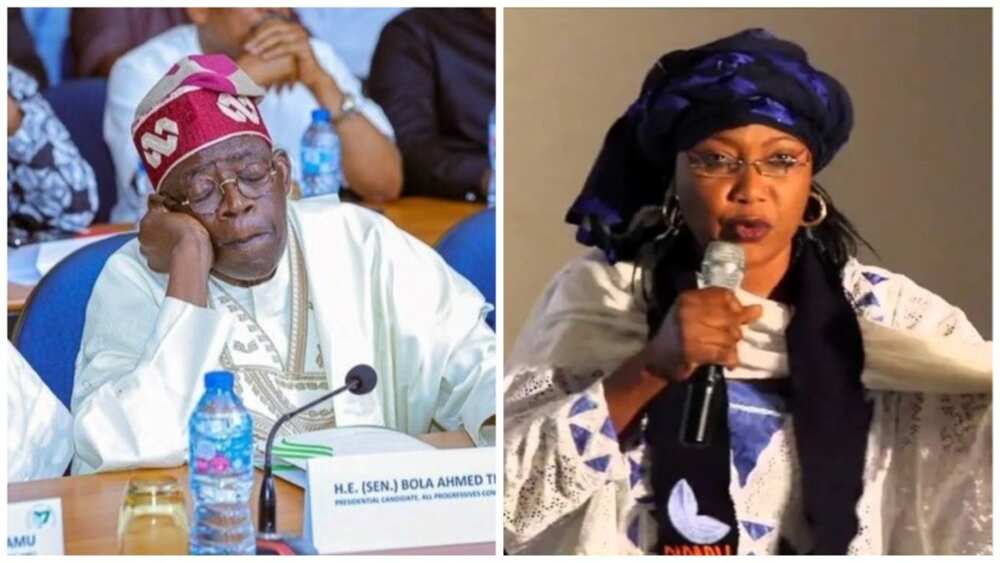 She disclosed this in an interview on Trust TV's Daily Politics.
Recall that the former lead campaigner of Asiwaju Bola Tinubu endorsed former Vice-President Atiku Abubakar, Tinubu's Peoples Democratic Party (PDP) rival, hours after resigning from the ruling party.
Going further, she said that she would not make the mistake of following anybody blindly.
"I followed Buhari and millions of people followed Buhari because they thought he will change Nigeria for the better but we never gave him an agenda, we never gave him demands, we never had an agreement with him about what we want. So this time around we have to learn from experience."
Northern APC governor speaks on dumping Tinubu ahead of 2023 presidential election
Meanwhile, Governor Yahaya Bello of Kogi state says he remains an ardent supporter of the All Progressives Congress (APC) presidential candidate, Asiwaju Bola Ahmed Tinubu.
Bello was reacting to a newspaper publication on Sunday, January 22, claiming that he has withdrawn support for Tinubu. The Kogi state governor described the report as fake news.
Governor Bello also demanded that the publication be retracted within 24 hours just as he threatened legal action should the publishers fail to grant his demand.
2023 elections: Senate President Lawan asks north to vote for Tinubu
In another report, the president of the Senate, Ahmad Ibrahim Lawan, urged the northern region to vote for Tinubu in the forthcoming 2023 general election.
Lawan spoke on Monday, January 23, at the APC presidential rally in Bauchi state which was attended by the candidate, President Muhammadu Buhari, state governors and other party stalwarts.
This was disclosed in a statement sent to Legit.ng by Abdulaziz Abdulaziz, a member of the Tinubu Media Office.
Source: Legit.ng