Father Mbaka Makes First Statement Since He Returned From Monastery, Reveals 1 Curse Against Nigeria
Popular outspoken cleric, Father Ejike Mbaka, has posited that Nigeria is blessed with everything and cursed with leadership problem
Mbaka prayed that 2023 will be a year of favour and that his followers would not labour in vain during his first sermon on Friday
On his return from the monastery, the religious leader's followers trooped out in their hundreds to welcome him to the adoration ministry in Enugu, Nigeria (AMEN)
Enugu - Father Ejike Mbaka, the spiritual director of the adoration ministry Enugu, Nigeria (AMEN), has said God blessed Nigeria with everything but the country is suffering from one curse, which is leadership.
The religious leader made the disclosure when he delivered his first sermon at the Church praying ground on Friday, December 13, Tribune reported.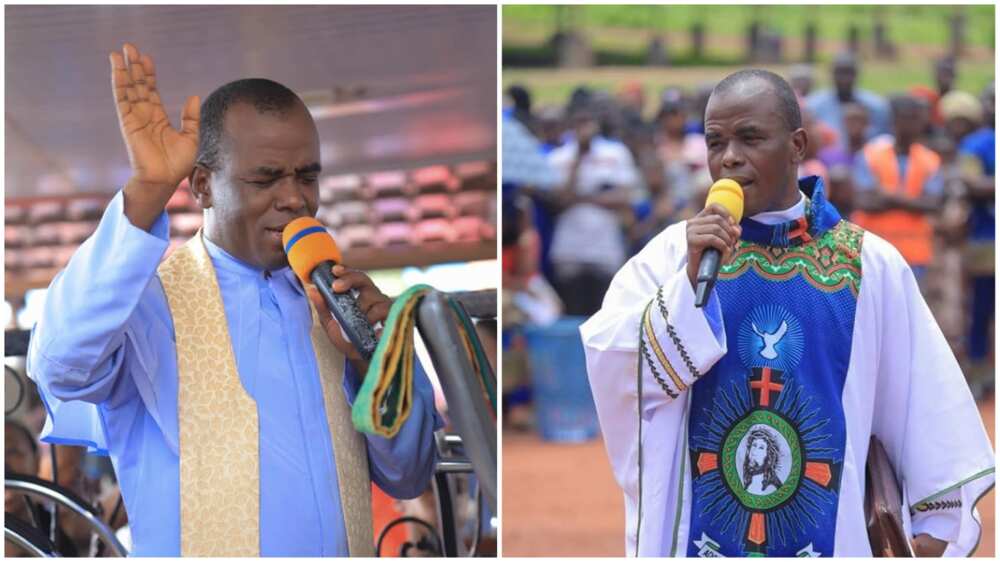 What did Father Mbaka say when he returned to Nigeria?
The outspoken cleric said:
"Nigeria is blessed with everything but cursed with bad leadership."
On his return from the monastery outside the country, Mbaka said 2023 is a year of favour and prayed that his congregation would not labour in vain
Recall that the outspoken Catholic priest was moved out of the Adoration ministry following his suspension.
Most Rev Callistus Onaga, the Catholic Bishop of Enugu Diocese, suspended Father Mbaka on 3, June 2022 over an alleged comment on partisan politics.
Latest about Adoration Ministry, Father Mbaka, Enugu, 2023, Southeast, Catholic, Religion
Mbaka reportedly violated political neutrality as he verbally attacked Labour Party presidential candidate, Peter Obi, saying that the former Anambra governor is a stingy man.
The priest's comment on Peter Obi received some outrage and condemnation which made the Bishop of the Enugu Diocese issue a pastoral injunction on attendance to Catholic Adoration Ministry Chaplaincy Enugu.
The bishop then urged all Catholics to stop visiting the church until further notice.
But on Friday, Mbaka's followers in their hundreds storm the church road to welcome his return to the AMEN.
Why catholic church sends Fr. Mbaka to monastery, what he is expected to be doing
Legit.ng earlier reported that Fr. Ejike Mbaka of the Catholic Adoration Ministry, Enugu, Nigeria, has been sent to a monastery by the Bishop of the Catholic Diocese of Enugu, Callistus Onaga.
Onaga, while appointing Rev. Fr. Anthony Amadi to be in charge of the adoration ministry, transferred Mbaka to the monastery for an undisclosed period of time.
Fr. Mbaka's transfer has resulted to protest from members of the catholic adoration ministry, who almost lynch the acting spiritual head of the church.
Source: Legit.ng