18-Month-Old Baby Girl, 60-Year-Old Sick Woman, 5 Others Released After 73 Days in Terrorists' Den
The terrorists who attacked Abuja-Kaduna train passengers have released another 7 hostages from captives
The 7 freed passengers are a family of 6, including an 18-month-old baby girl, 5 other members of the family and a 60-year-old sick woman
Their release was confirmed by Tukur Mamu, a media consultant to Sheikh Ahmed Gumi, who confirmed that they were released on the intervention of the controversial Islamic scholar
Kaduna, Kaduna - Another 7 of the Abuja-Kaduna train passengers who were attacked by terrorists on May 28 regained their freedom on Wednesday, August 10.
According to The Punch, the released passengers included a family of 6 and a woman.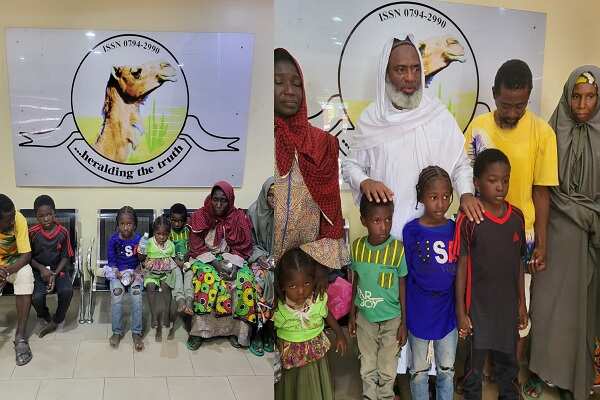 The details of the family of 6 released by terrorists
The names of the now released family of 6 included Abubakar Idris Garba, Mariam Abubakar Bobo, and Ibrahim Abubakar Garba, their eldest and 10 years old son.
Others are Fatima (7), Imran (5) and Zainab, who is one and a half years old.
Abubakar Idris Garba is a staff of the national assembly service commission (NSSC) and the son of a former military administrator of Kano and Benue states.
Sheikh Gumi's media consultant confirms the release of another Kaduna train passengers
Another person released is a 60-year-old woman known as Hajia Aisha Hassan. He was reportedly released due to life-threatening health challenges that recently got worsened.
Their release was confirmed by Tukur Mamu, a media consultant to the Islamic cleric Sheikh Ahmad Gumi.
Though he recently withdrew as one of the negotiators, he said the 7 were released after his principal, Gumi's intervention.
Update: 37 of Abuja-Kaduna train-bound attack victims still in captive
Legit.ng earlier reported that the terrorists who attacked Abuja-Kaduna bound train released another 5 victims in their custody on Tuesday, August 2.
The 5 victims who were just released brought the number of the freed abducted persons to 35 while 37 others still remain in the custody of the terrorists.
Their release was confirmed to journalists in Kaduna Malam Mamu, a media consultant to Sheikh Gumi, who also doubled as lead negotiator.
Source: Legit.ng